World
Xi Jinping begins new term with turn to old allies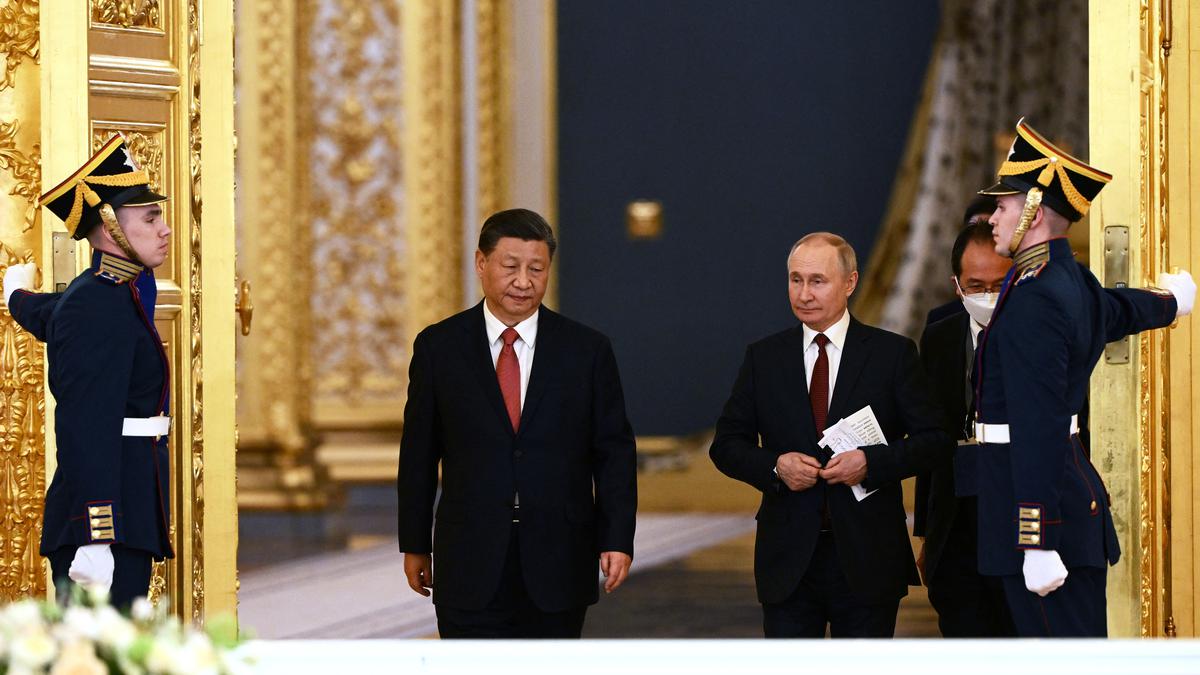 Arriving in Moscow on Monday on a visit laden with symbolism – the first of his third term as Chinese President – Xi Jinping hailed the China-Russia relationship as "a new model of major country relations".
"China and Russia are committed," Mr. Xi wrote in an article in the Russian Gazette published on the day of his arrival, "to no-alliance, no-confrontation and not targeting any third party in developing our ties. We firmly support each other in following a development path suited to our respective national realities and support each other's development and rejuvenation. The bilateral…is brimming with new dynamism and vitality, setting a fine example for developing a new model of major-country relations".
Mr. Xi's visit to Russia this week has underlined not just the growing closeness of a relationship described by both sides as having "no limits" and being "the closest in any period in history", but the emerging contours of what is likely to be the focus of the Xi foreign policy in his precedent-defying third five-year term.
If the last three years of Mr. Xi's second term hit the pause button on Chinese diplomacy largely due to the isolation fuelled by his "zero-COVID" regime, Beijing has now launched a new diplomatic push with the start of the new term, which has coincided with the reopening of China's borders.
Confronting an intensifying rivalry with the U.S. – the abiding current focus for Mr. Xi, who in this month's annual National People's Congress, in a departure from the past, singled out the U.S. by name accusing it of "containing and suppressing" China leading to "severe challenges" — Mr. Xi is turning to old allies, from Russia and Pakistan to China's Central Asian neighbours.
Two key showpiece diplomatic events have been lined up for 2023 – a summit to be hosted by Mr. Xi with leaders of Central Asian countries, as well as the third Belt and Road Forum, which is likely to feature several leaders from South and Southeast Asia.
Mr. Xi is doubling down on Chinese allies regardless of challenges in relations with them, from the Ukraine crisis for Russia to continuing political and economic instability in Pakistan.
One of the first foreign officials hosted in Beijing, days after the NPC, was Pakistan's Foreign Secretary Asad Majeed Khan. The new Chinese State Councillor and Foreign Minister Qin Gang told him "the iron-clad friendship between China and Pakistan has withstood the test of time and the changing international landscape" and pledged that Beijing would "strive for greater development of the building of the China-Pakistan Economic Corridor and bilateral cooperation across the board."
Mr. Qin, in his first press conference as Foreign Minister during the NPC, outlined the broad priorities for Mr. Xi's third term, saying Beijing "will take it as our mission to defend China's core interests and firmly oppose any form of hegemonism and power politics."  "China has had a growing network of friends, made more and more new friends, and strengthened ties with old ones," he said. "We will offer more, better Chinese insight and solutions to help meet humanity's common challenges."
Against the backdrop of worsening China-U.S. relations, Mr. Xi is with increasing frequency extolling what he calls "Chinese modernisation" as an alternative to Westernisation and liberal democracies.
Mr. Xi on March 15 unveiled what he called a "Global Civilisation Initiative" – the fourth such idea he has promoted, following the Belt and Road Initiative, the Global Development Initiative and the Global Security Initiative – which, he described when arriving in Moscow, as "part of China's response to the changes of the world".
Source link