United Kingdom
Russia-Ukraine war: gas prices expected to surge in Europe; Zelenskiy claims progress in counteroffensive – live news
Key events
UK Ministry of Defence says Donbas remains Russia's main focus
The UK Ministry of Defence says in its morning intelligence update that despite the Russian military's efforts to contain the Ukrainian counteroffensive in the south, it is focused on conquering the Donbas region.
Russia's main "axes of advance remain at Avdiivka near Donetsk City and, 60km to the north, around Bakhmut", the MoD said in a tweet on Monday morning, "… but its forces have still only been advancing around 1km per week towards Bakhmut."
"The political goal of the Donbas operation almost certainly remains to secure the whole of Donetsk Oblast, which would enable the Kremlin to announce the 'liberation' of the Donbas. Russian forces have highly likely repeatedly missed deadlines to achieve this aim.
"The Ukrainian authorities have claimed that Russian forces are now under orders to complete this mission by 15 September 2022. The force is highly unlikely to achieve this, which will further complicate Russia's plans to run referendums on the occupied areas joining the Russian Federation."
Offensive is making progress, Zelenskiy claims
Ukraine's president Volodymyr Zelenskiy said in his nightly address on Sunday that progress was being made to "liberate all our lands, all our people" after the beginning of the counteroffensive against the Russians in the south.
"The Armed Forces of Ukraine, our intelligence, special services are already taking the necessary steps for this," Zelenskiy said in a speech posted on Facebook. "These steps can be heard. And everyone can see that the occupiers have already started fleeing Crimea. This is the right choice for all of them."
He also thanked the "warriors of the 63rd battalion of the 103rd territorial defense brigade" who liberated a settlement in the Donetsk region. The "54th brigade in the Lysychansk-Siversk direction also took good steps, advanced and regained certain heights", while the "42nd separate motorized infantry battalion – thanks to its heroic actions, two settlements in the south of our country were liberated".
Kyrylo Tymoshenko, deputy head of the president's office, posted an image of soldiers raising the Ukrainian flag over a village he said was in Ukraine's south. "Vysokopillya. Kherson region. Ukraine. Today," Tymoshenko wrote.
Kremlin blames Europe for pipeline closure
The Kremlin has blamed European politicians for the closure of the Nord Stream 1 pipeline, one of its main gas supply routes, saying their economic sanctions on Russia had hindered Gazprom's maintenance of the pipeline, Reuters reports.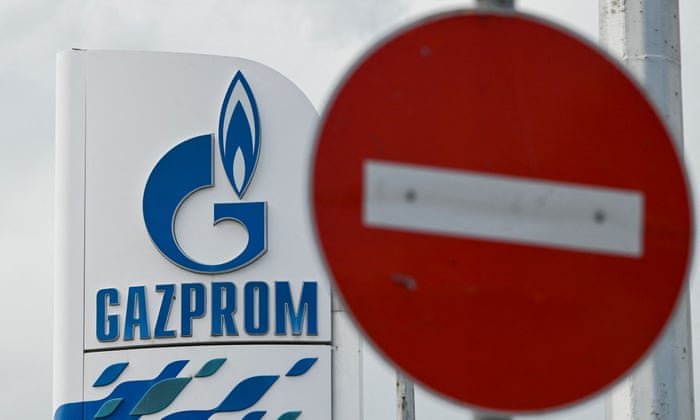 "If the Europeans absolutely absurdly make a decision to refuse to service their equipment, or rather, equipment that belongs to Gazprom, but which they are contractually required to service, this is not Gazprom's fault," Kremlin spokesman Dmitry Peskov said in an interview with Russia's state television, according to the Interfax news agency.
"It is the fault of those politicians who made decisions on sanctions."
Gas prices are tipped to rise sharply in Europe on Monday morning after Russian company Gazprom said it was closing the Nord Stream 1 gas pipeline until further notice, citing maintenance issues.
Prices have soared since the invasion of Ukraine led to western sanctions on Russia, with the Kremlin responding by cutting gas exports to Europe.
Prices had begun to fall last week amid some optimism that Europe could make it through the forthcoming winter months without households and industry having their supplies cut off. But the Nord Stream closure has refeocused markets on the problem and seem certain to send prices up again.
Here's the state of play in the UK natural gas market on Monday morning – prices in pence per therm: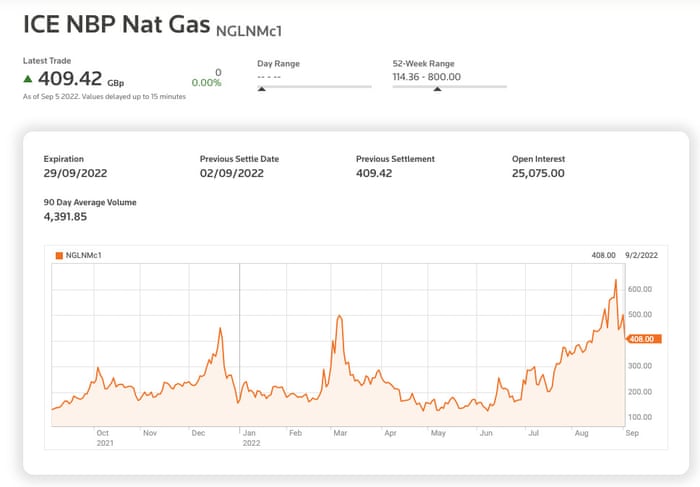 Hello and welcome to our live coverage of Russia's war against Ukraine. I'm Martin Farrer and I'll be with you for the next hour or so.
It's a little bit after 8am in Ukraine and the main developments you need to know about are here:
Gas prices in Europe are expected to surge to record highs this week after Russia shut down a key pipeline to Europe. Many commentators warned that European prices will further rise when markets open on Monday after Moscow scrapped a Saturday deadline for flows to resume through the Nord Stream 1 pipeline to Germany, saying it had discovered a fault during maintenance.

German chancellor Olaf Scholz said his government had been planning for a total halt in gas deliveries in December, promising measures to lower prices and tie social benefits to inflation. "Russia is no longer a reliable energy partner," Scholz told a news conference in Berlin. Liz Truss, who is likely to be confirmed as the UK's new prime minister on Tuesday, will be under poressure to follow suit in helping people with energy bills.

Ukraine's president, Volodomyr Zelenskiy, warned Europe to expect a difficult winter after the pipeline shutdown. "Russia is preparing a decisive energy blow on all Europeans for this winter," he said in his evening address on Sunday

The pipeline shutdown pushed the pound lower by 0.37% on Monday morning to $1.147 amid concerns about the economy's ability to withstand higher gas prices. The euro is also down 0.3% and looks likely to test the recent 20-year low of $0.99005 as traders priced in more risk of a European recession.

Ukraine has made progress in its recently launched counter-offensive with its forces taking two settlements in the south, a third in the east, as well as additional territory in the east of the country, Zelenskiy claimed during his Sunday evening address. "The Ukrainian flags are returning to the places where they should be by right," he added. Kyrylo Tymoshenko, deputy head of the president's office, posted an image of soldiers raising the Ukrainian flag over a village he said was in Ukraine's south. "Vysokopillya. Kherson region. Ukraine. Today," Tymoshenko wrote.

Russia said the situation around the Zaporizhzhia nuclear plant in southern Ukraine controlled by its troops was calm on Sunday, after UN inspectors said on Saturday it had again lost external power. The last remaining main external power line was cut off although a reserve line continued supplying electricity to the grid, the International Atomic Energy Agency (IAEA) said in a statement. Only one of its six reactors remained in operation, it said.

Thousands gathered in Prague on Sunday to protest at soaring energy bills and demand an end to sanctions against Russia over the war in Ukraine. About 70,000 far-right and extreme-left elements coalesced at a "Czech Republic First" rally to call for a new agreement with Moscow over gas supplies and a halt to the sending of arms to Ukraine on Sunday.

A Russian journalist is facing a 24-year jail term for treason. Ivan Safronov, a former military correspondent for Kommersant and Vedomosti, is facing a "record" sentence on treason charges that have been prosecuted with secret evidence behind closed doors. A Russian judge is expected to deliver a verdict on Monday in one of the most significant prosecutions against a Russian journalist in decades.

The Russian state should be tried for historical crimes committed by the Soviet Union, the Ukrainian director Sergei Loznitsa said before the premiere of his new documentary, The Kiev Trial, at Venice. Speaking at a press conference, Loznitza said there needed to be contrition for the wrongs of the past. "History repeats itself when we don't learn from history, when we didn't study it and don't want to know what happened with us," he said.

Sweden has said it is on "high alert" for outside intervention in its upcoming election amid increased tensions with Russia. The Scandinavian country's recently re-established psychological defence agency said it had seen heightened activity from foreign sources after its application to join Nato and it was prepared for the possibility of "something exceptional" in the lead-up to polling day on 11 September.

China's top legislator, Li Zhanshu, will attend the seventh Eastern Economic Forum in Vladivostok this week, becoming the most senior Chinese official to visit Russia since the Ukraine war began. Li, chairman of the national people's Congress Standing Committee, will pay official visits to Russia, Mongolia, Nepal and South Korea from Wednesday to 17 September, according to Xinhua news agency. He will attend the four-day forum, set to begin on Monday, during his stay in Russia.