Key events
Half-time e-letters. "You can debate the relative merits of England's assorted right backs until the cows come home," begins Matt Dony. "He may not be top of the pile defensively, but there are very few right backs, or indeed footballers, who strike a ball as aesthetically pleasingly as Alexander-Arnold. The photo halfway down the MBM is a thing of beauty."
"Right! That's it – not good enough," booms Charles Antaki. "Come the hour, come the hero – bring on Hendo!"
"The list of prohibited items may be worth a mention," writes our man Philip Cornwall, out in Skopje on a busman's holiday. He quotes the England supporters travel club … and yes, it does seem a little over-zealous. "Local authorities are advising supporters to avoid bringing keys with them to the stadium if they can avoid doing so. However, they do understand there will be circumstances where this is not possible (e.g. hire cars, hotels, Airbnb, etc). We have also been advised that the following items will be taken from supporters upon entry; vapes, phone chargers/charging banks, coins, lighters. We have been informed that 'small handbags' will be allowed into the stadium but normal-sized backpacks are still forbidden." At least they've let him keep his trousers.
"Google Ehiogu," suggests our old friend Alex Ross. "ISDN Dublin. And now I will stop, promise."
HALF TIME: North Macedonia 1-0 England
We're halfway to a shock in Skopje.
45 min +5: VAR's not interested. Maguire is furious that Dimitrievski has accused him of play-acting. England could probably do with hearing the whistle so they can calm down during the break.
45 min +4: The corner's whistled into the mixer. Elmas catches a stooping Maguire with his boot. Guehi had been lightly shoved from behind as well. VAR wants a look at this.
45 min +3: In the London-bus style, another shot on target follows almost immediately! Alexander-Arnold sends a rising, swerving drive goalwards, and Dimitrievski tips over the bar. Fine football all round.
45 min +1: Lewis, who has played very well despite the penalty incident, threads a shot towards the bottom right from the edge of the D. A bit more power and he might have beaten Dimitrievski. He smiles wryly. At least that's a shot on target now.
45 min: There will be four additional first-half minutes. "The look on the ref's face tells me he knows it's not a penalty, but he's been told if it's sent for review, he has to give it," writes Hugh Molloy. "Ludicrous. Saying that, the Maguire one was a clear foul and penalty!"
43 min: Lewis responds well to his misfortune, battling away down the left flank and winning a free kick out of what initially looked like an unpromising situation. The hosts deal with Alexander-Arnold's delivery easily enough. England have yet to work Dimitrievski, they haven't had a shot on target. To be fair, Rice hit the post, but the numbers are bare.
42 min: That's not the sort of decision that's made every day. Some referees would have let that go. Lewis cops for a booking instead. The Maguire incident looked more a penalty, to be honest. Some sort of karmic balance?
GOAL! North Macedonia 1-0 England (Bardhi 41)
Bardhi sends the penalty to the right. It's not a good spot kick. Pickford parries brilliantly … but the ball pings back to Bardhi, who slots into the bottom left with the keeper prone. Pickford so unlucky. North Macedonia lead!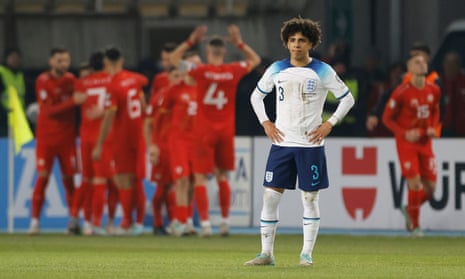 40 min: … but a hand in the face is a hand in the face. Bardhi steps up and …
Penalty to North Macedonia!
39 min: The referee draws a TV screen in the air, then points at the spot. Penalty! Poor Rico Lewis, giving away a spot kick on his debut. He's confused as to why it's been given.
38 min: Lewis goes up for a loose high ball with Miovski. He claps his hand in the striker's face. Miovski goes down. VAR is going to have a look at this. The referee goes over to the screen for a look. A long look.
36 min: Watkins spins Musliu with outrageous ease and tears clear down the middle. He aims for the top left, but Dimitrievski claws out marvellously. Then the flag goes up, Watkins having gently shoved the North Macedonian defender in the back.
35 min: Another Foden corner from the left. Serafimov heads clear comfortably. Meanwhile Andrew Goudie offers Hotspot Hamish.
33 min: Atanasov clanks Lewis to the ground. No yellow card for that one, either, though after his wrestle with Walker, he's beginning to push his luck now.
32 min: Saka reaches the byline on the right and pulls back into a sparsely populated Macedonian box. Grealish is this close to connecting, 12 yards out. England have come close on a few occasions, though Dimitrievski hasn't had much work to do as of yet.
30 min: Foden curls a cute low ball into the box from a deep position on the left. Had Watkins not remembered to cut his toenails last night, he'd be poking home. So close to meeting that fine pass with a telescopic leg.
29 min: Maguire halts a three-man North Macedonian break with an improvised diving header. He was about two inches above the turf. Imagine someone throwing a roll of carpet out of the back of a van at the tip. Well, that.
27 min: Foden nearly springs Grealish down the left but Dimoski does very well to close the route to the box.
25 min: That's given North Macedonia succour, though. Musliu takes on Walker down the left in a footrace, and draws a foul for his cheek. Bardhi takes the free kick, which is essentially a corner, and hits it long for Atanasov, who can't meet it at the far post. Goal kick. Better from the hosts, who up until Maguire's little performance, had shown nothing in attack.
23 min: Maguire slams a dreadful pass straight at Miovski, who instantly slips Elmas clear down the left. Elmas enters the box only to be shoved from behind by Maguire, desperate to make up for his mistake. Which he's done, but only because the referee deems the challenge fair. You've seen penalties given for much less. The denizens of the National Arena Todor Proeski are livid.
22 min: Foden goes dancing down the left and wins a corner off Dimoksi. England load the box in anticipation of Foden's delivery … but for once Foden's radar is way off, and he pulls a poor ball behind Guehi and away from the box.
21 min: Alioski catches Saka from behind. This is getting a little scrappy, in more ways than one. On the touchline, Gareth Southgate throws his arms out wide in exasperation.
19 min: Atanasov is fairly fortunate to avoid similar punishment for wrestling Walker around the neck. In the meantime, Alex Ross has had a change of heart over the password: "Actually it's AndySinton-et."
17 min: Elmas is booked for crudely stopping an in-flight Saka. He considers the punishment harsh and tells the referee as much. The free kick's then flung into the mixer, where Maguire is caught offside.
15 min: Foden crosses from the left. Watkins is unchallanged, six yards out. He tries to steer a header back across the rooted keeper Dimitrievski but sends it wide left. On target, that was in.
14 min: Grealish probes down the left and cuts the ball back for Rice, who takes one touch infield and, from the edge of the box, laces a low shot off the base of the right-hand post. The ball pings harmlessly away. What a fine effort that was! Meanwhile Alex Ross offers Alun Pugh "gabbyagbONLINEhor", referencing the legendary three-cap wonder of 2008-09.
12 min: Grealish goes down for a bit having been charged off the ball by Manev. He's not happy, but the referee's not particularly interested in what looked like a garden-variety challenge.
10 min: Alexander-Arnold sits deep in the quarterback style, before flinging a long pass down the inside-right channel, nearly releasing Walker. Not quite. A relatively quiet start to the game, though England have gently assumed a semblance of control.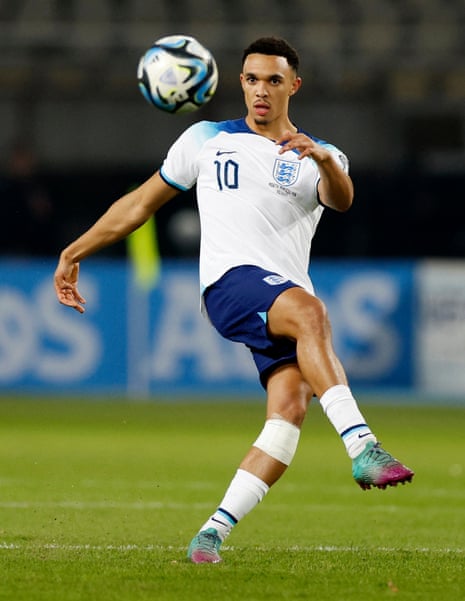 8 min: Bardhi attempts to release Miovski down the left with a spectacular volleyed pass. Just a bit too much weight on it, and Pickford is able to come to the edge of his box to claim.
6 min: Lewis now doing his defensive duties, ushering Dimoski off the pitch just as it looked like the North Macedonia winger was going to burst clear. A busy and impressive start for the new boy.
4 min: … the ball breaks back to Lewis, who hoicks over the bar spectacularly. What an introduction to international football that would have been! The young Manchester City star not inclined to go hiding.
3 min: Grealish and Rice combine cutely down the inside-left channel, the former crossing low for Watkins at the near post. Watkins can't quite prod home from close range. The ball's deflected out for a corner, from which …
1 min: Lewis's debut begins, and he's immediately barged off the ball by Alimi, who sends Miovski skittering free down the right. But it was an overly aggressive shove, and the whistle goes. Alimi wags his finger in disapproval. Welcome to international football, young man.
England get the ball rolling. "How about neilWEBb," offers Tom Marlow, because somebody was going to get there sooner or later.
The teams are out! North Macedonia in red with yellow flashes on the shirt, England white tops with blue breeks. We'll be off in a couple of minutes, once the anthems are done. Meanwhile Antony Train thinks Alan Pugh (7.33pm) has given the FA way too much credit regarding their passwords: "Obviously 123456, keep going depending how many characters are needed. If it needs letters and all that stuff, try J0rd@nknowssokeepp1ckingh1m."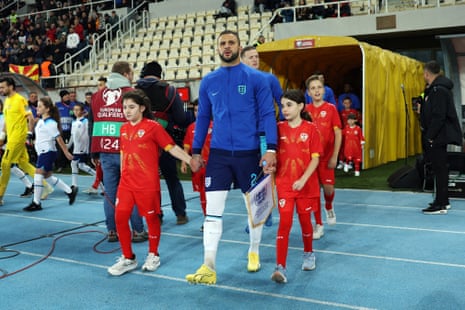 Gareth Southgate talks to Channel 4. "Clearly Ollie's game is different to Harry's, so it's for us to adapt to his way of playing … we're not expecting him to come and build as Harry might … he's got great strengths running in behind teams and pressing from the front … we want to play to his qualities, not the other way round … I want Rico Lewis to enjoy his game … it's a brilliant moment for him … he's looked really comfortable with the group … we want to get him into advanced areas when he has possession with the ball … the criticism [after the Malta game] was fair, we didn't play as well as we would have liked and didn't use the ball well enough … we were also a little disjointed without the ball so we've been looking at both aspects … I hope we use the ball better tonight than we did but also be decisive when we get chances … if your aim is to be the best in the world then every day that guides your training and the way you work in every aspect … we're still short of where we'd like to be … we've got to look forward and make the most of games like tonight."
Urgent IT assistance required. "I was passing through Doha a few days ago en route to Yerevan for the Welsh game," begins Alun Pugh. "I found myself inadvertently staying in the hotel that served as the base for the England team at the Qatar World Cup. They had many framed jerseys on display but what really interested me was that the FA seemed to have left a few routers in situ. My phone picked up signals for '3 Lions' and so on. I tried logging in with obvious passwords such as 'TofiqBahramov' and 'penalties' etc all to no avail. Can readers offer other suggestions?"
Did you try aLANshearer? I've got nothing else. Yes, best farm this one out to the readers.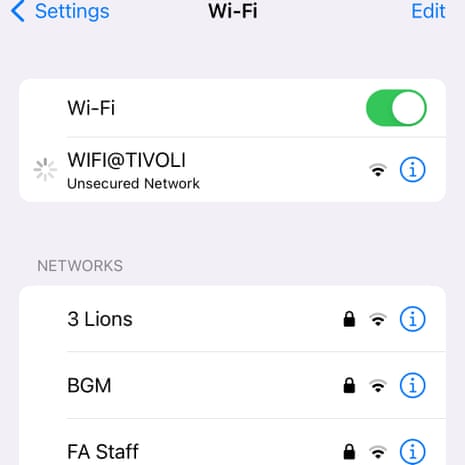 A reminder that while this match is not much more than glorified fixture administration, there's some really meaningful Group C action going down in Leverkusen tonight. Italy need to avoid defeat against Ukraine to make it through to the finals, else it's the play-offs for the reigning European champions, and as their absences from the last two World Cups illustrate, they're not too clever at those. Rob Smyth, fresh from OBOing Uruguay v Brazil in the cricket – a joke for all of you cross-disciplinary World-Cup-final heads out there – is all over that one.
Harry Kane drops to the bench and Rico Lewis debuts as Gareth Southgate makes six changes to the England starting XI from the 2-0 win over Malta. Ollie Watkins replaces Kane up front, while Kyle Walker comes in to stand in as captain. Jack Grealish, Declan Rice and Bukayo Saka also start.
North Macedonia: Dimitrievski, Manev, Serafimov, Musliu, Dimoski, Bardhi, Atanasov, Alimi, Alioski, Miovski, Elmas.
Subs: Kostadinov, Askovski, Iljazovski, Elezi, Churlinov, Mitrovski, Milan Ristovski, Todoroski, Aleksovski, Daci, Ademi, Siskovski.
England: Pickford, Walker, Guehi, Maguire, Lewis, Alexander-Arnold, Rice, Saka, Foden, Grealish, Watkins.
Subs: Gallagher, Kane, Ramsdale, Phillips, Tomori, Rashford, Johnstone, Konsa, Palmer, Henderson.
Referee: Filip Glova (Slovakia).
England have already qualified for Euro 2024 as winners of Group C, and if they manage a draw tonight against a team they beat 7-0 five months ago, they'll be guaranteed to be among the top seeds for the tournament draw. The jeopardy isn't particularly high, then, so if you still need a reason to tune in, consider that tonight's match surely can't be worse than this …
Kick off is at 7.45pm GMT. It's on.
Source link