United Kingdom
Newcastle United v West Ham United: Premier League – live
Key events
Half-time entertainment. West Ham's last win in the Premier League has led indirectly to all sorts of implications at the top and bottom of the table. Jonathan Wilson investigates.
HALF TIME: Newcastle United 1-1 West Ham United
Newcastle flew out of the traps spectacularly, but West Ham grew into the game and have since been the better side. The home fans are fairly subdued as a result.
45 min +1: Coufal curls the free kick towards the far post. Aguerd rises, unmarked, six yards out. He's got to score, surely, but flaps his header over the bar. That was a golden opportunity to put West Ham into the lead just before the break.
45 min: Paqueta dribbles infield from the right only to be lunged at by Willock. The Newcastle man goes into the book. A free kick just to the right of centre, 25 yards out.
43 min: All a bit scrappy now. West Ham have done an excellent job in quietening the home fans.
41 min: Saint-Maximin tears past Coufal down the left with absurd ease, the jets on full blast. But his cross goes to nobody in particular, and it's an easy clearance for the West Ham defence.
39 min: Antonio hares after a long pass down the right and whistles a low, hard cross into the Newcastle box. Pope does well to claim at his near post.
38 min: Joelinton strides down the middle of the park before rolling a pass down the right for Longstaff, who instantly looks for Wilson, free on the edge of the box. The delivery's all wrong, though, and floats towards the goal, where Fabianski is able to claim without pressure.
37 min: Benrahma strides down the left and cuts infield. He's got space and time to line up a shot, so the effort he drags dismally wide left is disappointing for West Ham in the extreme.
36 min: Newcastle respond by probing this way and that, but West Ham hold their shape in trademark Moyesian fashion.
34 min: Paqueta celebrates his goal with a spectacular somersault. St James' Park falls quiet. The away fans are giving it plenty, mind. Their team deserve to be level after working their way back into the game impressively.
GOAL! Newcastle United 1-1 West Ham United (Paqueta 32)
Rice whips the corner towards the near post. Aguerd flicks on to the far post, where Paqueta traps before slotting into the bottom right. Easy as that, and what a response to going behind so early. Nick Pope's bid for a seventh Premier League clean sheet in a row goes up in smoke!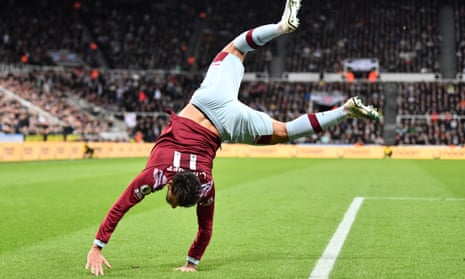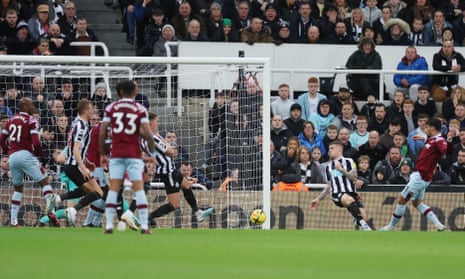 31 min: Some pinball in the Newcastle box leads to Paqueta's low shot being deflected wide left for a corner. And from that …
30 min: Benrahma dribbles down the left and is nicked by Trippier. He goes down, in order to purchase a cheap foul, but the referee isn't biting. Trippier accuses Benrahma of diving, which is a bit strong, though it would have been a very soft free kick. But you've seen them given.
28 min: Bowen, Antonio and Rice shuttle the ball right to left at speed, finding Benrahma in space to the left of the D. Benrahma takes a touch back infield and looks for the top right, but gets his curler all wrong. Goal kick. Nice move, however.
26 min: Saint-Maximin slips Longstaff into the box from the left. Longstaff pulls back in the hope of teeing up Joelinton on the edge of the area, but Rice telescopes a leg to intercept and clear.
24 min: Willock swings in a free kick from the left. Burn gets up on the edge of the box to flick on. Schar sticks out a leg and flicks over Fabianski, the keeper dilly-dallying. West Ham are fortunate that the ball floats wide of the left-hand post.
22 min: Trippier slips, then recovers, then gets clipped from behind by Emerson, who is slightly fortunate not to go into the book. Clumsy rather than malicious.
21 min: Schar tries to release Wilson down the middle again, but Ogbonna closes that route to goal.
19 min: Botman launches long down the left. Wilson tries to take it down and round Ogbonna, but the defender intercepts and clears. Wilson claims Ogbonna handled in doing so, but replays show that claim to be neither clear nor obvious.
17 min: Botman, having been doused in the miracle water from the magic sponge, is back up and running. All fixed.
15 min: West Ham are knocking it around confidently enough now, having recovered from their cold start. Paqueta takes a belt from distance that smacks Botman flush in the mush. On comes the trainer.
13 min: Schar plays a lazy ball out from the back, gifting Antonio an easy interception. He takes a whack from the edge of the D only for Botman to block bravely. Botman got his central defensive partner out of a world of trouble there.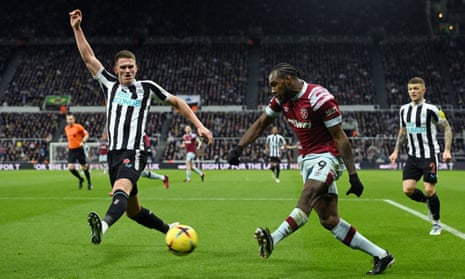 11 min: Willock curls in from the right. Wilson prepares to head home from six yards only to be denied by Ogbonna's late flick clear. Newcastle look dangerous every time they attack.
9 min: Another determined run by Antonio down the left. He makes it into the box this time, holding off Botman easily enough, but his cross is too long for Paqueta, who tries to keep the move going on the other flank, only to be eventually dispossessed by Willock.
7 min: Fabianski is nearly closed down by the irrepressible Wilson. He hoicks clear just in time. West Ham are looking ragged during these early exchanges.
5 min: Antonio tries to fashion a response with a run down the left but upon cutting inside soon runs out of room and loses possession. On the touchline, David Moyes wears a look that's 50 percent disbelief, 50 percent incandescent rage. You can picture it, can't you?
4 min: Well that was eventful.
GOAL! Newcastle United 1-0 West Ham United (Wilson 3)
Fabianski takes the goal kick. Schar, Joelinton and Longstaff combine to win the ball in the centre circle. Longstaff rolls a pass down the middle to release Wilson, easy as that. Wilson romps clear, opens his body, and slots into the left-hand side of the net!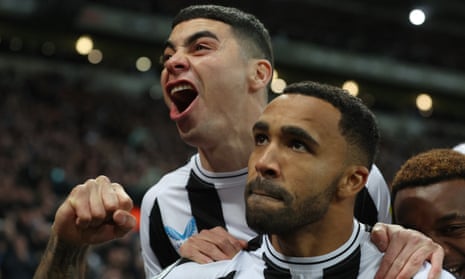 NO GOAL! Newcastle United 0-0 West Ham United
Almiron couldn't keep the ball in play. It had gone out for a goal kick. VAR points this out and the goal is chalked off. But no matter, because just after the restart, 11 seconds of action later …
GOAL! Newcastle United 1-0 West Ham United (Willock 37 sec)
Willock takes a knock to the leg. Is he injured? Nope! Almiron chases a Trippier pass down the right. He tugs it back from the byline. Willock takes a touch and slams the ball across Fabianksi and into the top left! What a start!
A blast of Local Hero, then Newcastle get the ball rolling. And then …
The teams are out! Newcastle wear their black and white stripes, West Ham sport claret and blue. A party atmosphere at St James' Park befitting a club feeling good about itself right now. Only one slight downer: Manchester United have leapfrogged the Toon in the table after their 2-1 win over Crystal Palace this afternoon. Newcastle can reclaim third place with a win tonight. We'll be off in a couple of minutes.
David Moyes talks to Sky. "We've picked up some really good results in the last week or two … we're in good shape, hopefully we can show it, we're up against a team in good form so we'll need to play well … it'll be a tough game for us."
Eddie Howe speaks to Sky. "We are naturally positive but focused because we know the Premier League is so difficult … the cup week we had were totally different games, we enjoyed the experience, we're through to the final, but that has to take a back seat … we have to play well against a competitive team … [Allan Saint-Maximin] has unique abilities, he's the best dribbler of a football I've seen and worked with … we hope to feed him in the right areas … I'd love to see [Anthony Gordon] on the pitch but I'll have to take into account how the game's going."
Newcastle make one change to the starting XI named for the 2-1 League Cup win over Southampton. Bruno Guimaraes is suspended, so Allan Saint-Maximin takes his place. Anthony Gordon is on the bench, ready to make his debut, while Alexander Isak misses out altogether having been concussed against the Saints.
West Ham also make one change, from the XI sent out to beat Everton 2-0 a fortnight ago. Kurt Zouma is injured so Thilo Kehrer takes his place.
Newcastle United: Pope, Trippier, Schar, Botman, Burn, Longstaff, Saint-Maximin, Willock, Almiron, Wilson, Joelinton.
Subs: Gordon, Dubravka, Dummett, Lascelles, Ritchie, Lewis, Fraser, Murphy, Anderson.
West Ham United: Fabianski, Kehrer, Ogbonna, Aguerd, Coufal, Paqueta, Rice, Emerson, Bowen, Benrahma, Antonio.
Subs: Johnson, Cresswell, Fornals, Lanzini, Downes, Ings, Soucek, Hegyi, Anang.
West Ham United won this fixture 4-2 last season. Few fancy them to repeat the trick this time round. Newcastle United are flying, ahead of schedule in third place and high on life after reaching their first cup final for 24 years. Nick Pope hasn't let in a Premier League goal for six matches; the team are unbeaten in the league in 15, and haven't lost at home since April. Ask the 8-ball: all signs point to yes why aye.
Nothing's ever that cut and dried, though, is it? So here's some hope for West Ham: Newcastle have only scored one goal in their last four league games, and they struggle when Bruno Guimaraes, suspended for this game, isn't playing, failing to win any of the three previous matches in which the brilliant Brazilian has been absent. The Hammers are also coming off the back of a morale-boosting win over Everton that gave them some much-needed breathing space at the bottom of the table. The Toon go into this as hot favourites, but as they pour forward, David Moyes will doubtless have a rope-a-dope plan. Set up nicely, then. Kick off is at 5.30pm GMT. It's on!