United Kingdom
New police tape and 'apology' letter: The sentencing of Trystan Bailey's killer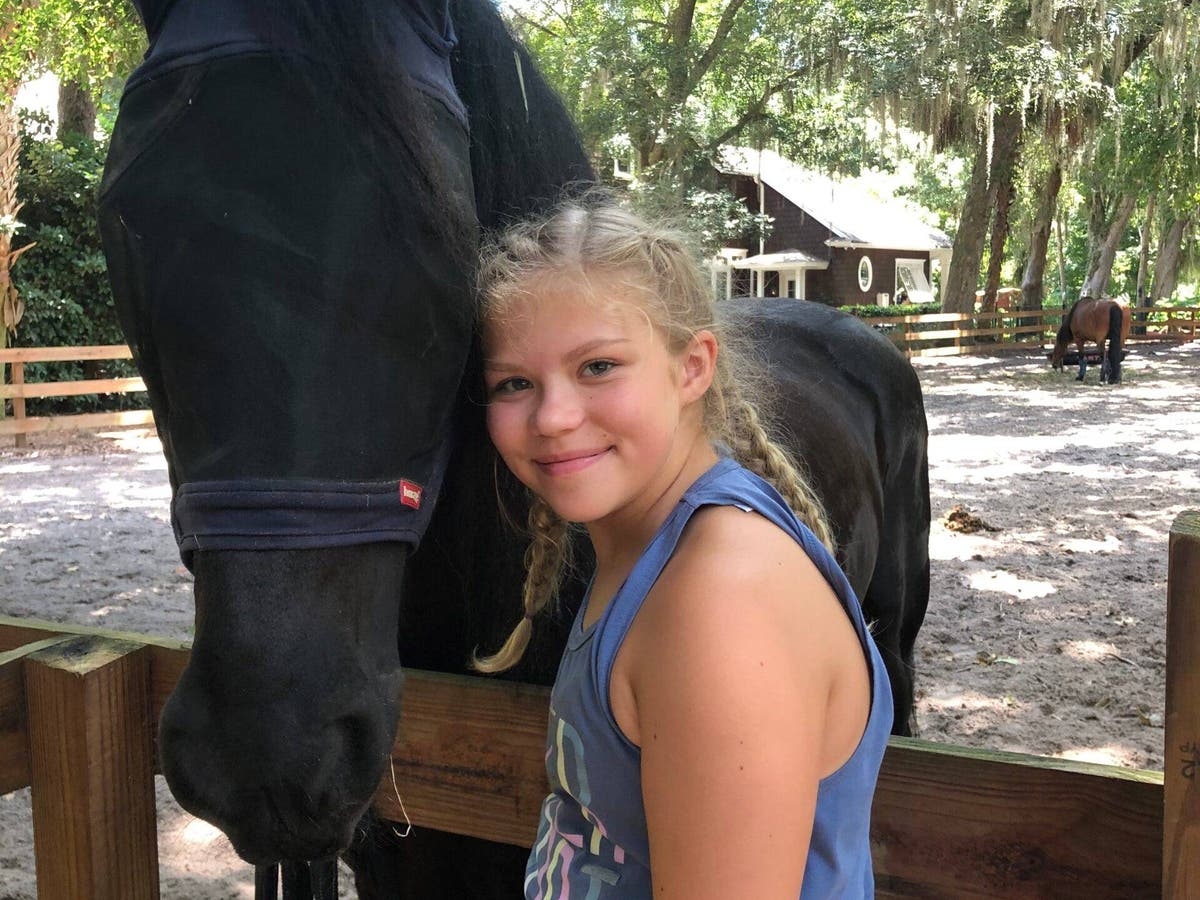 Aiden Fucci knifed 13-year-old Florida cheerleader Tristyn Bailey to death on Mother's Day 2021 and her body was found dumped in woods near his home south of Jacksonville, Florida.
He pleaded guilty to first-degree murder in February and faces a sentence of between 40 years and life imprisonment for her brutal killing.
Fucci, who is now 16, was a juvenile when the killing occurred and was not eligible for the death penalty.
Here are some of the key moments of his sentencing trial which began on 21 March in Florida.
Fucci writes letter of remorse but no direct apology to Tristyn
During the sentencing, it was revealed that Fucci wrote a letter expressing remorse to the family for fatally stabbing Tristyn 114 times. But in it, he never apologised directly to the slain teenager.
"First off I want to say that I'm sorry. I'm sorry for all the pain I caused to the Bailey family," he wrote in the letter to the judge in the case.
"I('m) sorry to the friends, brothers, sisters, mom, dad and any other family relatives. I'm sorry that you didn't get to know her that long. You did not have any long relationships with (Tristyn) and for that I'm sorry," he wrote.
In the letter, he also apologised to his own mother and father, as well as the community that was left devastated by the murder.
And he added: "…I know my (apology) will not fix anything or bring her back but I hope it help(s) in some way."
Bailey family gives heartbreaking testimony about their loss
The sentencing phase of the case saw Tristyn's family members confronting Fucci as they told the court about the damage her death had caused them.
Her sister, Alexis Bailey, dropped 114 aqua-colored stones into a glass jar as she gave heartbreaking testimony.
"One for each of the 114 stab wounds that my sister had to endure," Alexis Bailey told the court as she spent nearly two minutes dropping the symbolic stones.
"Did she see you coming at her with the knife? Or did you stab her while she wasn't paying attention? Did she scream out for help? Or was she paralysed with agony? Did she cry for my mother? Did she beg you to stop?" she added.
"What were her last words? Did you stay to watch her die? Or did you leave her there in agonising pain as you ran away? How long did she suffer?"
Tristyn Bailey's sister drops 114 stones into glass for every time killer stabbed murdered teen
And she added: "The memories of May 9 will forever be engrained in my mind, body and soul. To know I was awake and only 11 minutes away from my sister as she was being brutally murdered. Could I have saved her?
"Aiden Fucci didn't just take Tristyn's life that day. He took everything from us. Our family's sense of security, laughs, health and sense of potential. For us, justice does not exist in this case and closure does not exist in this case. Peace, understanding and forgiveness will never come."
After each family member completed their testimony they placed a white heart-shaped stone into the jar, representing what they said Fucci had taken away from them.
Tristyn's mother, Stacy, dropped two white stones into the jar, reported WJXT.
She told the court that one was for her daughter, Sophia, who had lost the chance to be a big sister.
And she said the other was for herself, representing her lost joy, hope, future "and my beautiful daughter."
Everyone who gave a statement called for Fucci to receive the maximum sentence available under the law.
"Aiden Fucci, your deplorable actions are unforgivable, and I will pray every day that you stay in prison for the rest of your life and never be able to harm anyone else in this world again," said an emotional Stacy Bailey.
"Your honour, I plead with you, please consider everything he has done to our daughter and to our family.
"Aiden Fucci made a heinous decision on May 9, 2021, and took the very life that I brought into this world. Please do not for one second think that he could be rehabilitated at any point. He is beyond saving."
Chilling police interview video
During the sentencing, a new video was shown of Fucci's parents scolding him in a police interrogation room, telling the teenager that he was "all over the internet" for posting Snapchat pictures and videos from the back of a police car.
At the time of the Snapchat posts, Fucci had been put in the back of the police car but Tristyn's body had not yet been found in the woods near his home.
With one photo, he wrote a caption that asked if anyone knew where Tristyn was and if anyone had seen her.
Aiden Fucci's parents scold him for the Snapchat he posted after Tristyn Bailey's disappearance, while the three wait in a police interrogation room. The May 2021 video was shown in court at his sentencing hearing Monday. pic.twitter.com/woqYDbw0Sf

— anne schindler (@schindy) March 21, 2023
And in videos, he said he would be upset if she showed up unharmed and he had gone through police questioning.
"Do you know how many people have [unintelligible] because of that Snapchat thing that you did?" his mother Crystal Smith told him in the video.
"It's all over, you're all over the internet everywhere, it's on social media. You'll probably come stay with me after we get done with this, just for your safe well-being."