United Kingdom
Liz Truss Tory conference speech disrupted by Greenpeace protesters; PM claims cutting taxes 'right morally and economically' – live
Truss's speech disrupted by environmental protesters
Protesters are disrupting the speech. At least two of them are in the hall shouting, and waving a banner that says Greenpeace on it.
The audience boo. The protesters are taken out.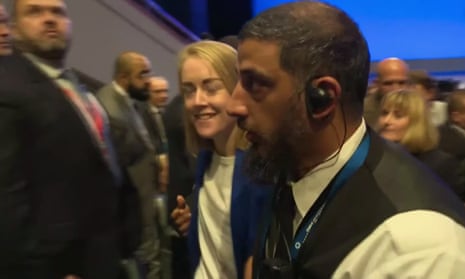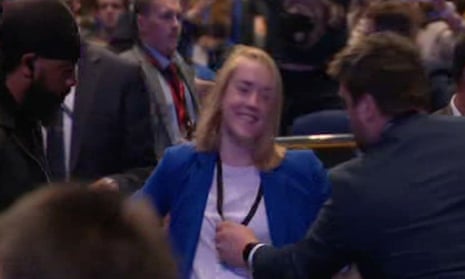 Key events
The Labour party has issued a response to Liz Truss's speech from Rachel Reeves, the shadow chancellor. Reeves said:
Liz Truss has been a government minister for the last 10 years.

She has been at the heart of building a Conservative economy that has led to the flat wages and low growth she highlighted today.

Labour knows real growth comes from the contribution of millions of working people and thousands of businesses.

The most important thing the prime minister can do right now to stabilise the economy is to immediately reverse her government's kamikaze Budget when parliament returns next week.
Labour could have pointed out that, when Liz Truss said in her speech that her priorities for the economy were "growth, growth, growth" (see 11.25am), she was almost quoting Keir Starmer word for word. In his speech on growth in July, Starmer said he wanted to ensure that workers got respect, security and defence pay. He went on: "To do all that we need three things: Growth. Growth. And growth."
Teaching union condemns Kit Malthouse for saying some schools 'hanging onto mediocrity'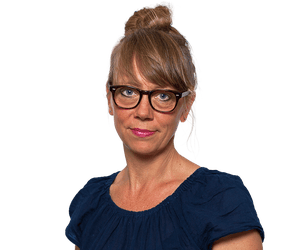 Sally Weale
School leaders have reacted with fury to a speech by the new education secretary Kit Malthouse, in which he suggested parts of the sector were "hanging onto mediocrity".
The Association of School and College Leaders (ASCL) has written to Malthouse expressing dismay at his comments, accusing him of taking cheap shots at a profession "already on its knees".
Speaking on Tuesday at the Conservative conference, Malthouse said England's school system was in need of constant attention and pressure from government to drive it forward.
He said there had been vast progress in lots of schools, "but there are still pockets that need our attention. And we need to reflect on the fact that there's nothing quite as persistent as people hanging onto mediocrity."
The ASCL letter, signed by its general secretary, Geoff Barton, and president, Evelyn Forde, said the key challenges affecting schools and colleges were lack of funding and a rapidly growing staff recruitment and retention crisis. Barton and Forde went on:
In this context, we were frankly appalled to hear you talk about people leading and working in our schools and colleges as 'hanging on to mediocrity', and claim that education needs 'constant attention and constant pressure' in order to 'drive it forward'.

Rather than raising the stakes even higher, and taking cheap shots at a profession already on its knees, your department should be moving heaven and earth to provide schools and colleges with the funding they need to keep their doors open, the support they need to provide education and care to children and young people with increasingly complex needs, and a functioning pipeline of teachers to staff their organisations. Anything else is mere posturing.
The NASUWT teaching union also criticised comments by the schools minister Jonathan Gullis, who told a fringe meeting the government was "not going to budge" over teachers' pay in England this year.
Gullis – a former teacher and NASUWT union rep – said he wanted to "do everything I can to avoid any kind of industrial action" to avoid disruption.
But Patrick Roach, the NASUWT general secretary, said Gullis needed to "urgently" think again over the government's 5% pay offer. Roach said:
We have asked ministers to talk to us but it is clear that finding a negotiated settlement is not their priority. Ministers are leaving us with no other alternative than to ballot our members to support industrial action in response to the cuts to teachers' pay.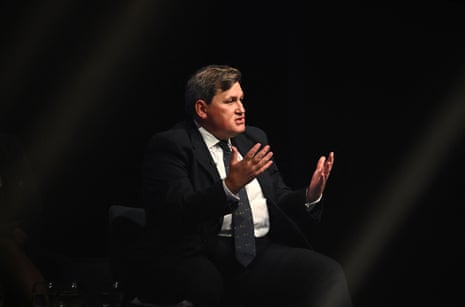 Liz Truss is expected to meet the French president, Emmanuel Macron, when she attends a summit of European leaders in Prague, PA Media reports. PA says:
The prime minister travels to the Czech Republic for the meeting of the European Political Community after a difficult party conference dominated by internal division and backbench opposition to some of her key policies.

There she is expected to meet the French premier again for a bilateral meeting, after holding talks with Mr Macron during a UN summit in New York last month.

Energy and migration are believed to be at the top of the agenda during the one-day visit to Prague.
Ministers to be told by whips to have more respect for collective responsibility, No 10 suggests
The Conservative party whips will take steps to ensure that ministers are more disciplined in what they say in public about government policy, No 10 has hinted.
At a briefing after Liz Truss's speech, her press secretary said:
There's always going to be differences of opinion between people, people are entitled to their personal opinions. But they should be raised in a more constructive manner. Collective responsibility is the same as it always has been.
Asked if that message will be rammed home in Westminster next week, the press secretary replied:
You will have to speak to the whips about that, but that should answer your question.
Asked if Penny Mordaunt could lose the whip for saying benefits should be uprated in line with inflation, when the government has yet to take a decision on this, the press secretary replied said: "That's one for the whips but I don't imagine that to be the case."
The conference was notable for the lack of message discipline by Tories, with ministers setting out their personal views on policy, instead of sticking to the government line.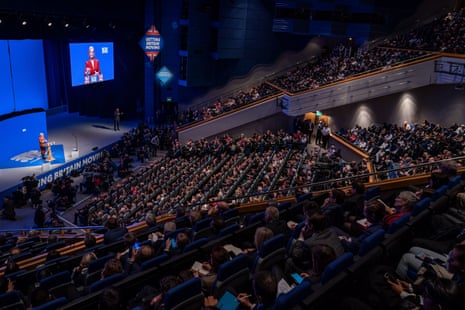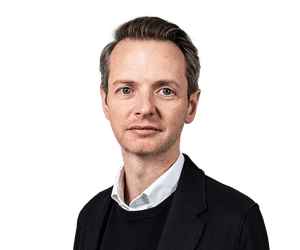 Ben Quinn
Liz Truss has angered the founder of M People by walking on stage before her Tory party conference speech to the sound of the dance music band's 1993 single Moving on Up.
Michael Pickering, who co-wrote the song and founded the group, expressed his annoyance on Twitter before the Truss speech was even finished, tweeting: "No permission given for that we're very angry."
He later added:
So apparently we can't stop Truss walking out to our song, very weird!"

So sad it got used by this shower of a government. BTW Truss labour used it with permission in 90's. I don't want my song being a soundtrack to lies.
It's not the first time that a Conservative leader has fallen foul of British musicians.
Johnny Marr, a founding member and the lead guitarist of the Smiths, called in 2010 on the then prime minister, David Cameron, to stop saying that he liked the band. "Stop saying that you like the Smiths, no you don't," he wrote on Twitter, adding: "I forbid you to like it."
Truss has also previously suggested that her own favourite tastes are rooted in the decade of Thatcherism
"Maybe one thing people don't know about me is that I love 1980s music and I do love karaoke – so, as well as working hard, I like to enjoy music," she told GB News, adding that her favourite song was I Wanna Dance With Somebody by Whitney Houston.
Truss's speech – verdict from Twitter commentariat
And this is what political journalists and commentators are saying about Liz Truss's speech. "OK" would be a reasonable summary, in so far as there is a consensus.
From my colleague Rafael Behr
From Lucy Fisher of Times Radio
From the New Statesman's Jeremy Cliffe
From the Sun's Harry Cole
From the Financial Times' Robert Shrimsley
From ITV's Robert Peston
From my colleague Gaby Hinsliff
From the Financial Times' Gideon Rachman
From the Economist's Matthew Holehouse
From the BBC's Faisal Islam
From the broadcaster Michael Crick
From the former FT editor Lionel Barber
From the Observer's Michael Savage
From the Mail on Sunday's Dan Hodges
From Talk TV's Tom Newton Dunn
From my colleague Peter Walker
From the author and broadcaster Steve Richards
From my colleague Owen Jones
From Sky's Ed Conway
Full text of Truss's attack on 'anti-growth coalition'
And here is the passage from Liz Truss's speech attacking the "anti-growth coalition".
I will not allow the anti-growth coalition to hold us back.

Labour, the Lib Dems and the SNP …

… the militant unions, the vested interests dressed up as thinktanks …

… the talking heads, the Brexit deniers and Extinction Rebellion and some of the people we had in the hall earlier.

The fact is they prefer protesting to doing.

They prefer talking on Twitter to taking tough decisions.

They taxi from north London townhouses to the BBC studio to dismiss anyone challenging the status quo.

From broadcast to podcast, they peddle the same old answers.

It's always more taxes, more regulation and more meddling.

Wrong, wrong, wrong.

We see the anti-growth coalition at work across the country.

Keir Starmer wants to put extra taxes on the companies we need to invest in our energy security.

And his sticking plaster solution will only last six months.

He has no long-term plan and no vision for Britain.

Mark Drakeford in Wales is cancelling road-building projects and refusing to build the M4 relief road.

Nicola Sturgeon won't build new nuclear power stations in Scotland to solve the energy crisis in Scotland.

Have these people ever seen a tax rise they don't like?

Or an industry they don't want to control?

They don't understand the British people.

They don't understand aspiration.

They are prepared to leave our towns and cities facing decline.

My friends, does this anti-growth coalition have any idea who pays their wages?

It's the people who make things in factories across our country.

It's the people who get up at the crack of dawn to go to work.

It's the commuters who get trains into towns and cities across our country.

I'm thinking of the white van drivers, the hairdressers, the plumbers, the accountants, the IT workers and millions of others up and down the UK.

The anti-growth coalition just doesn't get it.

This is because they don't face the same challenges as normal working people.

These enemies of enterprise don't know the frustration you feel to see your road blocked by protesters, or the trains off due to a strike.

In fact, their friends on the hard left tend to be the ones behind the disruption.

The anti-growth coalition think the people who stick themselves to trains, roads and buildings are heroes.

I say the real heroes are those who go to work, take responsibility and aspire to a better life for themselves and their family.

And I am on their side.
Here is the full text of Liz Truss's conference speech.
Truss's conference speech – snap verdict
That was a safety-first speech. It was much shorter than a usual party conference speech, it did not contain any policy announcements, and in fact it did not really contain much news at all. Given the hostile reaction to much of what the government has been saying in the last four weeks – on the financial markets, in the polls (the opinion markets), and among MPs – the fact that Truss managed to get through this without antagonising her party any further is probably a bonus. She hasn't made things worse.
Quite a lot of the speech sounded like the stump speech she was making during the Tory leadership, or what she was saying during the hustings. These arguments were successful with her audience – Conservative party members – and so it probably made sense to provide them with an encore today. But hardcore free-market libertarianism is a niche enthusiasm, even in the Conservative party, and there was nothing in the speech that will make her economic agenda sound more appealing to the public at large than it is already (which is not, not very). The speech was not even particularly well-written.
It is not as if the government has no plans. Within the next few weeks the government intends to introduce supply-side reforms (deregulation, mostly) in eight areas, but Truss did not want to talk about these in detail at all. Perhaps she realises the plans won't be universally welcomed, even by her party. You can imagine the conversation in the speech-drafting session. "Shall we include the bit about ripping up the working time directive, or issuing more visas for seasonal workers, or Jacob Rees-Mogg's plan to allow people on high salaries to be sacked for no reason? Probably best we don't."
Welfare was another black hole in the speech. Truss did address the controversy over the 45% top rate of income tax (using the same words Kwasi Kwarteng used), but she did not talk about uprating benefits. Given the mood in the party, she may have already given up hope of getting away with not uprating them in line with inflation.
The most memorable passage of the speech was the attack on the "anti-growth coalition". This sounded like a routine Daily Mail whinge about anyone with vaguely progressive views. It did not amount to a serious critique, and some of it may have angered her own MPs (for example, the line criticising people who "taxi from north London townhouses to the BBC studio to dismiss anyone challenging the status quo" – a category that includes a large number of prominent Tories).
It was also hypocritical. If Truss really wanted to go to war with the anti-growth coalition, she would pick a fight with Brexiters opposed to rejoining the single market, MPs who block development on the green belt and politicians who want to restrict immigration. But she can't, because that's her party.
Liz Truss wrong to claim she is first PM to have attended comprehensive school

Richard Adams
Liz Truss was wrong when she claimed in her conference speech that she was the first prime minister to have gone to a comprehensive school. Gordon Brown went to a comprehensive secondary school (Kirkcaldy high school), while Theresa May's school was converted into a comprehensive while she was a pupil there: Holton Park girls' grammar school, in Oxfordshire, became Wheatley Park comprehensive school in 1971, two years after May enrolled. The education secretary at the time was Margaret Thatcher.
Greenpeace says it disrupted Truss's speech because she's putting environmental protections 'through shredder'
Damien Gayle
The environmental activists who disrupted Liz Truss's Tory party conference speech denounced the prime minister's "shredding" of her party's election manifesto promises on protection for nature.
As Truss outlined her reasons for the economic policies implemented within days of becoming prime minister, Greenpeace UK's head of public affairs, Rebecca Newsom, and its policy officer, Ami McCarthy, stood up close to the front of the conference hall with a banner asking: "Who voted for this?"
Conference delegates responded with boos and snatched their banner from their hands, only for the two women to pull out another, identical banner. "Let's get them removed," Truss said, as badged security guards intervened.
In a statement sent moments after the intervention, Greenpeace UK said it had identified at least seven areas across environmental protection, climate action, workers' rights and tackling inequality where policies considered by Truss's cabinet contradicted the 2019 Conservative election manifesto.
In the statement Newsom said:
Who voted for this? In a healthy democracy, people should get the government programme they voted for, but Liz Truss is putting most of it through the shredder.

People voted for strong action on climate, a fracking moratorium, world-leading environmental protections, and tackling poverty and inequality.

What they're getting instead is fracking, a potential bonfire of rules on wildlife and nature protection, and now the prospect of benefit cuts.

Broken promise after broken promise, the prime minister is quickly turning her party's manifesto into the longest piece of false advertising ever written. Many will be left wondering whether her government answers to the public or to the hedge fund managers, rightwing thinktanks and fossil fuel giants that are cheering it on.
And here is Truss's peroration.
That is why we can't give in to the voices of decline. We can't give in to those who say Britain can't grow faster. We can't give in to those who say we can't do better. We must stay the course.

We are the only party with a clear plan to get Britain moving. We are the only party with a determination to deliver. Together we can unleash the full potential of our great country. That is how we will build a new return for a new era.
Truss condemns 'anti-growth coalition' who she claims always favour more tax and regulation
Truss has now reached the passage in the speech she referred to earlier.
I will not allow the anti-growth coalition to hold us back: Labour, the Lib Dems, the SNP, the militant unions, the vested interests, the talking heads, the Brexit deniers, Extinction Rebellion and some of the people we had in the hall earlier.

I will not allow the anti-growth coalition to hold us back.
She says people in this group prefer talking on Twitter to taking tough decisions. And they would rather rush to a BBC studio than challenge the status quo.
She says this group have never seen a tax rise they don't like.
And they have no idea who pays their wages, she claims. The anti-growth coalition "just don't get it". They don't know how frustrating it is to see the roads being blocked by protesters, or the trains on strike.
She says the protests are normally being organised by their friends on the hard-left.
The anti-growth coalition sees these people as heroes. But the real heroes are the people who go out to work, she says.
Truss says the government is improving energy security to make the UK less dependent on authoritarian regimes.
Turning to immigration, she says the "brilliant" new home secretary, Suella Braverman, will introduce legislation to ensure no European judge can overturn the government as it takes decisive action to strengthen the borders.
(She does not elaborate on what this means.)
She also says Labour has no plan for illegal immigration.
Turning to the NHS, Truss confirms the government commitment to ensuring all patients can get an appointment with a GP within two weeks. People who need urgent care will be seen on the same day, she says.
Truss says her government will 'realise promise of Brexit'
Truss says she will "realise the promise of Brexit". She goes on:
By the end of the year, all EU red tape will be consigned to history.
Brexit will allow the UK to do things differently, she says.