Key events
Vertonghen headed clear under pressure from Kramaric, who was in an offside position when the free-kick was taken. Anthony Taylor is going to the monitor to decide whether Kramaric was interfering with play.
VAR check I think this might be offside you know.
Modric's free-kick wasn't properly cleared, and Carrasco dangled a lazy leg in the direction of Kramaric. He felt the contact and went down, and Anthony Taylor had no choice.
15 min: PENALTY TO CROATIA! Oh dear.
13 min: Chance for Mertens! Belgium are playing well here. De Bruyne leads a counter-attack, running 50 yards before angling a through pass to Mertens. He runs round the ball, just inside the area, but curls high and wide. That was a terrific chance.
12 min: Good save! Mertens gets round the back on the right and slides a low cross beyond the far post. Carrasco controls it and whacks a shot from a tight angle that is kicked behind by the keeper Livakovic. I'm not certain the shot was going in, though Livakovic didn't know that.
11 min "Feels a bit harsh on Lukaku and Brozovic to say this is their last ever World Cup – both will still be 33 when the next iteration comes around," says Ben Blatch-Hanlon.
I also imagine Kevin De Bruyne may well have something to say about being ruled out of playing in the next one when he's just about to turn 35 – if Modric can do it…!"
I didn't say it would be, only that it might. You make fair points on De Bruyne and Brozovic. I'm not sure about Lukaku, though – he started very young and has a lot of miles on the clock.
10 min Carrasco cuts inside from the left and has a shot blocked, then Alderweireld almost puts Mertens through on goal with a long, driven pass.
9 min "Considering Bobby M's managerial career so far and his Boris Johnson-esque talent for failing upwards," begins Shaun Wilkinson, "I fully expect him to lose his job after this tournament, and then be managing Spain by the next Euros."
8 min Belgium have settled down after that nervous start. In fact, nothing much has happened in the last five minutes.
6 min Belgium's formation is indeed a 4-2-3-1, with Mertens playing behind Trossard and occasionally swapping positions. De Bruyne is roaming from the right and Carrasco is on the left.
5 min There's been an early goal in the other game, and it's bad news for both Belgium and Croatia.
4 min "Oh, we're carrying on with the World Cup, are we?" says Matt Dony. "I figured it had finished on Tuesday evening. I don't pay much attention to the Belgium media, but is it full of people wondering whether their Golden Generation is being ruined by De Bruyne and Witsel not being able to play with each other, and a foreign coach in thrall to star players?"
Arf, very good.
2 min This is a seriously shaky start from Belgium, who have already had to make a couple of desperate challenges in their own area. The formation looks like 4-2-3-1 by the way, with Dendoncker and Witsel in midfield.
Just wide from Perisic! Croatia almost score after eight seconds! Straight from the kick-off, Modric flipped a pass forward towards Perisic, who whistled the bouncing ball just wide from the edge of the area.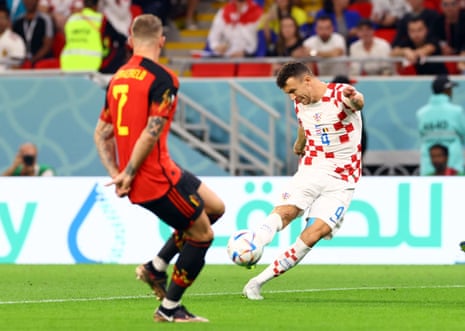 1 min Peep peep! Croatia kick off from left to right as we watch.
There has been so much talk about Belgium that we've almost forgotten that this is an equally vital game for Croatia. If they lose and Morocco avoid defeat against Canada, they're out.
"The 2014-2022 iteration of Belgium hasn't underachieved," writes Pádraig McAuliffe. "It played some great attacking football in World Cup 2014, and got knocked out by finalists Argentina in a squeaker. In 2016, they got done by Wales and that was a gross-underachievement. They were by far the most entertaining team at World Cup 2018, and lost a squeaker to the winners in the semis.
"They beat Denmark, Portugal and Russia in Euro 2021 before losing to the overall winners in the tournament's best game. I've really enjoyed watching this flawed-but-fun team down the years – Naingolan, de Bruyne, Carrasco-as-full-back, Hazard, Lukaku, Mertens and a range of ball-playing centre-halves. Wonderful."
Yes, the Wales game is the only time you could really say they blew it, and even that's a bit disrespectful to Hal Robson-Kanu.
Apologies for the radio silence, I had an intestinal emergency. All is fine now and I'm back just in time for the anthems. Let's play!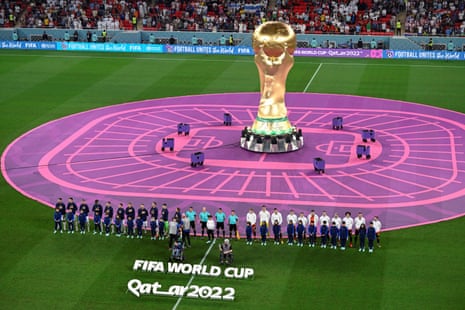 Sign up for our rebranded daily football email, Football Daily!
Belgium's tactics (II)
Guillaume Pirard writes to say the Belgian media think Roberto Martinez will play a 3-4-3 – but with Kevin De Bruyne alongside Axel Witsel in midfield. He doesn't often play in a midfield two. Then again, these are desperate times for Belgium.
Belgium (possible 3-4-3) Courtois; Alderweireld, Dendoncker, Vertonghen; Meunier, De Bruyne, Witsel, Castagne; Trossard, Mertens, Carrasco.
Belgium haven't underachieved: discuss.
Belgium's tactics Wait, hang on. There are some suggestions that Belgium will revert to a back three, but with Timothy Castagne rather than Leander Dendoncker in the defence.
Belgium (possible 3-4-3) Courtois; Alderweireld, Vertonghen, Castagne; Meunier, Dendoncker, Witsel, Carrasco; De Bruyne, Mertens, Trossard.
Canada v Morocco
This game is inextricably linked with events at the Al Thumama Stadium in Doha. You can follow that one with Our Baz.
"Following the release of the line-ups, is the Bobby Martinez's 'Please, please give me a pay-off' plea?" asks Ryan Grimward.
I quite like the team he's picked. Eden Hazard is a shadow of the player who was in the Team of the Tournament at the last World Cup, and Trossard's selection is overdue.
Team news: Eden Hazard dropped
Croatia are unchanged; Belgium are not. Roberto Martinez has made four changes to the side that lost to Morocco on Sunday. The Hazard brothers and Michy Batshuayi are dropped; Amadou Onana is suspended. In come Dries Mertens, Yannick Carrasco, Leander Dendoncker and Brighton's Leandro Trossard. Kevin De Bruyne replaces Eden Hazard as captain.
The inclusion of Dendoncker means Belgium could line up with a back three or a back four. I suspect it's 4-2-3-1 with Dries Mertens as a false nine, but as Roberto Martinez won't answer my DMs, I can't speak with any authority.
Croatia (4-3-3) Livakovic; Juranovic, Lovren, Gvardiol, Sosa; Modric, Brozovic, Kovacic; Kramaric, Livaja, Perisic.
Substitutes: Grbic, Ivusic, Stanisic, Erlic, Majer, Vlasic, Pasalic, Petkovic, Budimir, Orsic, Vida, Sutalo, Sucic, Jakic.
Belgium (possible 4-2-3-1) Courtois; Meunier, Alderweireld, Vertonghen, Castagne; Dendoncker, Witsel; Carrasco, De Bruyne, Trossard; Mertens.
Substitutes: Mignolet, Casteels, Theate, Faes, Tielemans, Lukaku, Batshuayi, T Hazard, E Hazard, Doku, Vanaken, De Ketelaere, Openda, Debast.
Croatia drew 0-0 with Morocco and then put Canada over their knee, coming from behind to win 4-1.
Belgium followed a slightly unconvincing 1-0 win over Canada with an exceedingly unconvincing 2-0 defeat to Morocco on Sunday, after which the players reportedly had a row over which of them was farthest down the hill.
I say 'reportedly', because Roberto Martinez has borrowed Donald Trump's favourite phrase, and I don't mean Make Belgium Great Again.
This has been culled unashamedly from Martin Belam's excellent guide, which is linked below. Also, if it's wrong, blame him*.
Croatia A draw is enough for Croatia to qualify. They may still qualify if they lose, if Canada beat Morocco, depending on the margins of the respective victories.
Belgium Belgium need to win to be assured qualification. A draw may be enough, but only if Canada beat Morocco, and even then it will come down to goal difference.
* It's not
The problem with a golden generation is that one day it turns into base metal. In a few hours' time, either Croatia or Belgium – both on the podium at the last World Cup – will be lamenting the end of an era. Barring a defeat for Morocco against Canada, one of these two teams will be going home.
Belgium are the most imperilled. They need to win to be sure of qualifying for the last 16, whereas a draw is enough for Croatia. There is a way Belgium could go through with a draw, or Croatia with a defeat, but we'll come to that in permutations corner.
These are two of the oldest teams in the competition, and some of these legendary footballers are about to appear in a World Cup game for the final time: Kevin De Bruyne, Luka Modric, Romelu Lukaku, Ivan Perisic, Eden Hazard, Marcelo Brozovic, Toby Alderweireld, Dejan Lovren.
And yet. While one of these teams will almost certainly be apologising earnestly to the nation after the final whistle, if either of them top the group they have the chance to go a long way in the tournament. The winners of Group F shouldn't meet Brazil, Spain, France, Argentina or England – the five favourites for the tournament – until at least the semi-final stage.
Two golden generations duking it out, with everything at stake. As final group games go, this is a humglistener.
Kick off 3pm GMT, 6pm in Al Rayyan, 4pm in Brussels and Zagreb.
Source link