United Kingdom
Bledisloe Cup 2022: All Blacks v Wallabies – Rugby Championship live
Key events
Penalty! New Zealand 27-0 Australia (Mo'unga, 47)
Australia look like a beaten team now. New Zealand just keep coming at them. Jordan involved with Clarke creating space in the midfield, driving with his powerful legs, getting his team on the front foot. The pressure proves too much and Australia cough up a penalty in front of the sticks which are easily bisected by Mo'unga.
TRY! New Zealand 24-0 Australia (Whitelock, 43)
WOW! I'm honestly not sure how that's been given. Watching the replays I felt for sure that Whitelock had lost control of the ball but not according to the men that matter. The on field decision was a try and a try it remains.
From the scrum Jordie Barrett at first receiver burst through a half gap. It went to the blindside where Jordan (man of the match so far) jinked and danced through some space to take it close. The ball went back in field where Whitelock took it on and hauled it over the line. Australians swarmed to tackle but couldn't prevent the score. Mo'unga's additional two points means its a long way back now for the Aussies.
43 mins: On field decision is a try! I thought Whitelock was held up but Brace is going upstairs…
42 mins: After a bit of 'after-yous' Porecki, back on the field, throws a skew line-out. All Blacks scrum on Aussie 22.
Back under way. Australia need another miracle comeback. Can New Zealand stretch their lead and get one hand on the Rugby Championship trophy? Big 40 minutes coming up.
This is heat!
"Morning Daniel"
Hi James Cavell. Hope you're well.
"Maybe I couldn't hear it properly, or just couldn't believe my ears, but when Andrew Brace called an offside penalty against James Slipper and asked the TMO to check the tackle, did the TMO tell him that Slipper had actually been onside? As well as that the tackle was fine? As I heard things Brace overruled the TMO correcting an offside call that he had already blown, leading to a penalty from which he then awarded NZ a penalty try.
Might this be controversial? Especially after last week?"
It was a bit strange. The offside question at least. I felt for sure he'd turn that around. I guess after he stopped play he felt compelled to stick with his on-field decision? Not sure. Looks like we'll be talking about the ref once again after the final whistle.
HALF TIME: New Zealand 17-0 Australia
If you're just tuning in you'd assume that it's been one way traffic. You'd be right, sort of, but not entirely. It could equally be a lot worse for the Wallabies but they could have scored a few themselves.
Two yellow cards for the men in yellow has hampered their progress. Jordan's pace, which was blistering out on the right, accounted for the first try and a penalty try for a cynical drag down in the maul meant that a big gap opened up. But Samu in particular, and the Wallabies in general have clung on and won important turnover penalties with New Zealand sniffing their try line.
Korioibete should have pulled one back for Australia after quick hands found him in space in a tight channel on the left, but his boot was already on the touchline when he received the final pass.
It's been a ding dong battle. Up and down. Round and round. They're hammering each other. Another quality game between these two good frenemies. Catch you in a bit.
39 mins: Ding! Dong! Up and down we go. New Zealand have down the left but the Australia get their paws on the pill through an intercept on the touchline. Foley (I think) runs out of space so dinks it up field and Beauden mops up. He's so calm under pressure, waits for it to calm down before picking it up and hoofing it back where it came from. But it doesn't go out and Rieko Ioane gives chase. Kalloway has to do some tidying himself and does well to find room to kick. And breathe.
37 mins: Take a bow Samu! He's just won a penalty on the ground 5m from his own line. New Zealand through Jordan and then Smith attack from deep and get within touching distance of another try but Samu stands up, isolates the runner and stays on his feet to win a pen. Australia are hanging on. They're a long way behind but it could be a lot worse.
36 mins: Australia have to chase the game so they understandably tap and go. They're turned over and New Zealand have it with their heels on their own line. A side step from Retallick opens space and an wonderful off-load in the tackle from Lomax (who is having a top game) opens space for Beauden to make a clearing kick. Australia gather but New Zealand almost turn them. They don't though but get it back and charge bacl up field. Back and forth. These two don't do boring.
33 mins: What a hit, son! Wilson gets the ball deep in his own territory and runs with all the force of a runaway rhino. He pins his ears back and throws himself into a black wall. He's stopped, but the collision is a mighty one. Australia win a penalty on the halfway line and kick it into touch. Their line out has worked tonight so they'll back themselves.
This one also works. Clean ball and they go and win another penalty in front of the poles. Brace gives a lecture to Smith for mouthing off. What is it with scrumhalves?
Australia tap and go….
30 mins: NO TRY! Koroibete has stepped on the touch line within touching distance of try line. A busting charge from Samu takes the ball close and quick hands from the base of a ruck sends it left where the winger is waiting. But his boot is on the whitewash before he dives over so no try. They have the advantage and tap and go again. The ball is held up and New Zealand can drop out. Australia needed to score there.
PENALTY TRY! New Zealand 17-0 Australia
And it's a yellow card for Porecki. The entire Wallaby pack dragged the driving maul down but someone had to go so to the sin bin so it's the hooker. Big trouble now for Australia as New Zealand are rightly rewarded for their dominance. That shove was only going one way.
27 mins: Australia had the ball in New Zealand territory but they were swiftly on the back foot after a counter attack that began with Beauden Barrett who passed to Clarke. The Kiwi winger exploded up field, jinked past one and had Jordan on his right. Pass and it's surely a try. Inexplicably he goes back in field so New Zealand recycle. Retallick picks and goes and momentum is with New Zealand. The game is held up as the referee Brace blows for an off side. That's Slipper who has strayed. Brace considers a card but keeps them in his pocket. AB line-out 5m out.
TRY! New Zealand 10-0 Australia (Jordan, 24)
Scintillating from Will Jordan. He's absolutely skinned the replacement Petaia on the outside by putting on the after burners. The ball came from way out left and wormed it's way right. New Zealand got front foot ball from a charging run from Rieko Ioane but there was still loads to do by the time it make it to Jordan. There appeared to be little on but that was enough for the man with jet fuel in his boots. Pure pace. Mo'unga with the extras opens up a double digit lead.
Penalty! New Zealand 3-0 Australia (Mo'unga, 21)
Really messy period ends with an All Blacks penalty 7m out from the poles. It started with an AB line-out on the right. Australia win it in the air but a wild pass infield from Porecki finds no one and New Zealand swarm and win it back. Lomax charges forward and brings it close to the line and a Wallaby strays off side. The ref tells Slipper his team is on a warning. Another penalty in the red zone and that will be a card.
Mo'unga kicks an easy shot at goal and opens the scoring.
18 mins: New Zealand's defence is water tight. Australia charge it up off the back of another clean line-out. Foketi and Alaalatoa involved but Foley runs out of room and stabs a nothing grubber out.
New Zealand keep the ball from their line out and eventually win a penalty after over exuberance from the Wallabies on the ground. All Blacks line-out 10m into Aussie territory.
16 mins: Ah, it's a knock on by the Wallabies inside New Zealand's 22. A better line-out on the right gives them quick ball. They keep it tight but recycle quickly. Swift passing around the fringe opens a gap but the man through the hole (didn't quite see who that was) can't hold on to the short, stiff pass. All Blacks scrum in their own territory and Jordie Barrett hoofs it to the halfway line.
14 mins: The Wallaby lin-out isn't clean but they win the ball. Several busting runs towards the line come to nothing as the AB's win the penalty. They tap and go, what a mad start to the game. Australia get it back and punt it forward with Koroibete countering. Jordan cleans up for the men in black and the clearing kick only goes as far as the 22. Australia will have the feed. Hectic opening.
12 mins: Penalty to Australia 10m in All Black territory. Brilliant turnaround. The move started with a line-out on the right with Gordan putting up a high kick. Clarke fields it and New Zealand drive it up but once again Australia win the ball on the ground. They have the feed to the line-out 10m out from AB's line.
10 mins: Another penalty in the red zone. Baffled there isn't a card. All Blacks go to the line-out instead.
They'll regret that decision as the Aussies win a turnover penalty on the ground and now Foley has the chance to clear.
Haha. He takes his time to kick and the crowd jeer him.
Huge let off for the Wallabies.
8 mins: Australia turn the scrum into a mess. Great shove. Savea loses control and it becomes scrappy. Clarke cleans up but it's an Australian knock-on in the tackle so New Zealand have the feed again. Still 5m out. Slightly closer to the poles.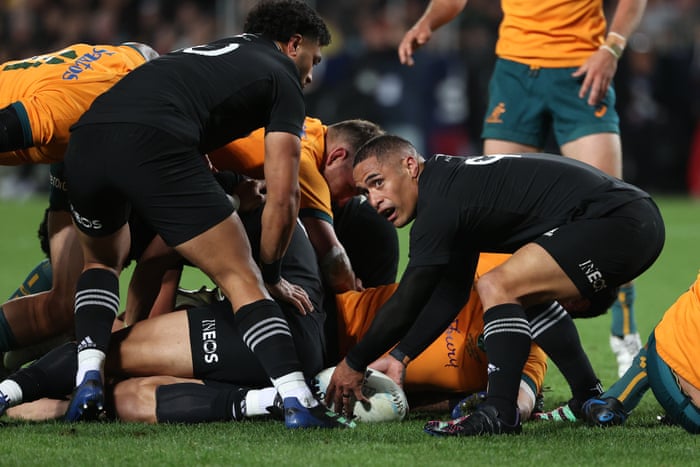 7 mins: The All Black scrum is too strong. Another penalty. They drive it close to the line but Savea is held up. They pack down again. Either a try or a card incoming. Australia need to get a back involved to stop this tide.
5 mins: The extra body in the pack pays off for New Zealand and they shove Australia back and win a penalty. They go to the blindside and Ardie Savea gets his dancing shoes on. He passes inside and the ball is worked across the field where Beauden Barrett finds space and dinks a kick into Aussie territory. Koroibete cleans up but it's an AB scrum again 5m out.
3 mins: A scrum inside NZ territory on the 10m line after a knock on. It's been a good start for the Wallabies but a solid platform now for the ABs with a man advantage.
That's the 8th yellow for Australia in the Championship, more than any other team.
YELLOW! Australia (Holloway, 2)
Nope, it's Holloway who is the guilty party. And he cops a yellow. That he dropped Papali'i safely means he doesn't see red.
1min: A barnstorming run from Holloway takes the ball into NZ's 22m but the clear-out is deemed illegal. There's a tip tackle (I think) from Porecki on Papali'i. I think there's a card coming. Might be a red.
AUSTRALIA DID THE BOOMERANG!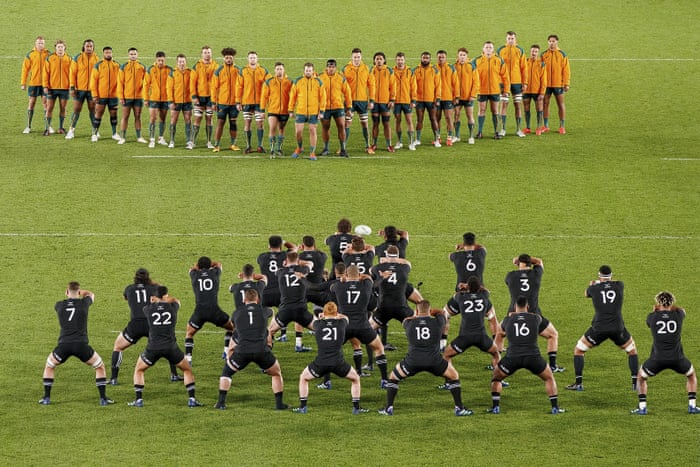 The anthems are done. The smoke is clearing. And the haka is about to get underway. We're getting close.
Ardie Savea is back! In my preamble rambles I forgot to mention that New Zealand's wrecking ball, for my money the most versatile loose forward in the game and a man who would walk onto any team sheet around the world, is back. Hope he goes well.
The haka chat is gaining traction. This from a supporter across the ditch adds some perspective:
This is from a South African rugby writer. Fans across the Indian Ocean will be watching this one closely. It's been a cracking Championship so far. How good would it be if the final game in Durban later today was the deciding contest?
For those of you who like the other oval ball, I've been told it's the AFL Grand Final. I must confess, I know nothing about that sport. It's like watching a swarm of bees pay homage to a Hieronymus Bosch painting. Still, if that's your vibe. Take a gander at the live blog while you wait for the real stuff to start:
So much of the prematch chat has centred on the Haka. Last week, the Australian's lined up in a boomerang formation. Dave Rennie had this to say:
The All Blacks are laying down a challenge with the Haka aren't they? If you're a New Zealander, you face a Haka with a Haka. Most sides in world rugby don't have the luxury to be able to reply or respond that way. So the boomerang shape is unique to us. I've worked with a kaumatua (respected Maori tribal elder) in New Zealand for a lot of years and it was his suggestion back in 2020 to form a boomerang shape.

And the idea being that we throw the boomerang out when we start the Haka and it hovers above their head, mincing up their words and bringing their energy back to us.

And the idea of advancing in the boomerang shape is to show we're up for the challenge. I think it's an incredibly respectful way of approaching the Haka and our boys have certainly embraced it.
Apparently a few All Blacks took issue with the formation after their decisive try last week and gave their Wallaby counterparts a mouthful. They said it was 'disrespectful'.
I'm with Rennie on this one. In my column this week I wondered if we should put a cap on the Haka. If it provides the All Blacks (and other Pacific Island nations) an advantage, should they be restricted to performing it on home soil? Needless to say, a legendary All Black and even a 127-Test Springbok disagreed:
Just the two changes for Dave Rennie's side with Harry Wilson starting at No 8 and the fit again Caderyn Neville moving to the second row. Bernard Foley continues at flyhalf after making a remarkable comeback to Test rugby while Rob Valentini, one of the form players in the game at present, starting at blindside flank.
There's a change at hooker with the double-try scorer Samisoni Taukei'aho making way for Codie Taylor. Sam Whitelock skippers the side in place of the injured Sam Cane with Beauden Barrett starting at fullback. Expect some bombs from his boots. His brother Jordie slots in at inside centre. Will be fascinating to see how he gets on in midfield.
Preamble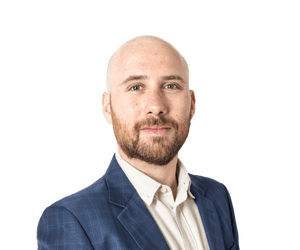 Daniel Gallan
Good morning, good afternoon, welcome to the live coverage of of the sixth and final round of the Rugby Championship from Eden Park, Auckland. Kick off is at 7:05pm NZST/5:05pm AEST/8:05am BST.
Last week was nuts. The match itself was bonkers, dominated by a refereeing decision that prompted Rugby Australia to write a formal letter of complaint to World Rugby.
It's a shame that has been the main talking point as Australia roared back from a gargantuan deficit and almost pulled off one of the more remarkable comebacks in their history. New Zealand, though, did what they always seem to do and scored when it mattered to clinch it at the death. A team condemned as one of the worst in All Blacks history is now just one more victory from securing the tightest Rugby Championship in memory.
History is with the men in black. Australia last won here in 1986 which was the last time New Zealand tasted defeat at their impenetrable fortress.
The Championship may be over for the Wallabies but they'll have revenge on their mind. It promises to be a cracker and I genuinely can't wait.
My name is Dan/Daniel/whatever you prefer. I'll be keeping you company as we build up towards kick-off.
Do drop me an email or say hi on Twitter. I do my best to reply to every message but I read every word and appreciate them all.
I'm off to make a strong coffee. In the meantime, sink your teeth into Angus' preview: