United Kingdom
Australian Open 2023 semi-final: Novak Djokovic v Tommy Paul – live
Key events
Djokovic 7-5, 6-1, 5-1 *Paul (*denotes next server)
Djokovic is tennis royalty, and there is a distinctly superior air to his game now. He holds to love, belting one huge ace down the middle for 30-0, sealing the game with an imperious forehand to the corner.
*Djokovic 7-5, 6-1, 4-1 Paul (*denotes next server)
Paul holds to -15 and strolls off for a drink. He looks skywards, apparently wondering if someone can intervene and give him a way back into this match, that has become so one-sided. It is simply a matter of time now, unless the American can raise his game in a wholly unexpected way.
Djokovic 7-5, 6-1, 4-0 *Paul (*denotes next server)
Djokovic is forced to deuce as Paul refuses to go down without a fight. But the Serb holds easily enough in the end, again relying on his first serve to relieve the pressure.
It's 3-0 in the third, of course, not 2-0.
*Djokovic 7-5, 6-1, 3-0 Paul (*denotes next server)
Physically and mentally, Djokovic has now established total control. At 15-30 he cracks a double-hander down the line that Paul cannot get back.
At 15-40, again, the Serb makes his superiority tell. He watchfully waits for a Paul shot from behind the baseline to bounce long. He already has a double break in the third. The finish line is in sight.
Djokovic 7-5, 6-1, 2-0 *Paul (*denotes next server)
The Djokovic Express is speeding towards a straight-sets win, and a place in the final.
The next edition of The Recap, our selection of the week's best Guardian sport stories, will be going out at midday.
Excitingly, that means you still have time to sign up and get it straight to your inbox. Sign up here!
*Djokovic 7-5, 6-1, 1-0 Paul (*denotes next server)
At 30-30, Djokovic is all over Paul's second serve, powering a double-handed backhand down the line and winning the point despite his opponent's battling.
Paul saves the break point in stunning fashion, battering forehands to each corner and setting up the chance to volley at the net. He puts the volley away. Djokovic nods in appreciation of Paul's composure and skill under pressure.
But Djokovic being Djokovic, he earns himself another break point, and converts, his seemingly inexorable progress rumbling on.
Paul's been off court for a break. Here he comes to serve to open the third set. Can he somehow interrupt the Serb's momentum?
Djokovic wins the second set v Paul! 7-5, 6-1
Paul fights with commendable spirit. He wins a couple of points against the Serb's serve. But it's no use. Djokovic dominates proceedings at 40-30 and establishes a two-set lead. He's one set away from a final meeting against Stefanos Tsitsipas.
*Djokovic 7-5, 5-1 Paul (*denotes next server)
Djokovic threatens to apply some pressure, winning a couple of points against the American's serve, but Paul stays solid and manages to trouble the scorers in the second.
"I was ready for a 6-0 6-0 6-0 scoreline and was more or less ready to sign off at 5-1," emails V Krishnamoorthy.
"7-5 in the first set is already good enough of a fightback for me. Let us see if Paul can hold his nerve and cause the mother of all upsets."
It looks like he needs to write off this second set. Mind you, he came back from nowhere in the first. Can he repeat the trick?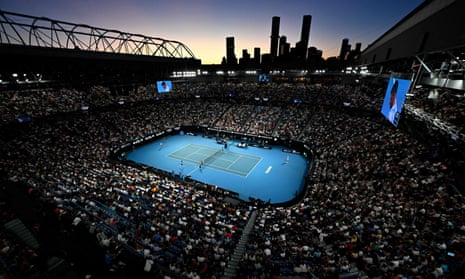 Djokovic 7-5, 5-0 *Paul (*denotes next server)
And now a businesslike hold for Djokovic. Paul is wondering what he has to do to make some impact. He at least needs to find a few good serves and try and get on the board in this second set.
*Djokovic 7-5, 4-0 Paul (*denotes next server)
Order is restored, as far as the nine-times Australian Open champion Djokovic is concerned. At 30-40 Paul nets a difficult forehand on the run, forced out wide by the Serb. Djokovic's foot is firmly on the American's throat.
Djokovic 7-5, 3-0 *Paul (*denotes next server)
At 15-15, Paul demonstrates his speed and athleticism and brings a hearty roar from the crowd, coming to the net to volley but then cleverly anticipating Djokovic's response, volleying again to win the point. Attractive tennis.
Then at 30-30, another double fault from Djokovic, and a look at break point for Paul! On second serve, the players trade blows from the baseline, Paul eventually miscueing and hitting long. Deuce.
In the next rally a backhand from the Serb flicks the net. No problem: Paul moves in and tucks away a winner and bags another break point …
Again, it's an attritional exchange from the baseline. Again, it's Paul that blinks first, spooning a forehand into the tramlines, and it's back to deuce.
Next up it's Djokovic's radar that is off. He hits long. It's a third break point for Paul. Djokovic saves it with a punchy ace out wide.
Paul then shows his frustration when he dumps a backhand into the net, shaping to smash hit racket on the floor, or certainly throw it … advantage for Djokovic. Game over.
*Djokovic 7-5, 2-0 Paul (*denotes next server)
Immediate danger for Paul as Djokovic earns two break points at 15-40. Paul saves the first at the end of another bruising, lengthy rally, running in and clipping an angled winner to the open court.
But Djokovic promptly converts the second break point, pumps his fist, and is on the move in the second set.
Djokovic 7-5, 1-0 *Paul (*denotes next server)
Djokovic belts a handsome forehand winner from outside the tramlines to seal a comfortable hold to kick off the second set.
Djokovic wins the first set v Paul! 7-5
At 30-15, Paul hits a brilliant wrong-footer on his forehand, arrowed to the corner, that Djokovic seems to have no hope of getting back. He does, of course, twisting his body and changing direction like no one else can, forcing it back to 30-30 with some incredible defence.
He soon has set point, and much like Paul a few moments ago, grinds his opponent down from the baseline in another lengthy rally. Paul eventually hits wide, the crowd applauds, Djokovic cups his hand to his ear in a demonstrative celebration.
That was some first set. Paul fought back quite brilliantly, after Djokovic's row with the umpire, but didn't have quite enough to force the tiebreak.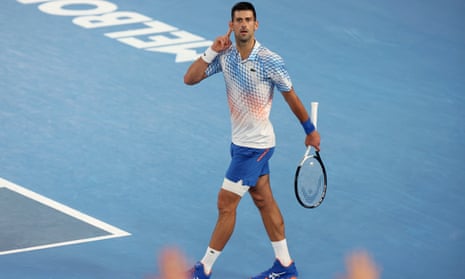 Djokovic 6-5 *Paul (*denotes next server)
Djokovic's turn to hold serve comfortably, to -15, sealing the deal with an emphatic smash. "This is my back yard, son," he seems to be saying, following such a spirited comeback by his opponent.
Tiebreak at worst for Djokovic: Paul must serve to stay in the set.
*Djokovic 5-5 Paul (*denotes next server)
Well, well, well. Paul holds to -15, clinching it with an accomplished volley after a rare foray to the net. His team, in the stands, point and wave and clap and do all the things that signal their satisfaction at the way the American has dragged himself back into this first set. He was a double break down! Against Djokovic! This is good stuff.
Djokovic 5-4 *Paul (*denotes next server)
Who would have thunk it??!! Paul buys himself a chance to get another break back. He has two bites at the cherry, from 15-40. Djokovic saves one of them. Then there is a long, long, attritional rally from the baseline.
Paul stays patient – he is really warming up and seeing the ball well – and simply wears Djokovic down. The Serb hits long. You do not see that very often.
We have a ball game!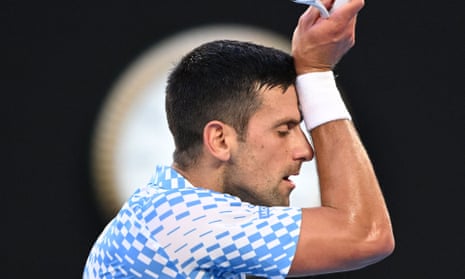 *Djokovic 5-3 Paul (*denotes next server)
Paul now holds with ease. This is a very commendable comeback from the world No 35, who looked to be completely out of the running in this first set when he was a double break down and Djokovic was serving for it. Anyway, the Serb has another chance now.
Fitness-wise, Djoko seems to be moving very nicely indeed. That pesky hamstring isn't bothering him it appears.
Mood-wise, he's been engaged in a spat with the umpire about the shot clock.
Djokovic 5-2 *Paul (*denotes next server)
Hold up! Paul hasn't given up on this first set. Djokovic has 30-0, and a chance for 40-0, but hits long with another expansive, powerful attempted winner from the back of the court. Paul drags himself back to 30-30, and then even more impressively to deuce … he keeps in the rallies and keeps asking the question. At advantage to the American, Djokovic hits wide, and Paul has broken back!
*Djokovic 5-1 Paul (*denotes next server)
At 0-15, there is a thrilling exchange from the baseline. Paul's whippy forehand has plenty of topspin, but the better he hits it, the faster it seems to come back at him from Djokovic's side of the net. The Serb eventually goes to the drop shot to try and finish the rally, but impressively, Paul runs in and dabs an angled winner over the net.
At 30-30 there is another fantastic rally but the Serb gets it done this time and has a chance to get the double break … Paul goes for it again, unloading repeatedly from the baseline, but overcooks a forehand and gifts the double break to Djokovic.
There are too many errors from Paul, and this is unfolding much as expected. Would it have been different had the American prevailed in that long first game, and converted one of his early break points? Maybe, a bit. But Djokovic is in total control.
Djokovic 4-1 *Paul (*denotes next server)
Paul has a sniff at 0-30. In characteristic style, Djokovic fights back to game point at 40-30, including a dismissive, majestic forehand volley that leaves his opponent flat-footed. A double fault next, though, and deuce, after a tight line call …
Djokovic shakes his head, but soon gets back down to business, and closes out the game. As he sits down for a drink, he is gesturing to his team about something, and doesn't look happy. A glance at the scoreboard might cheer him up – he's a break up and on course to take the first set.
Paul is trying to upset him with some punishing ground strokes from the back of the court, but he hasn't troubled the Serb significantly thus far.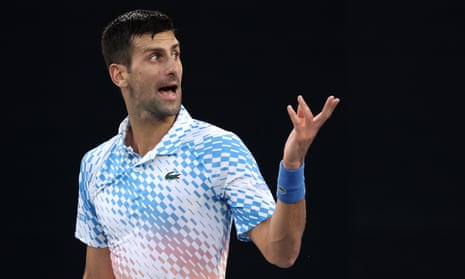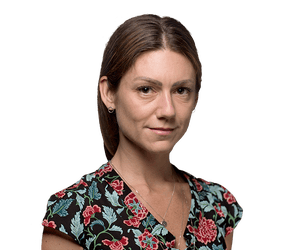 Emma Kemp
To a sea of Greek flags and their holders chanting his name, next gen's nearly man did what he has not quite a few times before. Since 2019 when, right here at Melbourne Park, Stefanos Tsitsipas upset Roger Federer en route to his first grand slam semi-final, he has made the semis four times. Three of those came at the Australian Open, his self-described "home slam", but it was only the 2021 French Open at which he took the next step, before losing the final to Novak Djokovic after giving up a two-set lead.
As of Friday the 24-year-old can lay claim to two deciders, after arm-wrestling Karen Khachanov into submission for a 7-6 (2), 6-4, 6-7 (6), 6-3, a victory he has dreamed of since watching Marcos Baghdatis in his 2006 Australian Open final loss to Federer on television as a child.
*Djokovic 3-1 Paul (*denotes next server)
At 30-30 it's Paul's turn to belt a point-winning forehand for the corner, but he hits this one inside-out to Djokovic's forehand side, leaping off the hard court to apply maximum power. It's a sensational shot under pressure that Djokovic gets his racket to, but cannot return. That buys Paul a game point, which he promptly converts. Well done.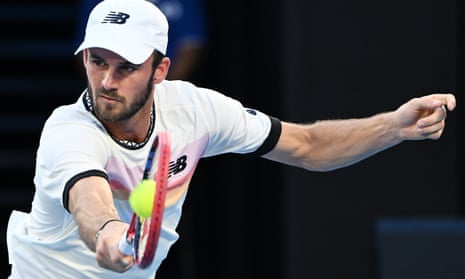 Djokovic 3-0 *Paul (*denotes next server)
Worrying signs for Paul at 15-15, when Djokovic opens his shoulders and powers a clean forehand winner to the corner. Too good.
Paul then limply nets again from the baseline for 40-15. He can't afford to do that.
Djokovic then plays an identical big forehand to that same corner – it's not as sweetly struck as the one before – but it's enough to draw a mishit from the American, who looks a bit sheepish as he sits down for a drink.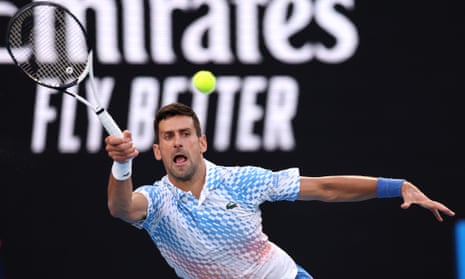 *Djokovic 2-0 Paul (*denotes next server)
Paul hits long twice for 0-30. And then again, coming to attack the net, for 0-40. After that lengthy battle in the first game, the second one shapes up to be over very quickly indeed.
Paul wins one point – thanks to an error by Djokovic – but another unforced error by the American, from the baseline, hands the Serb the early break.
Djokovic 1-0 *Paul (*denotes next server)
First up, Paul immediately tries to attack Djokovic's second serve, but nets an ambitious, high-velocity return for 15-0. Djokovic messes up a smash for 15-15, and Paul has a flicker of a chance at 15-30, after again looking to attack, hitting powerfully from the baseline.
Djokovic takes it back to 30-30 with an unreturnable serve … but then double faults! It's a break point for Paul at the first time of asking.
A beefy serve down the middle from the Serb gets him out of a hole. Deuce. Djokovic soon has advantage, too, but hits long and it's back to parity.
A second break point for Paul comes when Djokovic hits an odd, tired looking backhand into the net. But again he produces a powerful first serve to save himself, then thumps an ace out wide. Another ace, down the middle, and that's the game. A positive approach from Paul, anyway, and early work to do for Djokovic.
Warm-ups are done. Djokovic to serve. Let's go.
Here come the players on to Rod Laver Arena. "It's time for the match," says the Eurosport presenter, Alizé Lim. She's not wrong.
Tommy Paul "is a great athlete and very solid from the baseline", says Barbara Schett on Eurosport.
Mats Wilander adds of Paul's potential approach: "He has to be prepared to risk everything … he has to take it to Djokovic."
"Hit winners from the back of the court, and don't make mistakes," adds the super-coach, Tim Henman.
Yesterday, both women's semi-finals were high-quality matches. Tomorrow's final will be a collision between two big hitters – Elena Rybakina, who defeated Victoria Azarenka, will meet Aryna Sabalenka, who progressed to her first grand-slam final after dispatching the unseeded Polish player Magda Linette.
One men's semi-final is complete: Stefanos Tsitsipas, the No 3 seed, awaits in Sunday's final following his four-set win against Karen Khachanov. (I would write Karen Khachanov of Russia, but of course he was competing under a 'neutral' flag.)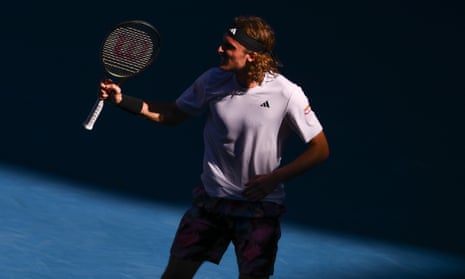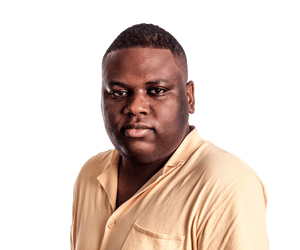 Tumaini Carayol
Srdjan Djokovic, the father of Novak Djokovic, has said he will not attend his son's Australian Open semi-final match against Tommy Paul on Friday night and he had "no intention of being caught up" in any disruption after being filmed with pro-Vladimir Putin spectators on Wednesday night.
Can anyone stop Novak Djokovic? Specifically, can Tommy Paul stop Novak Djokovic? It seems unlikely. But no one would have given the unseeded American, ranked No 35 in the world, a hope of making it this far. He came through a second-round five-setter against Alejandro Davidovich-Fokina of Spain, and conquered Andy Murray's nemesis, Roberto Bautista Agut, in the fourth round.
He's had a fine run, and evoked memories of former American greats such as Andy Roddick, the last US male player to make a semi-final at Melbourne Park. But Paul is facing the nine-times champion on his favourite court, the venue at which he has achieved the most success. The Serb also seems extra-motivated (if that is even possible) following last year's Covid vaccination furore, but he has, as usual, been dogged by controversy.
The waiting will be over in a few minutes, with Djokovic aiming for a crack at a 10th Australian Open title. Let's do this.