Netherlands
Van welke kazen kun je de korst eten (en van welke niet)? – Culy.nl
Een intense Bleu D'Auvergne, stinkende Epoisses of romige brie: van weinig dingen worden we blijer dan van een good old kaasplankje. Maar wanneer hoor je de korst er eigenlijk af te snijden, en wanneer niet? We zochten het uit.
Kazen met eetbare korsten
Kazen vallen onder te verdelen in verschillende categorieën. Zo heb je een categorie kazen met een bloemige korst. Hieronder vallen onder meer Brie en Camembert en dit soort korsten kun je met een gerust hart eten. Daarnaast heb je ook kazen met een gewassen korst. Hieronder vallen onder meer Taleggio, Epoisses (dat stinkkaasje) en Lissome. Ook deze korsten kun je gewoon eten.
Ten derde heb je ook kazen met een natuurkorst (zoals Tomme de Savoie, roodflora als Benedictus of de Remeker Pril). Geen grote verrassing, maar ook dit soort natuurkorstkazen kun je gewoon in hun geheel opeten. Tot slot zijn er nog heel wat kazen die helemaal geen korst hebben, waardoor ze in hun geheel eetbaar zijn. Denk hierbij aan verse kazen als geitenkaas, feta, halloumi, mozzarella of burrata – al trappen we hier ongetwijfeld een open deur mee in.
Van deze kazen kun je de korsten niet eten
Kazen met korsten die je niet kunt eten herken je aan een glimmende, wasachtige korst. Gouda of Edammer zijn hiervan de bekendste soorten: eet de korsten dus nooit op.
Daarnaast zijn ook de harde korsten van parmezaanse kaas (of Grana Padano) niet aan te raden om op te eten. Wel kun je van deze korsten nog heel lekkere bouillon trekken, zoals we in dit recept doen.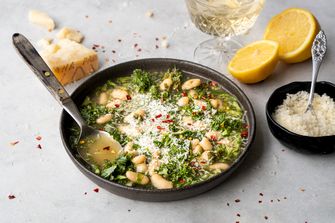 Onze favoriete recepten met kaas: