LifeStyle
Is your degree worthless in S'pore? MOM finds it's not important in 64% of PMET vacancies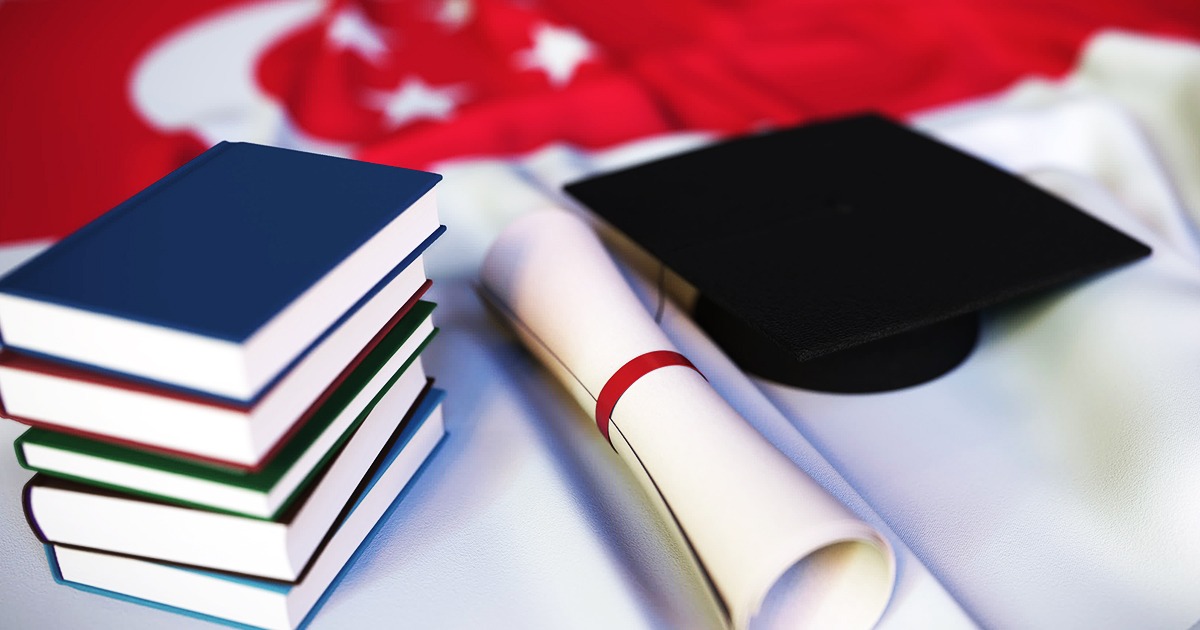 Disclaimer: Opinions expressed below belong solely to the author.
Singapore's Ministry of Manpower has just released its annual Job Vacancies report for 2022 and it, of course, makes an interesting reading for all job seekers.
What struck me about it, however, is not the obvious dominance of the IT sector among the most newly-created jobs or the burning need for construction workers, as the city-state's economy is rebounding from the pandemic.
Instead, the most interesting trend in the country commonly seen as conservative and risk-averse, is the rapid shift away from the conventional hiring practices — and the slow death of the university degree as the prerequisite to a good career.
Just look at this chart:
Not only are academic qualifications not a concern for employers in nearly two out of every three PMET vacancies on the market, but the pace of the shift is quite remarkable too — from a little over 40 per cent in 2017, to nearly 65 per cent in just five years.
It's very nearly a reversal of proportions — from close to two-thirds in favour of candidates with strong degrees to nearly two-thirds who don't really care.
Mind you, this has happened at the same time that the greater shift in labour force happened, seeing rising demand for qualified professionals over non-PMET workers: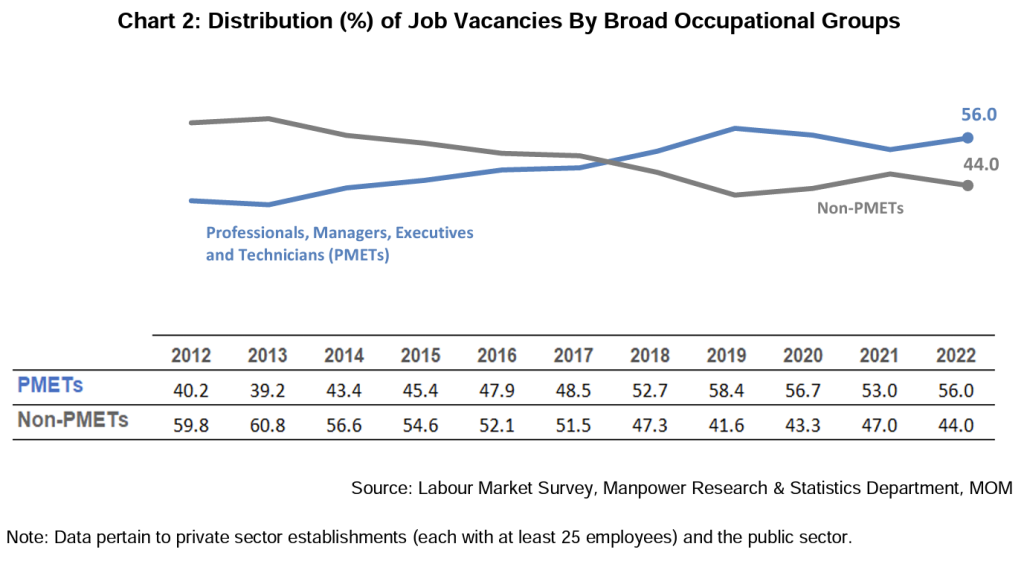 Five to 10 years ago, Singapore was still thirsty mainly for lower-end labour — people who could perform menial tasks, which did not require advanced skills.
Since 2018, however, annual demand for qualified professionals has increased in comparison to simple workers, leaving more of these positions unfilled.
In fact, around one out of five PMET vacancies were left empty after more than six months on the market, suggesting either a shortage of talent or pickiness among the local workforce (or both, perhaps).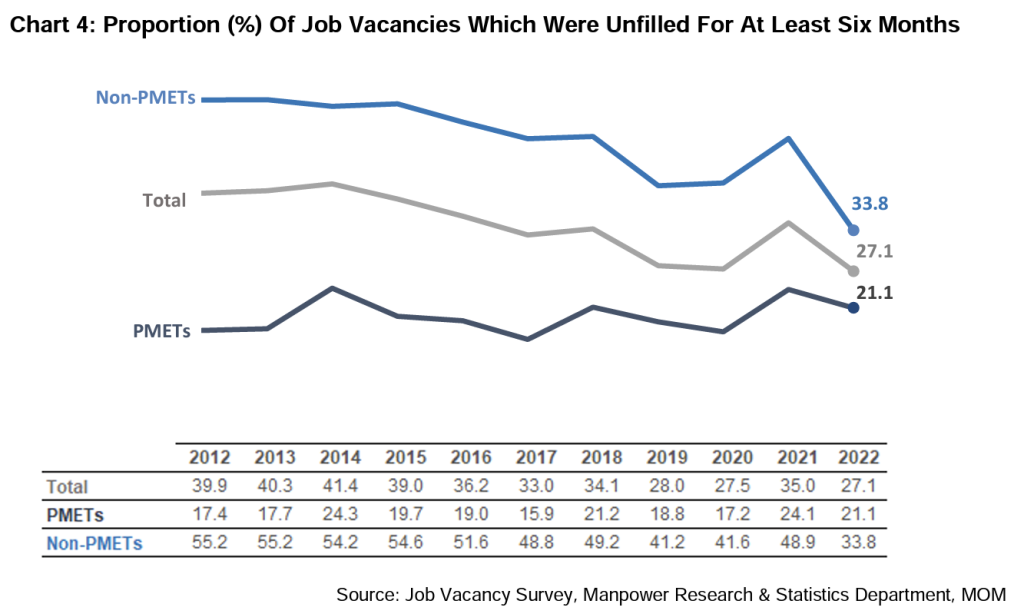 And all of this is happening despite the fact that academic qualifications are no longer a major concern among most employers.
Top PMET vacancies in 2022
In its report, the ministry compiled a list of top 10 vacancies among PMET professions last year. As you will notice, four out of the top five academic qualifications are marked as not being a main consideration for the company.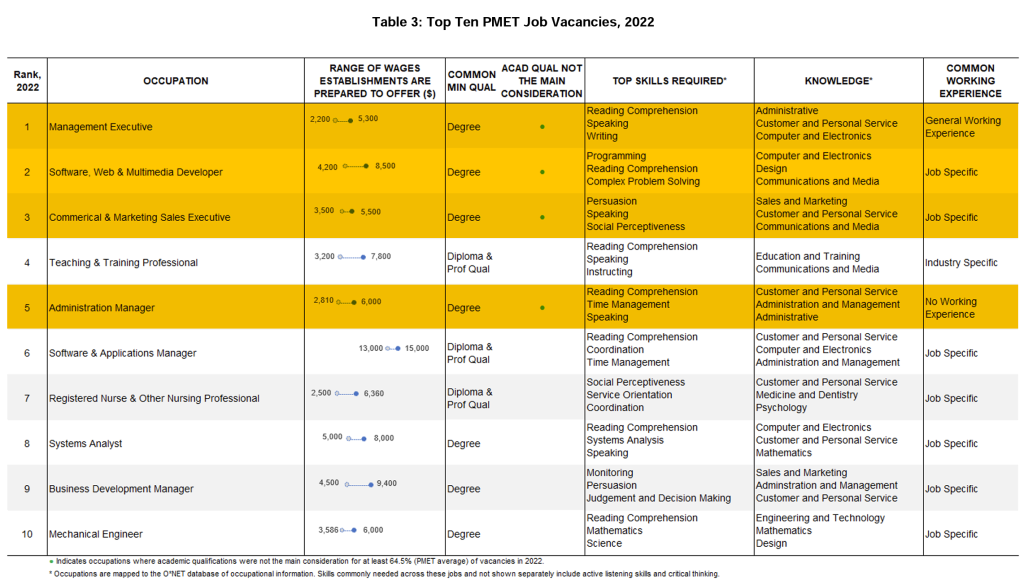 It's not only in the hippie, laid-back world of modern IT companies that papers matter far less than your skills, but in good old corporate world as well.
Management, sales or administration executives are sought mainly for their real life skills, not the paper or a title obtained at some recognisable university (be it at home or abroad).
There are, of course, professions where a degree might be a legal prerequisite to starting a job, particularly if it involves responsibility over things that may affect human lives.
But I think even in these professions, they are merely a bureaucratic stepping stone, a necessary hurdle that candidates must cross, and not necessarily a major competitive advantage versus other applicants.
How much is your degree worth these days?
It's not worthless, but it sure is worth less.
There are a few reasons for that specific to Singapore, besides the global decline in respect for academia and the skills it equips people with for the very dynamic world we live in.
Singaporean universities used to trail the world as the country tried to catch up, but today, they rank among the global top. This means that the relative value of travelling out to study abroad before returning to the local workforce bearing an American or British degree has greatly diminished.
In other words, the pool of people with top tier education has increased to the point it covers virtually all Singaporean graduates, regardless of whether they studied in the country or outside of it.
It means that other factors have had to come into play for recruiters to make their hiring decisions.
A candidate with any working experience will be better than a candidate with no experience, even if he comes from one of the world's best schools.
Besides previous jobs, any awards, internships, references, project portfolios contribute to a much more unique and harder to replicate profile of an employee than paper qualification that essentially needs just a monetary outlay and surviving the studies for their duration — what millions of people do each year all over the world.
That said, I don't think we're at a point where you can completely disregard tertiary education and simply try to learn things on the job as a young 20-year old — although I'm sure it can (and does) work for many people.
A decent degree is still good to have, if only as a bullet-point in your CV. It also remains useful as a networking experience of meeting like-minded peers and building relationships that may become valuable later in life.
At the same time, however, it makes sense not to obsess over papers and, even as you're still studying, to look for opportunities to prove yourself in something outside of the curriculum, before you enter the labour market full time.
That impressive crest of a well-known university may no longer be enough to convince recruiters of your value to the company — and a corresponding salary.
Featured Image Credit: alexeynovikov / depositphotos