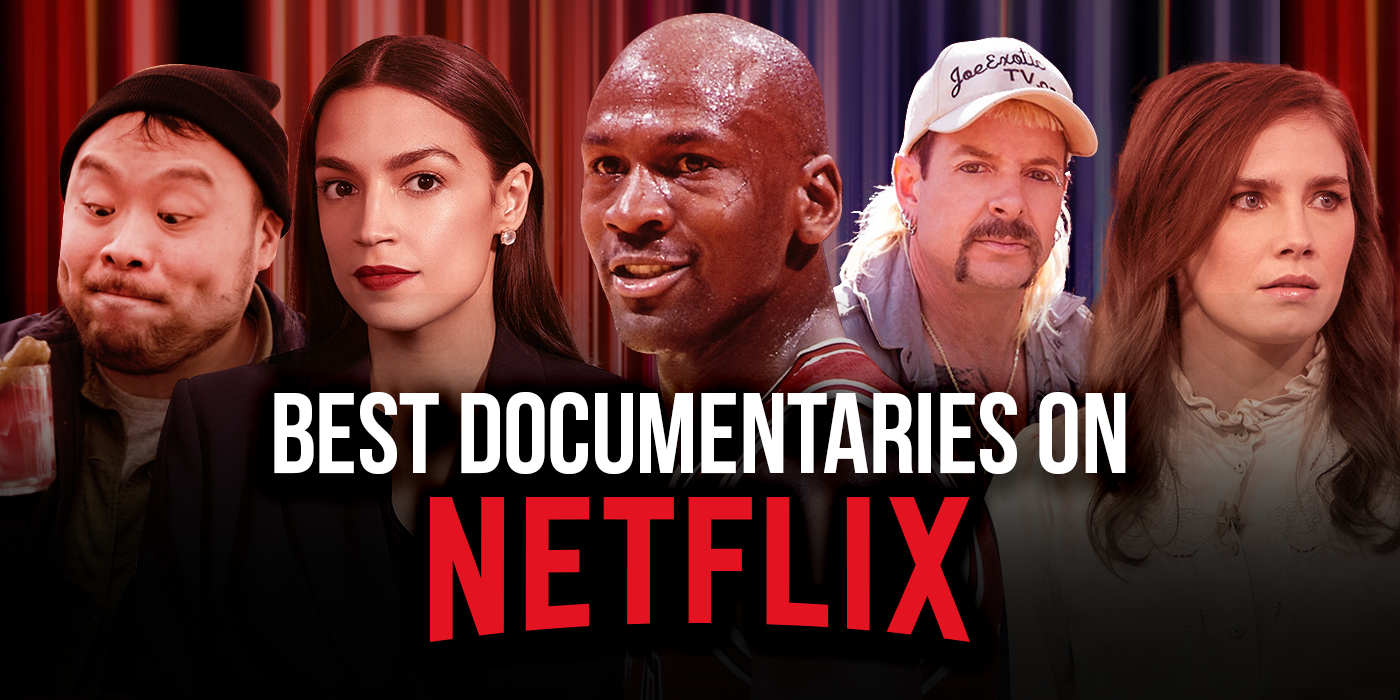 Documentaries connect us all. The element that most viewers tend to gravitate toward when it comes to documentaries is the essence of real life that one gleans from the assemblages of historical footage, photographs, talking heads, pre-recorded audio, and sequences of physical excursion or simple quotidian tasks. There's an undeniable feeling of authenticity even when you're watching something clearly biased. Even in cases where the film's overall focus is narrowed to fit a pre-conceived narrative, there's an unmistakable feeling of intimacy, of being let into a filmmaker's brain for a quick flash. In using snippets of the real world, in a variety of forms, great documentaries use images of universal, familiar existence to impart something tremendously personal, even intimate. And with the recent explosion of the "docuseries" format, we have the ability to go deeper into a story than ever before.
Netflix has a bountiful of great documentaries that cover a diverse range of subjects, from true crime to sports to even filmmaking. Below, we've assembled a list of what we believe are the best documentaries on Netflix right now.
13th
Director: Ava DuVernay
Ava DuVernay follows up her acclaimed film Selma with a searing documentary that looks at the mass incarceration of minorities following the passage of the 13th amendment. As the documentary points out, it's not just ingrained cultural racism that results in the widespread incarceration of African-Americans and other minorities.  There's a financial incentive as well, and it's good business to lock people up.  13th systematically goes through the decades following the passage of the 13th amendment to show how black people were targeted by the media, by the government, and by businesses to create a new form of slavery.  It is a movie that will infuriate you, depress you, and hopefully spur you to action against a system that has done egregious harm to our fellow citizens.  – Matt Goldberg
My Octopus Teacher
Writers/Directors: Pippa Ehrlich and James Reed
If you're looking for something soothing, uplifting, and oddly beautiful, you should check out Pippa Ehrlich and James Reed's lovely documentary My Octopus Teacher. The movie follows filmmaker Craig Foster who goes snorkeling off the coast of South Africa and encounters an octopus. He resolves to interact with the octopus every day and learn as much as he can about the creature. Through their stunning underwater photography, we see a magnificent and startling intelligent animal working its way to survive in a dangerous kelp forest. The film never anthropomorphizes or cheapens the complexity of this underwater world, while also never losing sight of the majesty it presents. Even if you're not much for nature documentaries, you'll likely be enchanted by My Octopus Teacher. – Matt Goldberg
American Murder: The Family Next Door
Director: Jenny Popplewell
The Netflix original documentary American Murder: The Family Next Door is a harrowing, infuriating chronicle of the 2018 Watts family murders that uses social media posts, law enforcement recordings, text messages, and home video footage to revisit the events that unfolded. It examines the disappearance of Shanann watts and her two children, and the horrible events that followed as her husband was questioned by police as to his potential involvement in her disappearance. The film largely keeps the focus on the victims, making it a standout amongst many true crime documentaries. It lays bare the lies that our social media profiles can carry, and the toxicity that festers in the heart of far too many American relationships. – Adam Chitwood
High Score
The six-episode docuseries High Score is one of the best documentaries Netflix has made thus far. This is an in-depth look at the origin story of video games as we know them, as told by the people who made them. It begins with a deep-dive into the shift from arcade games to in-home consoles and chronicles everything from the game-changing arrival of the NES to how Sega built a strategy to challenge Nintendo. This is far more in-depth and candid than you're likely expecting, and when you finish you'll be begging for a second season that gets into N64 and beyond. – Adam Chitwood
The Last Dance
Director: Jason Hehir
You don't have to love basketball to be wholly enthralled and wowed by the 10-episode docuseries The Last Dance. Over the course of 10 hours, the story of Michael Jordan's final season with the Chicago Bulls is juxtaposed with the story of his earlier life and career, and the careers of Bulls teammates like Scottie Pippen and Dennis Rodman. This flashing back and forth always keeps things interesting, contextualizing the 1997-98 Bulls season by filling in the blanks of what came before. You'll be amazed at Jordan's skill and drive, but the docuseries also has some eye-opening and surprisingly candid moments from one of the greatest atheletes to ever live. If you were a fan of basketball in the 90s you'll find much to connect with, but even if you don't really watch basketball, The Last Dance is a fascinating chronicle of a man who spent his live striving for greatness at all costs. – Adam Chitwood
The Speed Cubers
Director: Sue Kim
At a scant 40 minutes, The Speed Cubers delivers more of an emotional wallop than feature-length documentaries. The story follows competitive Rubix Cube solvers Feliks Zemdegs from Australia, who was the uncontested world champion until the arrival of American Max Park. What could be the premise for a story about serious rivalry in a niche sport instead becomes a beautiful tale of friendship and heroism. You see, Feliks is Max's hero, and Feliks, instead of feeling threatened by Max's rise, instead encourages and congratulates his rival. When so many stories about competition easily give way to negativity, it's truly heartwarming to see such a positive and uplifting tale. Take a lunch break to watch this one. You'll be glad you did. – Matt Goldberg
Tiger King: Murder, Mayhem and Madness
Directors: Eric Goode and Rebecca Chaiklin 
Each installment of the seven-episode docuseries Tiger King is crazier than the last, to the point that you may find yourself saying multiple times, "Well surely things can't possibly get any weirder than this." You'd be 100% wrong. Tiger King follows the exploits of Joe Exotic, a flamboyant and extremely confident owner of a private big cat zoo in Oklahoma. The story of Joe Exotic is stranger than fiction, involving lies, guns, a bid for the U.S. presidency, and a murder-for-hire plot. This is a thing that must be seen to be believed. – Adam Chitwood
Crip Camp
Directors: Nicole Newnham and Jim Lebrecht
The first Netflix documentary to hail from executive producers Michelle and Barack Obama was the Oscar-winning American Factory, and their second effort Crip Camp is just as great if not better. The film shines a light on the individuals who spent most of their adult lives fighting for basic human rights, with many having attended a camp for disabled tends called Camp Jened in the 1970s. Incredible archival footage from this camp opens the film, but we then follow the various people we've met as they spend the next few decades embroiled in activism to pass legislation to make the world accessible for those with disabilities. It's a fight that never should have had to be fought in the first place, and it's both inspiring and infuriating to see how tirelessly these individuals had to push and push and push to affect even the tiniest bit of change. – Adam Chitwood
Miss Americana
Director: Lana Wilson
The Taylor Swift Netflix documentary Miss Americana is far from your typical music doc. It isn't even really all that focused on Swift's music so much as it is on Swift as a person. More specifically, it's a film about Swift's long journey to figuring out how not to care what people think about her, and how that manifests in her feminist awakening and decision to publicly express her political opinion—which we see occur in real-time. Some will ding the film for being too manicured, and in truth it's impossible to tell just how heavy a hand Swift had in the tailoring of the documentary re: her self image. But the film's true moments of insight are hard to ignore, and it's fascinating to watch Swift come to terms with who she is as a human being while also being one of the most famous people on the planet. – Adam Chitwood
American Factory
Directors: Steven Bognar, Julia Reichert
Do you want to feel good about the state of the American industry and the treatment of its skilled labor force? Then skip this flick. American Factory is the award-winning look at a defunct General Motors plant in Dayton, Ohio which is given a new lease on life when a Chinese billionaire invests in it as a new American glass-making facility for his company, Fuyao. If you've ever worked on a factory floor or been part of either side of the picket line, you know how this story goes.
This documentary is the first title under the Higher Ground banner, a production company formed by President Barack Obama and First Lady Michelle Obama and distributed by Netflix. But it's first a production of Participant Media, which screened the documentary at the 2019 Sundance Film Festival where it won the Best Documentary award and got the attention of Netflix and the Obamas. And just in case their involvement sways you one way or the other, try to check that bias at the door; American Factory tells of the plight of the skilled labor force, be they American or Chinese, as easy victims of the rich and powerful, be they American or Chinese. And it's also the story of the American Dream, and whether that's a fact or a fallacy.
There's also a stinger at the end lamenting the ultimate decline of the human workforce due to automation, yet it's worth remembering that the machines themselves are simply tools that improve the production pipeline; it's still a human being, and often a bean-counting, bottom-liner who stands to make a few more points on their stock portfolio, who makes the call to replace flesh-and-blood workers at the end of the day.  – Dave Trumbore
The Great Hack
Directors: Karim Amer and Jehane Noujaim
The 2019 Netflix documentary The Great Hack takes a deep dive into the Facebook-Cambridge Analytica scandal, and how, despite Facebook's denials, the social media giant used personal data harvested by its users. Through interviews with investigative journalists and Cambridge Analytica whistleblower Brittany Kaiser, the film offers a shocking deep-dive of how data has become the most valuable resource on the planet, and how data is used to target users with ads and fake "viral videos" and news stories to swing major elections. One of the most disturbing documentaries of 2019, full-stop. – Adam Chitwood
Power of Grayskull: The Definitive History of He-Man and the Masters of the Universe
Writers/Directors: Randall Lobb, Robert McCallum
Power of Grayskull: The Definitive History of He-Man and the Masters of the Universe tells you exactly what is waiting for you right there in the title. From filmmakers Lobb (Turtle Power, and the upcoming Conan the Barbarian and The Dark Crystal: Age of Resistance documentaries) and McCallum (Nintendo Quest) comes a deep dive into all things He-Man. From the chaotic creation of the musclebound hero as a Mattel toy franchise dreamed up as a competitor to Kenner, to the low points of the brand in the late 80s and 90s, and the modern resurgence of the property thanks to a dedicated fanbase and savvy creative decisions, this documentary is a one-stop shop for all things MotU.
In just about 95 minutes, this lengthy chat with creatives behind the scenes of the brand, spanning from the early 80s to today, tells the untold tale of how one of the most iconic creations came to be. It's fascinating enough for general audiences to see how the sausage is made in industries as varied and yet interconnected as toys, comics, cartoons, live-action movies, and more, yet it's definitely made for the diehard He-Man and She-Ra fans out there. And if you're a collector, watching the doc might not be enough for you; luckily you can add the newly released home video to your MotU collection starting September 3rd! – Dave Trumbore
Knock Down the House
Director: Rachel Lears
While some may be quick to dismiss this documentary because its main figure is liberal political Alexandra Ocasio-Cortez, Rachel Lears' film isn't really concerned with the right-left divide. Instead, it's about insurgent, grassroots politicians fighting the entrenched establishment power. Although Ocasio-Cortez' story over-arches the whole film, Lears also takes time to follow other female politicians who are seeking to win their primary battles. The film is at its best when it shows the gritty, unglamorous work of campaigning and building a movement. If you're fed up with business-as-usual politicians who have forgotten their constituents, Knock Down the House provides an inspiring rally cry. – Matt Goldberg
Abducted in Plain Sight
Director: Skye Borgman
The words "bonkers", "crazy", and "wild" might come to mind while watching the true crime documentary Abducted in Plain Sight, but they would all be negated by the disturbing story that unfolds in Skye Borgman's film. The narrative follows the Broberg family, whose daughter Jan was abducted not once but twice by their neighbor Robert 'B' Berchtold. The details of those abductions certainly fall into the realm of stranger-than-fiction, but the methods of Berchtold are that of a true monster and predator who ripped the Broberg family apart simply so he could get at Jan. Yes, the details of the story are jaw-dropping, but the overall narrative is far more unnerving. – Matt Goldberg
Five Came Back
Director: Laurent Bouzereau
The three-episode docuseries Five Came Back is an adaptation of author Mark Harris' non-fiction book of the same name, which looks at World War II though the eyes of five filmmakers who helped the war effort in different ways: John Ford, William Wyler, John Huston, Frank Capra, and George Stevens. These iconic Hollywood directors were enlisted to make various documentaries during the war to rally support, train troops, and document horrific experiences. The docuseries—narrated by Meryl Streep and featuring interviews with folks like Steven Spielberg and Guillermo del Toro—takes a look at their careers before the war, the kinds of films they made for the government during the war, and how their work was forever changed by their experiences. It's a must-see for WWII buffs, and not only is it masterfully structured, but Netflix has also made available 13 of the documentaries discussed in the film to watch after it's over. – Adam Chitwood
Ugly Delicious
Food is culture. That's kind of the central premise of the Netflix documentary series Ugly Delicious, which is part food show, part travelogue, and part documentary. The show's eight-episode first season delves deep into foods like pizza, barbecue, and tacos as host/executive producer/world-renowned chef David Chang investigates what makes a pizza a pizza, or what technically constitutes a taco. But quickly, the show hit upon the idea of charting culture through food—how does a traditional pizza made in Naples become a Domino's pizza? What does pizza mean to the people of Italy vs. the people ordering delivery? This offered a means to explore not just how the food changes from place to place, but who the people are in each place, and why they eat the food they eat. That idea is expanded even further in the show's second season, as it explores themes of parenthood, how displacement affects food culture, and the shifting nature of what a "steak dinner" means to people. This is great viewing but beware: it'll make you hungry. – Adam Chitwood
They'll Love Me When I'm Dead
Director: Morgan Neville
When Netflix finally released the long lost Orson Welles film The Other Side of the Wind in November 2018, they simultaneously dropped a documentary about the making of the notorious film. The result, They'll Love Me When I'm Dead, is utterly fascinating as it not only chronicles the decades-long journey of working on, shooting, reshooting, editing, reshooting, re-editing, etc. of The Other Side of the Wind, but it also gives insight into Welles' career in the shadow of Citizen Kane. If you're somewhat unfamiliar with Welles' work outside that masterpiece, The Other Side of the Wind is a must-watch, as it explains why and how he kind of faded in his later years. But beyond that, the making of The Other Side of the Wind is simply insane. – Adam Chitwood
Conversations with a Killer: The Ted Bundy Tapes
Director: Joe Berlinger
Notorious serial killer Ted Bundy was unique in that he ultimately didn't confess to his crimes—which include the murder of at least 30 women—until days before his execution. So the four-part docuseries Conversations with a Killer: The Ted Bundy Tapes pulls from an interview series in which Bundy agreed to speak in the third person, analyzing the kind of person who may have committed the crimes attributed to him. The tapes themselves honestly don't provide too much insight, but Berlinger's documentary does. He interviews only those who interacted with Bundy in person and chronicles the killer's life and crimes, juxtaposing them with the lies Bundy often told about himself and his upbringing. It's an engrossing watch that gives ample voice to Bundy's victims while also explaining how Bundy was able to elude authorities for so long. – Adam Chitwood
The Unknown Known
Director: Errol Morris
While a number of films have been made about the Iraq War, legendary documentary filmmaker Errol Morris goes straight to the source for The Unknown Known. The film chronicles the political career of former U.S. Secretary of Defense and congressman Donald Rumsfeld, with Rumsfeld himself sitting in for a series of interviews with Morris. Tough questions are asked, and while Morris isn't really here to outright admit wrongdoing or reconsider his choices, the steadfastness and confidence with which he recounts the Iraq War saga is downright chilling. As far as political documentaries go, this is a must-watch. – Adam Chitwood
Audrie & Daisy
Directors: Bonni Cohen and Jon Shenk
Audrie & Daisy is a tough watch, but also a necessary one—especially in 2018. The documentary chronicles the stories of two high school students who were sexually assaulted. Audrie, 15, was subjected to such intense cyberbullying after the incident that she committed suicide. Daisy, 14 at the time of her assault, hears about Audrie's story and tries to reach out, only to discover she's already gone. The film tracks the events of both traumatic events while also chronicling how the institutions meant to protect citizens failed both of these victims. And while this is an intensely emotional film, the courage of Daisy's story instills hope, and Cohen and Shenk conclude the film by focusing on the efforts being made to stop assault before it begins. – Adam Chitwood
A New 'WandaVision' Featurette Promises Even More MCU Shenanigans to Come
"I think it's gonna be really satisfying for people when they realize what is at the heart of this show."
About The Author