movie-reviews
'Shortcomings' Director Randall Park & Justin Min, Sherry Cola, & Ally Maki on Telling a New Asian American Story | Sundance 2023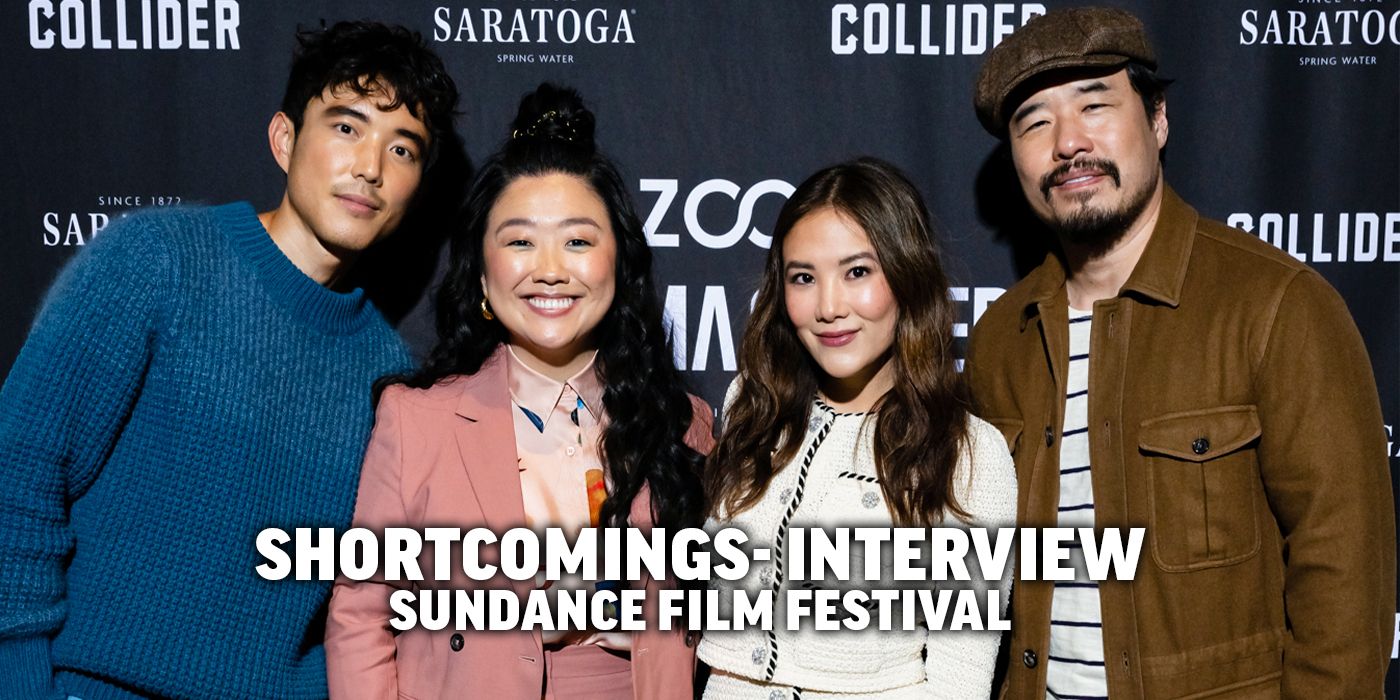 Adapted from the graphic novel of the same name, Shortcomings marks Ant-Man and Always Be My Maybe actor Randall Park's feature directorial debut at this year's Sundance Film Festival. Directed off a script penned by the original story's author, Adrian Tomine, Shortcomings is a comedy that follows Ben Tanaka (Justin Min), through the mire of modern dating soon after a split with his longtime girlfriend, Miko (Ally Maki). The two go their separate ways, Miko to New York for her internship while Ben lingers around the Bay Area in search of whatever he considers a more fulfilling relationship.
Shortcomings also tackles issues of racial identity and culture faced by Asian Americans as Ben ventures into his newly-single life. At first, Ben wants to take advantage of his freedom, opting to date the blonder, whiter women that have previously occupied his fantasies. After a number of mishaps, his best friend, Alice (Sherry Cola), also takes off for New York to live with her girlfriend (Sonoya Mizuno), convincing Ben to tuck tail and follow after, in hopes of reclaiming the comforts of his familiar relationship with Miko.
While at Sundance for the world premiere of Shortcomings, Park, Min, Cola and Maki stopped by the Collider Studio presented by Saratoga Spring Water in Park City to talk about the film with Editor-in-Chief, Steve Weintraub. During their interview, Park shares why the graphic novel resonated with him 15 years ago, the representation he wasn't used to seeing onscreen, and the obstacles they overcame shooting an independent film. The cast discusses Shortcomings' themes, why the "slice of life" movie is the classic Hollywood has been missing, the significance movies play within the film, the Randall Park Cinematic Universe, and how this movie is a testament to Asian Americans in Hollywood. You can watch the interview in the player above, or read the full transcript below.
COLLIDER: Congratulations, I believe this is your first feature that you have directed. How have you been describing the film to friends and family?
RANDALL PARK: I've been bad at it, but what I usually say is it's about three Bay Area urbanites who are making a lot of mistakes in life, but trying their best. That's what I usually say, It's kind of vague.
Do you guys describe it a different way?
SHERRY COLA: A key phrase for me is "slice of life." It's people having conversations, it's very raw and perfect. Those are some keywords without spoilers.
ALLY MAKI: I think it's definitely, like Randy was saying, a hard movie to sum up. Because, we talked a lot about how the arcs of these characters [are] not like crazy like sci-fi, or anything like that. It's just about these three people that are finding themselves in Berkeley, and then end up in New York.
One of the things I appreciated is that it is exploring what it means to be Asian American in a new way on screen. It's expanding you know, I don't want to say a genre, but it's expanding the characters of what's been depicted. Is that one of the main reasons why this material is so important to you?
PARK: Yeah. You know, when I read the graphic novel that Adrian Tomine wrote – he also wrote the screenplay, but when I read his graphic novel 15 years ago, I was just so, so struck by how real and authentic it felt. I was around the same age as these characters at the time and it felt like my life in a lot of ways, and people that I knew, and places that I've been. That was really mind-blowing for me at that time, specifically, because I had never seen that reflected back at me in any kind of media. So the thought of telling a story like this where it's really like what we do every day, which is to hang out, go to restaurants, talk about our lives, I mean, to make a movie like that was particularly exciting for me.
COLA: Yeah, I think the themes of this film [are] like people growing apart, people just sabotaging, almost, people who are just so flawed. And it's because of the mainstream hits that have afforded us this kind of movie, you know? It could not be more simple, could not be more just people talking, could not be more just about relationships. Like Ally said, [there are] no alien abductions or car chases, you know what I mean?
It's literally just people, and I think that's the most universal thing about this movie. It's so human, and we've never had a movie like this. When we watched it, I was like, "Whoa." I was blown away because it felt so modern and overdue, yet it felt like this classic that we've been missing for so long.
Your character, Ben, can be a little bit abrasive, a little difficult, but the secret is that you play him in a way that the audience is still rooting for, and caring for him. Can you talk about inhabiting this role, and finding that line of where Ben is?
JUSTIN MIN: I think for me, it was always about finding the truth of the moment, and I relate so much to Ben. I talked to Randall before we started filming, and I said, "Ben is me before I went to therapy." I think [there are] a lot of things in Ben that a lot of us can relate to, and yes, of course, he is incredibly cynical and hypercritical at times, but at the end of the day there's a heart inside of him that is, unfortunately, wrought with a lot of insecurity and paralyzed by his own perfectionism, but hopefully that full humanity is seen on screen.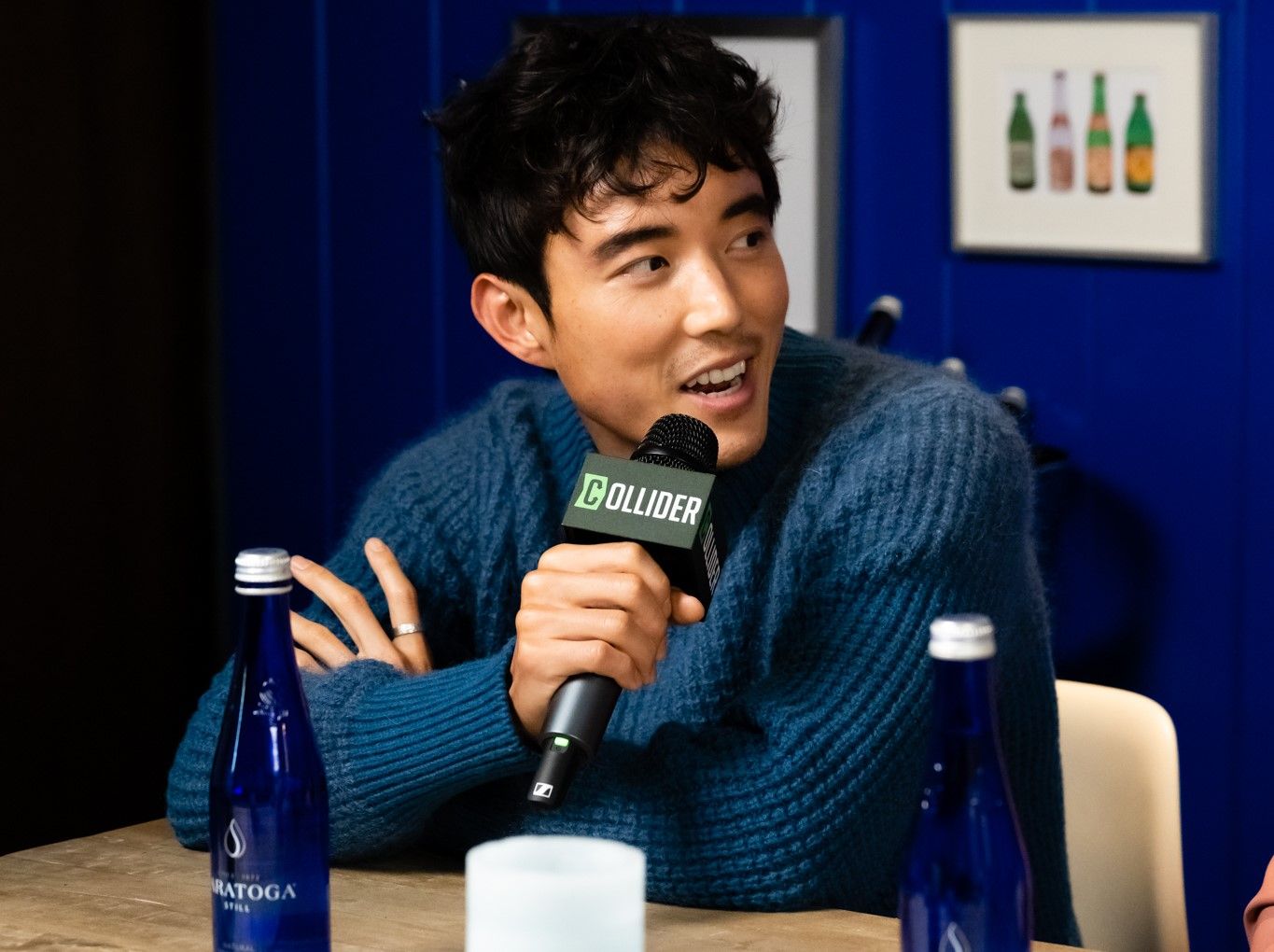 COLA: You root for him because you've been him.
MAKI: Justin H. Min, when I went to ADR we had to do some together, and by then I was just sobbing in his arms. I was like, "Justin you're so good." This guy is born to play this character.
COLA: These two are going to just blow you away. I was so moved, and so touched, and so proud.
PARK: These three and the entire cast, I mean it really is, this is a performance piece. It is really about the performance of the cast, and I would say, from top to bottom, even in the smallest roles. I mean, it just goes to show how incredible of a director I am.
COLA: No notes, no notes.
PARK: Because I chose these actors who are just so perfect for their parts, and so talented, and also, so kind, and that was important to me. So yeah, I'm just a great director.
MAKI: But really, though.
COLA: 10 out of 10, honestly. We loved Randall as a director, truly. It was just enough.
MAKI: You just blew us away on set because it's like you knew exactly what you wanted, but then somehow you let us play effortlessly. So it made it feel like it was our own, but then you always knew exactly what your vision was, and never strayed from that, and that was very impressive.
Movies actually play a big part of the film. You work at a movie theater, movies are discussed all the time. Can you talk about that aspect of the importance of movies in the movie?
PARK: Well, Ben is a cinephile, and it's a part of his nature to be very particular about what's good and what's bad, and he has his ideas of what's good and what's bad. So we explore those films that he finds both good and really bad, you know? Yeah, in a lot of ways it is a movie about movies, and their meaning to us as a culture, but also as a community. What these movies mean, how they help us define ourselves, and how some of us bristle to that.
I'm going to talk around something. There's a sequence in the movie theater with the people working there talking about another movie, and it's playing on the actors that are in the scene. It has to do with a superhero movie. I don't want to say anything specific beyond that, but it's very funny. So, talk a little bit about that sequence without spoilers.
PARK: Yeah, we have incredible actors. Jacob Batalon, Scott Seiss, who are employed by Justin's character, Ben, at this movie theater. For me, it was all about what's real, what you'd expect to happen in these situations. Folks who work in a movie theater are likely passionate about movies themselves, as Ben is. They have their thoughts on movies, and there's some meta stuff going on there. Those two were just so funny, and were such great actors with their lines, but also improvisers, and we used a lot of their play.
When you watch the movie, you'll understand what I'm talking about. It's a very, very funny sequence. Obviously, this is not a Marvel movie. There's a limited time and budget that you have to make this.
PARK: Oh, it could become one if they choose to distribute.
COLA: The Randall Park Cinematic Universe.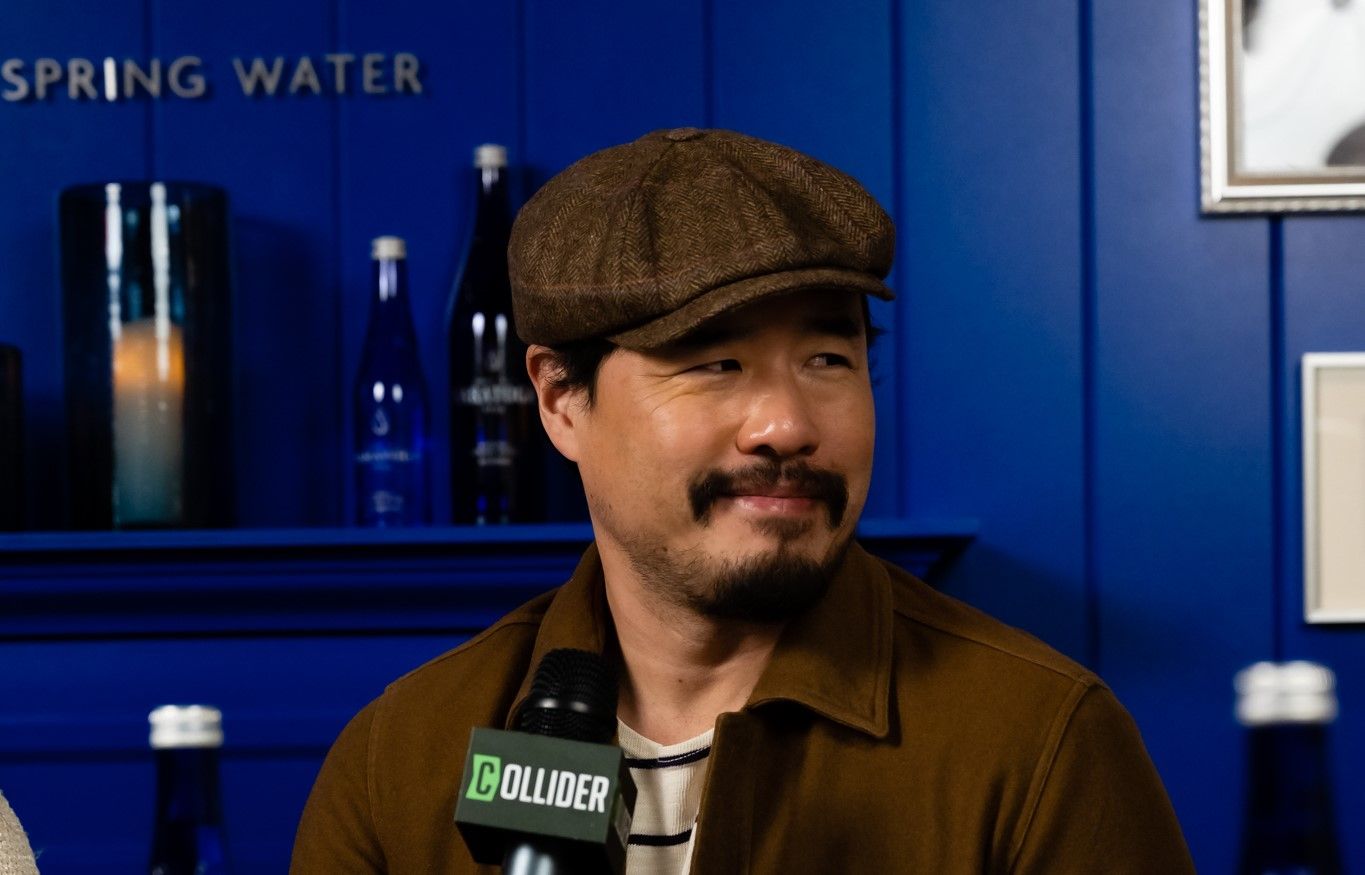 When you were looking at the schedule, what were you most concerned about being able to pull off with the time and budget that you had? For you guys, did you ever feel any sort of pressure on set because maybe you only have two or three takes and you've got to move on?
PARK: Yeah, I kind of knew of all the challenges going in because I had a lot of friends who are directors, and they gave me a lot of advice. Our great team, who have made multiple films, educated me on what to expect. So I knew of the limitations, and in a lot of ways, I felt like those limitations were blessings, in a way, because we kept it moving. Again, going back to casting, thankfully, I had such professional, skilled actors to work with. We didn't have to do so many takes because they gave us everything in the few takes that we had, and a great DP in Santiago Gonzalez, who really helped us. He was so confident and helped us keep it moving.
COLA: Randall saying the limitations kind of pushed us and kept us vigilant, in a sense, is a testament to Asian Americans in Hollywood. You know? The scarcity, the lack of representation, just keeps us fighting.
PARK: Bring it, Sherry.
MAKI: Here we go.
COLA: No, but I was going to say it was a true indie, a labor of love, which is why world premiering at Sundance is so much more victorious and flavorful. It's so sweet because we know what we had to do to make this beautiful film.
MAKI: Yeah, and in terms of pacing, I really loved it. First of all, I think we had so much material to work with in advance. We had Adrian's amazing novel, so we had so much backstory, and then these two. I mean, Sherry and I are basically from the same womb, and Justin H. Min is an icon. Look at this sweater.
We all cared so much about these characters in this story, and I also think shooting in New York brings a different energy. It was so much fun to shoot because we're just in the streets of the West Village, our trailers are on the side of the street, you go out in the bustle, and it's just going, and you can't stop the people that are coming in. We actually had Radio Man show up in one of my scenes – do you know who this is?
COLA: Is that the naked cowboy?
MAKI: No, he's been in, like, 150 films, and he showed up on one of the days that we were doing a scene, riding his bike through the scene.
PARK: He's in it.
MAKI: He's in the movie! And I think they say if he's in your movie, it's good luck.
COLA: Oh, so good to know.
MAKI: Thank you, Radio Man.
I think it actually proved true since you are sitting here at Sundance. Just throwing that out there.
COLA: Yes, the good vibes on Lunar New Year weekend, by the way.
MAKI: Year of the Rabbit, let's go, baby.
The two of you are really, really great together on screen, and I enjoyed the dynamics so much. Talk a little bit about working together because you guys have such different personalities in the movie, but you're best friends and so supportive.
COLA: I think that's a reflection of real life, as well, because we could not be more different. Just opposite extremes as Justin and Sherry, as well, but it works. We operate the same. We're just with it, you know? Tell me, tell me good things about me.
MIN: You can't have a wrong scene with Sherry in it. It's so much fun. Randall gave us the freedom to do a lot of improv, so she would go off on one of her improvs and I would start cracking up laughing. We've ruined a lot of takes. It was the entire budget of the film, actually, went to your takes.
COLA: It's just footage for my reel.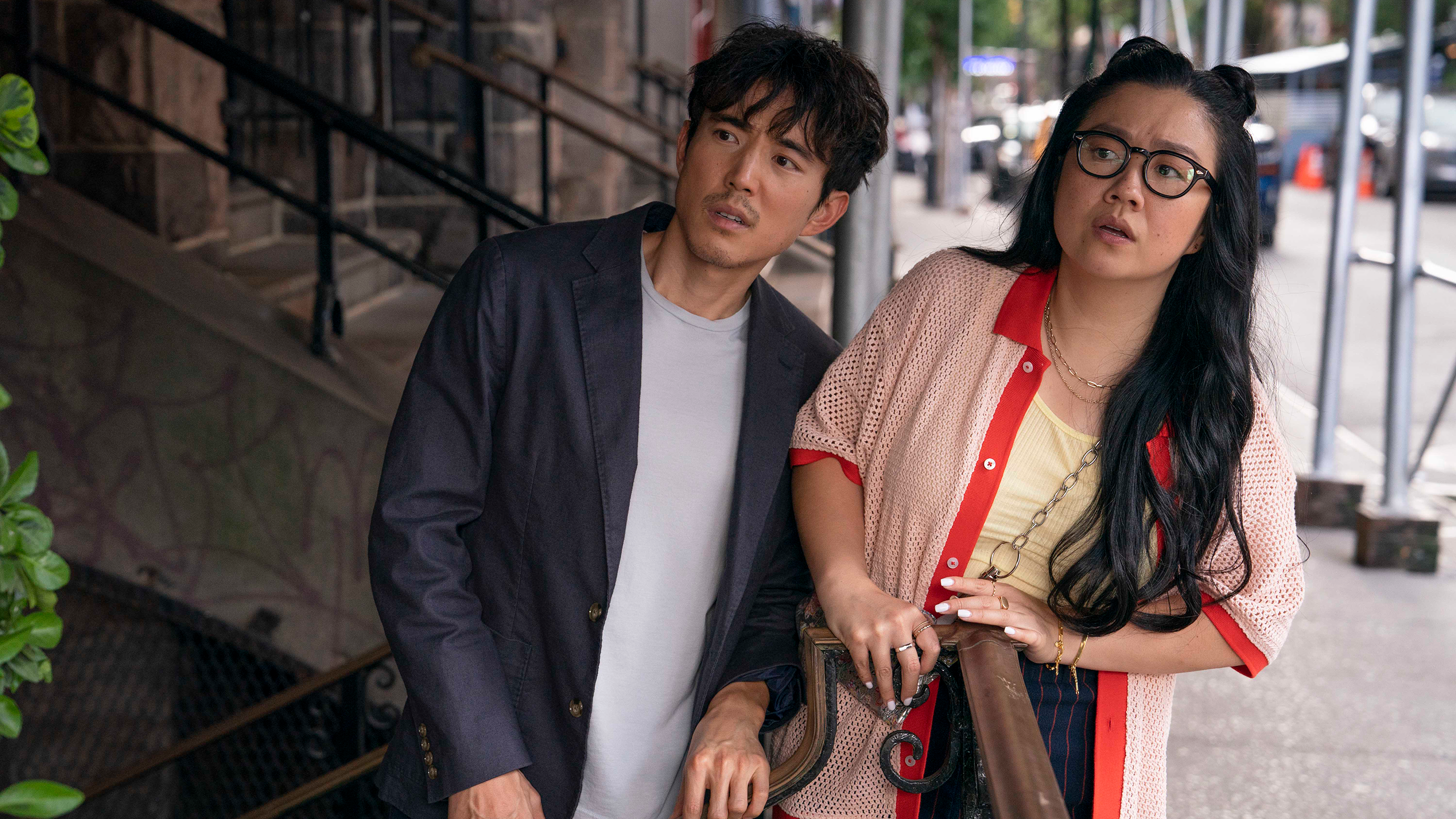 MIN: Yes, but it was a lot of fun.
COLA: So much fun, so much fun. And I had just done a movie with his cousin, Ashley Park, so I'm part of the family now. This is all family. Justin is just… I mean, he's my emergency contact, and I'm going to be his surrogate. You know, I didn't want to announce that today, but surprise.
MAKI: News coming out of Sundance.
You're obviously in Ant-Man, you're in Marvel, and then you may have been given a role in the Aquaman sequel. Did you feel like you were cheating when you took that part?
PARK: I'm here to talk about Shortcomings.
COLA: He does it all.
MAKI: He really does.
You're really talented. Directing, acting, you're one of the few that gets to do both universes.
PARK: Yeah, to this day, I don't know how it happened, but I feel very lucky because I love both.
Special thanks to our 2023 partners at Sundance including presenting partner Saratoga Spring Water and supporting partners Marbl Toronto, EMFACE, Sommsation, Hendrick's Gin, Stella Artois, MOU Footwear, and the all-electric vehicle, Fisker Ocean.
Source link