Travel
10 Exciting Experiences In AlUla To Enjoy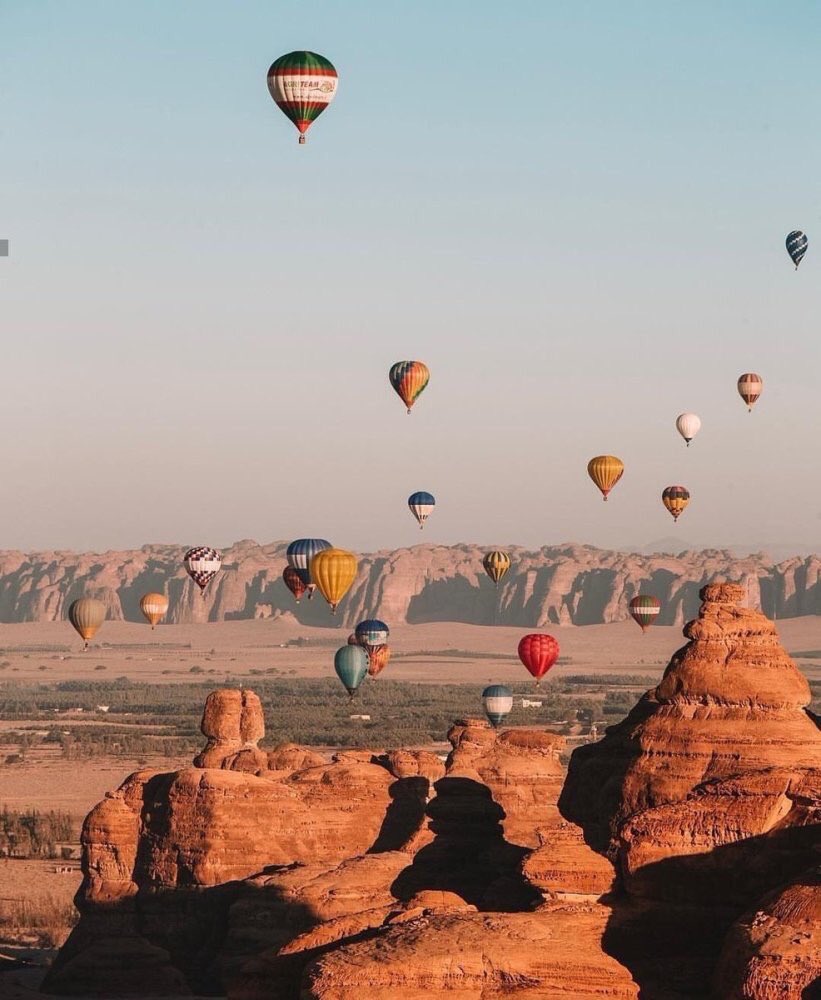 AlUla is a fascinating destination that has massive tourism hype around it. The location is of great historical significance and is also popular for its natural beauty. AlUla city falls within the Medina region, which is situated in the northwestern part of Saudi Arabia. It was previously the capital of Dedan, which was a powerful Arab kingdom in ancient times. AlUla still holds evidence of these past civilisations, including the Lihyanites and Nabatean people. Apart from these, the land is home to various other components of historical and natural importance. People like to describe AlUla as a place that offers a wide range of exciting experiences. It encompasses more than 200,000 years of uncharted natural glory and human legacy. Going beyond the work of nature and the relics of human history, you will be able to witness AlUla's amazing accomplishments in the sectors of arts, culture, adventure activities, festivals, etc.
If you are considering AlUla for your next big tour, then go through this page to learn more about the key experiences that it has in store for tourists.
Top 10 must-have experiences in AlUla
In terms of exciting experiences amidst the natural landscapes of AlUla, there's a lot for you to check out. From calm hikes, camel trekking, horseback riding, and watching stars to challenging yourself with adrenaline-pumping situations and taking a historical deep dive, AlUla has become a perfect tourist destination for a variety of reasons. In the following section, you can find more details about the top 10 must-have experiences in AlUla:
Interacting with the relics of the past
During your trip to AlUla, make sure to visit Hegra for a historical delight. It is the first UNESCO World Heritage Site in Saudi Arabia that holds the past glory of the Nabatean settlement. The use of this site is said to date before the 1st millennium B.C.E., and it currently has 110 monumental tombs, all of which are remarkably preserved, and 94 of them are decorated. After this, make sure to check out the ruins of the ancient Liyanite and Dadanite kingdoms at Dadan and the open library of petroglyphs, rock art and stone inscriptions at Jabal Ikmah. You should add these places to your AlUla "to-do list" for a unique historical delight.
Exploring the past at AlUla Old Town
AlUla is a place that showcases the essence of human history at every step of the way. One of the best places to visit in this tourist destination is the AlUla Old Town. It is a place that will keep history buffs on their toes as they roam around in this ghost city and have an experience that may feel like jumping back and forth in time.
The AlUla Old Town is a specimen from the past, which enables its rich history to still exist in the modern day and age. The AlUla Old Town is made up of 900 mud-brick houses, 400 shops, and 5 town squares, all of which are interconnected with one another. The reason behind this maze-like city structure was to offer solid fortification for the people staying within the walls. It used to welcome pilgrims of the Damascus to Makkah route, between the 12th and 20th centuries, through 14 gates, which acted as the access points of the town. You can also stroll through the beautiful AlUla Old Town Market if you want to shop for traditional crafts or grab a bite from the local cafes.
Walking on the Heritage Oasis trail
The next must-have experience in AlUla place includes walking on the gorgeous Heritage Oasis trail. This is one of the best paths in the area that offers a more relaxing approach to exploring the spectacular visuals of AlUla and its surroundings. The AlUla Oasis trail is enclosed by tall date palm trees on both sides, with remnants of ancient city walls, mud-brick houses, local farms, and so on. This trail is about 3 kilometres long, starting from the Orange path and ending at the Dadan Visitor Centre. The best part about this trail is that it is free and open to all visitors, both during night and day. This is one of the best low-key experiences that you can get during your visit to AlUla.
Witnessing the magical moments created by the sun
The light from the sun creates some of the most beautiful visuals all over AlUla. It is an exciting experience on its own. There are various places where you can witness the sunrays highlighting the landforms and emphasising their beauty. Some of the best places to have this visually appealing experience are Elephant Rock, Face Rock, Rainbow Rock, and so on. Make sure to also catch the magical moment where the sunrays light up the path of Jabal Ithlib, the Holy Mountain in Hegra.
Another remarkable experience that you can look forward to during your AlUla visit is the buggy tour. The UTV buggy tour is a major component of the AlUla experience and is filled with thrills and adrenaline-pumping moments. This involves driving around the vast sandy terrain of AlUla in a specialised, open-air buggy which is operated by an experienced driver. The route of the buggy tour includes driving over sand dunes, on narrow canyon paths and through unpredictable desert terrain. This is a great experience across the board, especially for individuals who are looking for an alternative to cover the beauty of the phenomenal AlUla region. All safety measures are taken during this activity, in order to ensure a safe and fun experience for the visitor. Also, a great thing about buggy tours is that it doesn't ruin or impact the surrounding environment.
Stargazing is a beautiful experience that makes the nights in AlUla phenomenal. The concept of lying flat on the vast desert landscape surrounded by a calm environment, and witnessing stars as they gloriously eliminate the darkness from the night sky, is truly a thing of beauty. You can opt for a solo stargazing AlUla experience or take a guided tour. In the latter, a guide will recite stories from ancient times while you look at stars shining with all their might.
The cycling trail in AlUla is a major part of the overall experience. Biking lovers from all around the globe visit AlUla with the goal to peddle through the scenic beauty of the desertland on their bikes. In this activity, you will be taken on a group ride, where you will cycle along the beautiful path while your group leader leads the pack. This experience on the cycling trail is a unique one where you can leisurely cover a massive path while your wheels make their path through the soft sandy terrain. The natural beauty of the surrounding desert landforms along the cycling trail offers stunning visuals, which adds up to the one-of-a-kind AlUla experience. A medium level of fitness is recommended in order to fully enjoy this hour-long experience and you can choose a morning, midday or afternoon slot, depending on your preference.
Apart from the general activities, AlUla place also offers a wide range of thrilling experiences for individuals who are in search of something unique. The AlUla helicopter tour is a great example of such an experience that you can not miss out on during your visit. On this tour, you will be taken on a mid-air joy ride on a helicopter, where you will be able to witness AlUla's phenomenal desert beauty and famous historical sites from a bird's point of view. The AlUla helicopter tour covers sites like Herga, Elephant Rock, Jabal Ikmah, Maraya, AlUla Old Town, Hijaz Railway and so on. The duration of this tour is usually about 30 minutes, and your helicopter operator will guide you through these remarkable visuals.
For a truly distinctive optical delight, make sure to enjoy the Hot Air Balloon experience in AlUla. The beautiful blue sky of AlUla gets filled with stunning hot air balloons for a duration of 10 days, which is done as a part of the AlUla Skies Festival celebration. This hot air balloon experience also features tethered flights, free-flying flights and a glow show, which significantly widens the range of this experience meeting a varied range of tastes. In addition to its beauty, the food trucks, live music and overall festive atmosphere of the event make it an ideal experience to have during your AlUla visit.
Experiencing the visual glory of Maraya
This one is a modern work of architectural mastery and artistic brilliance. Maraya concert hall is a fully-functioning multi-purpose venue that is located deep within the Ashar Valley's desert canyon. This gorgeous piece of human creation was built with 9740 mirrored panels all around that reflect the surrounding desert landscapes, creating a mirage. It is also the largest mirrored building in the world, according to the Guinness World Records and offers a visual delight that you can not miss.
Conclusion:
These 10 examples are just a few of the many exciting experiences that you can enjoy in AlUla. If you want an all-in-one experience that includes the essence of rich human heritage, charming wildlife, scenic beauty of the land, a variety of cuisines, adventure experiences, and more, then AlUla Saudi Arabia should be your next point of interest. During your visit to the "World's Masterpiece," make sure to look out for these experiences for a memorable time.
Source link