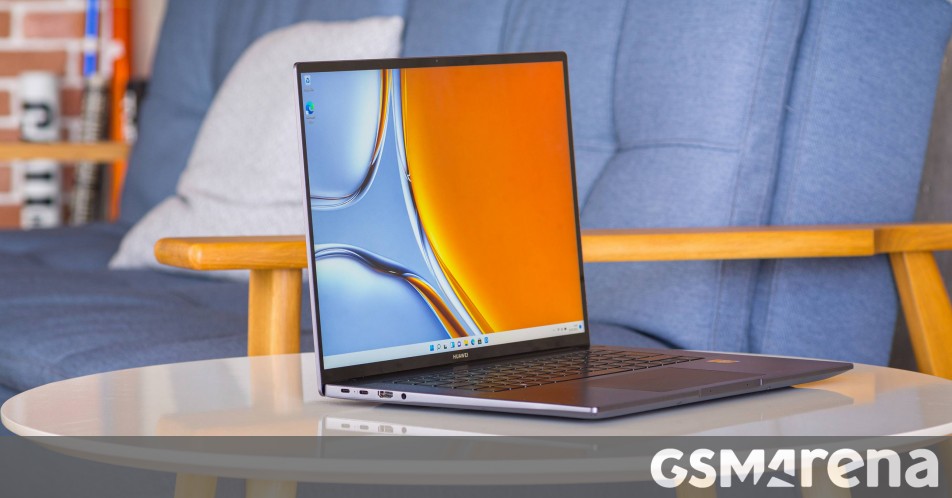 Introduction
This is the new Huawei MateBook 16S – a laptop matching the overal design of last year's MateBook 16, but a notable shift in internals to Intel's Alder Lake. If you're not familiar with Huawei's MateBook 16, it has a 16-inch display with a taller 3:2 aspect ratio, packed into a svelte body that weighs just under 2kg.
And if you're unfamiliar with display aspect ratios, we'll lay it down for you nice and simple. A conventional laptop screen is 16:9, perfect fit for wide videos, whereas a 3:2 display is only slightly narrower, but has far more vertical space. It makes it far better suited to displaying web pages and photos (those are usually 4:3 or 3:2). The squarer aspect is also more convenient for video editing, where you need to fit the actual video and a bunch of UI elements below it.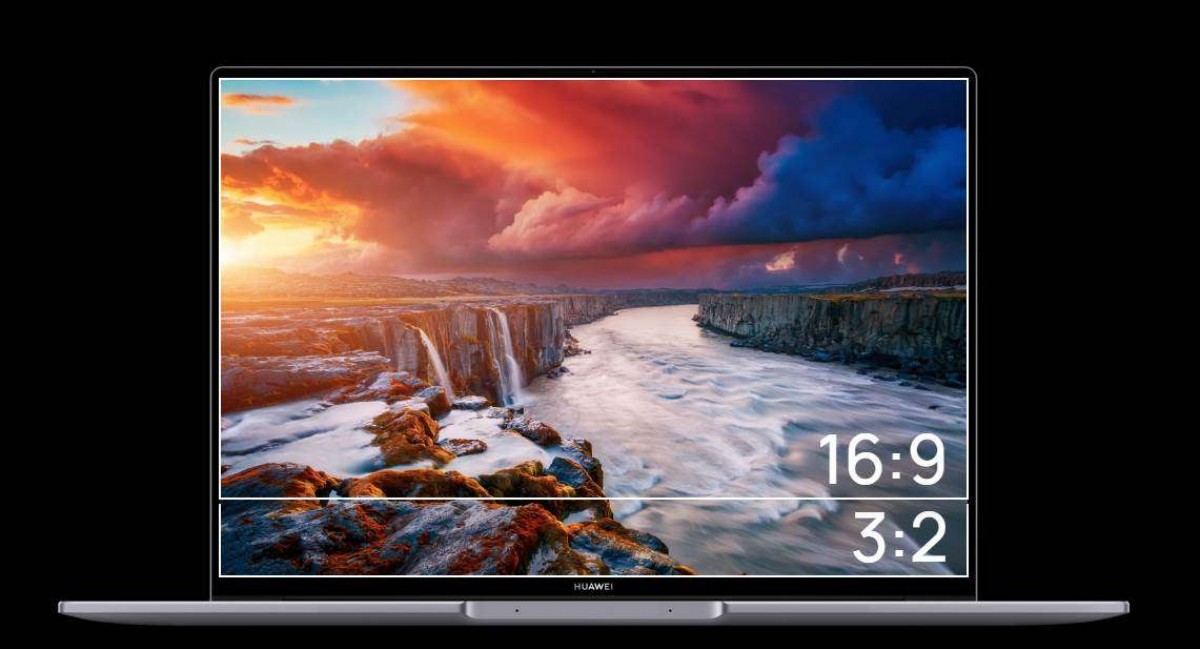 Huawei reused the chassis of the MateBook 16, ports and all, but went with Intel's 12th gen Alder Lake H series chips, instead of last year's AMD Ryzen 7 series processors. The choice this year is between the 12-core i5-12500H (4 performance cores and 8 efficient cores), and the 14-core i7-12700H and i9-12900H (both of which have 6 performance cores and 8 efficient cores).
These are all 45W processors meant for high-performance laptops, but with this year's big shift in Intel's architecture (the big.LITTLE architecture), we can expect a much better performance to battery life ratio. More on that later. Also, one USB-C port is Thunderbolt 4, and there's Wi-Fi 6e support.
The display is the same as last year for the most part. It's still a 16-inch 2560x1680px IPS LCD with 300 nits of brightness and a 1500:1 contrast ratio. The big change this year is that the display is touch-sensitive, which can come in handy on occasion, but we would've happily traded that functionality for higher brightness.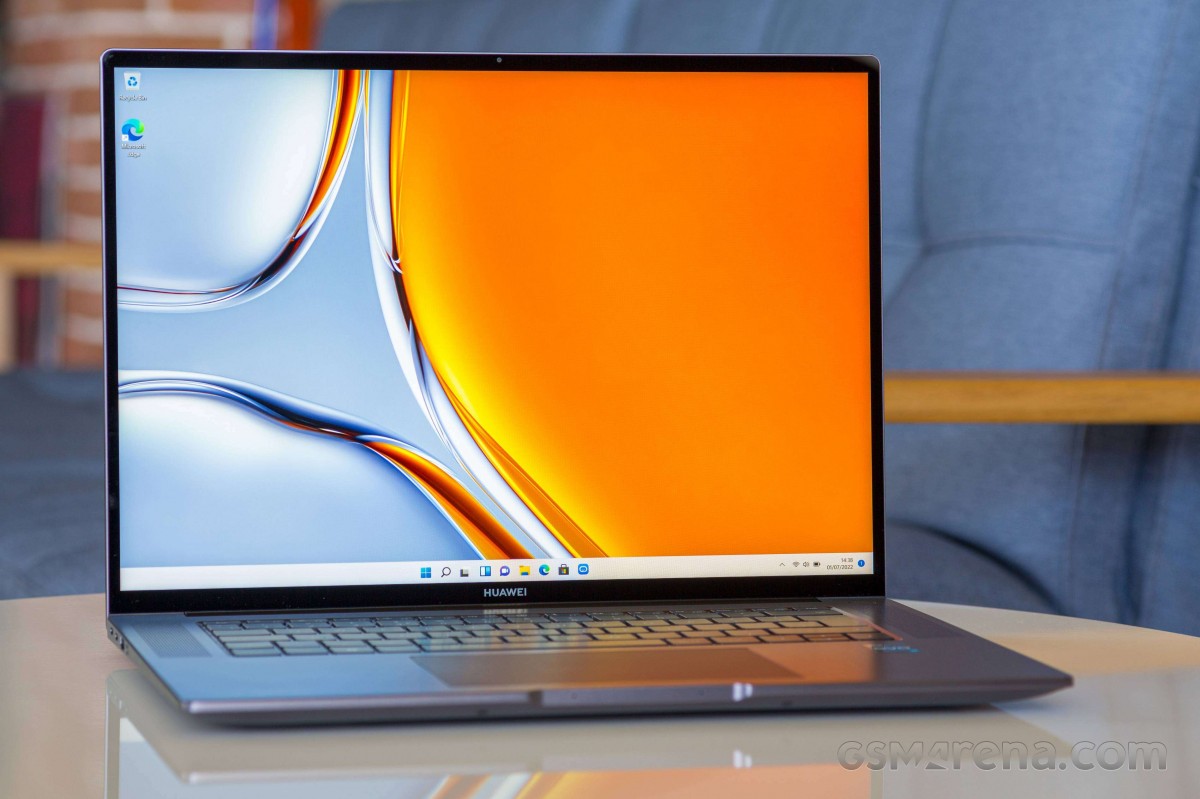 The Huawei MateBook 16S has the same 84Wh battery as its predecessor, with a choice of the monstrous 135W charger or the more-reasonable 90W brick, depending on which CPU you get.
The laptop also brings an improved 1080p camera with the ability to follow you around the frame and show a custom virtual background. The speaker setup is the same, as are the keyboard, touchpad, and even the cooling underneath.
Design, display, ports, keyboard, and touchpad
For most intents and purposes, the MateBook 16S is identical to the MateBook 16. It has the same dimensions and the same 1.99kg weight. The display has the same diagonal and bezels, which are thin, in a vacuum, but a bit wider than what some modern 16-inch laptops offer.
We got the Space Gray model and so will everybody else, because it's the only available color. We guess 16-inch laptops should be grey and utilitarian. On a positive note, the case is metal.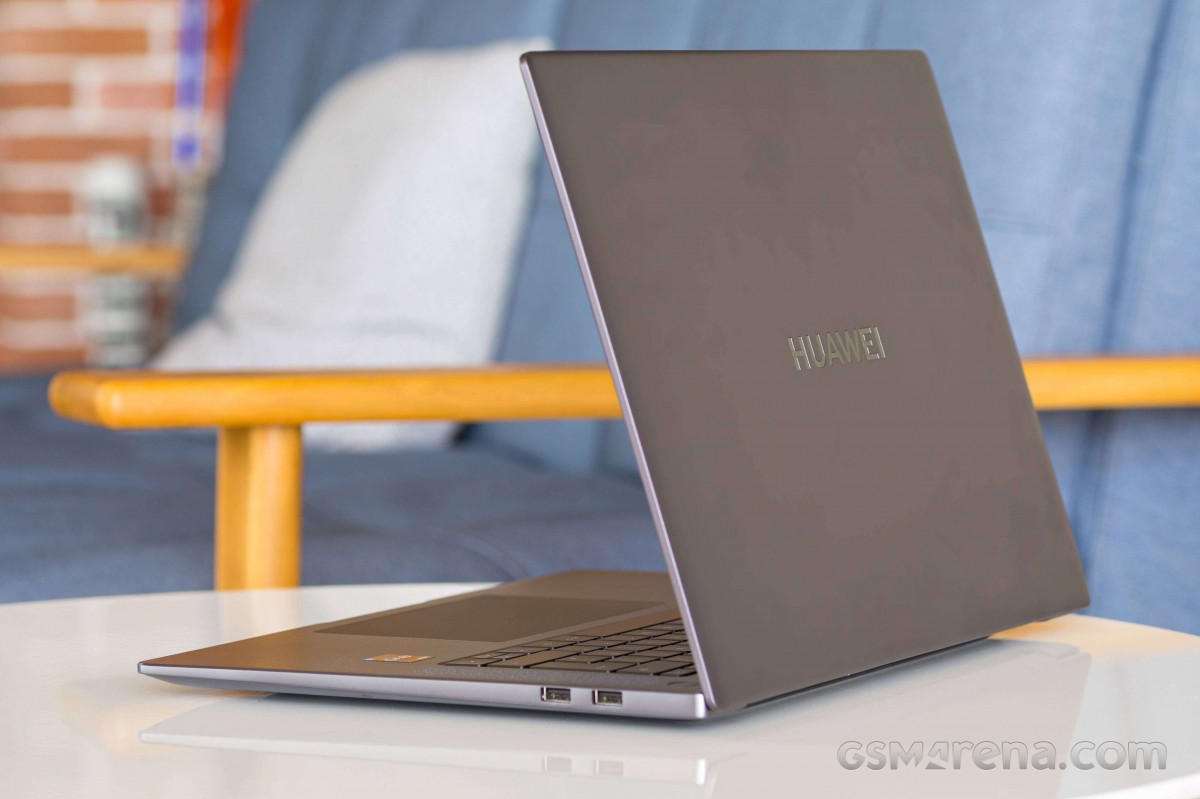 You can open the laptop with one finger. You're greeted by a full-sized backlit keyboard without a Numpad (nor any sort of row of special keys) and a generously-sized glass touchpad. The touchpad's surface is very pleasing to the finger and multi-touch gestures are easy to do.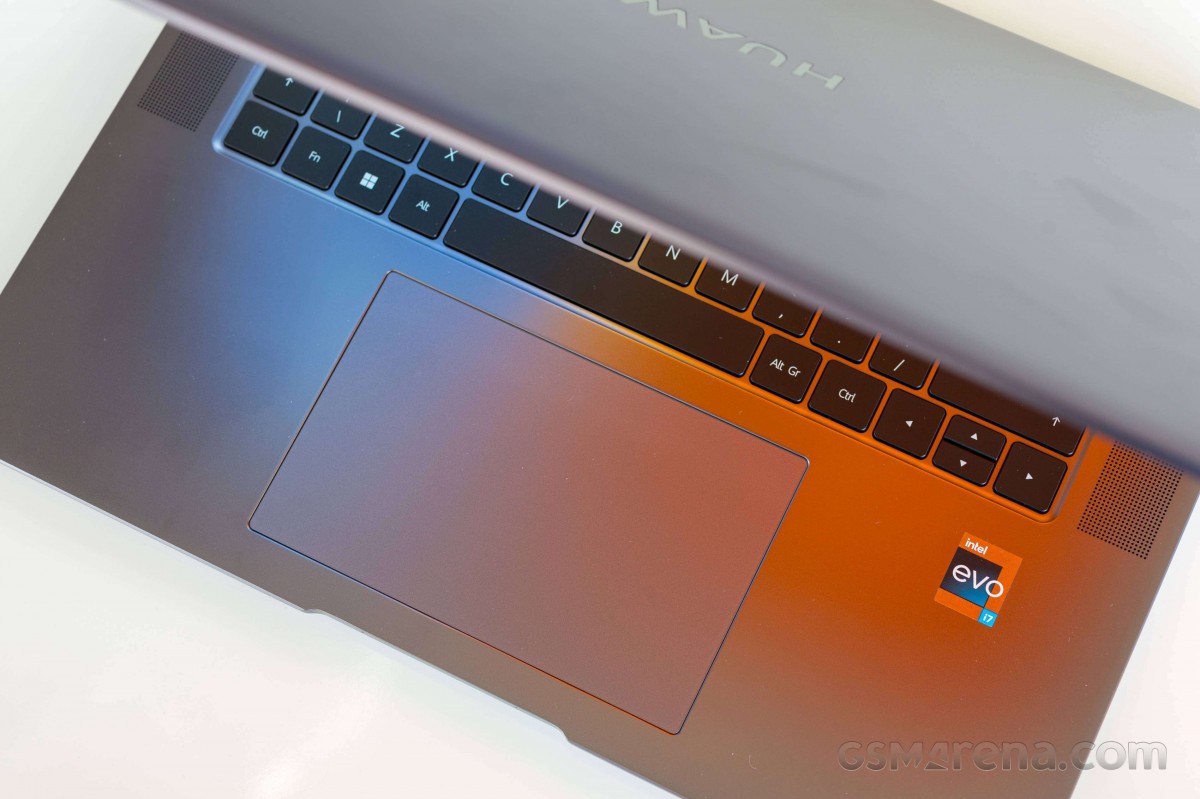 The keyboard is very good. The keys have great 1.5mm travel and are soft, yet not mushy when typing. They are well spaced too, as you'd expect from a Numpad-less keyboard on a 16-inch laptop frame. There are two levels of backlight. Speaker grilles frame the keyboard on both sides. These are excellent speakers – they get very loud and retain a good amount of bass.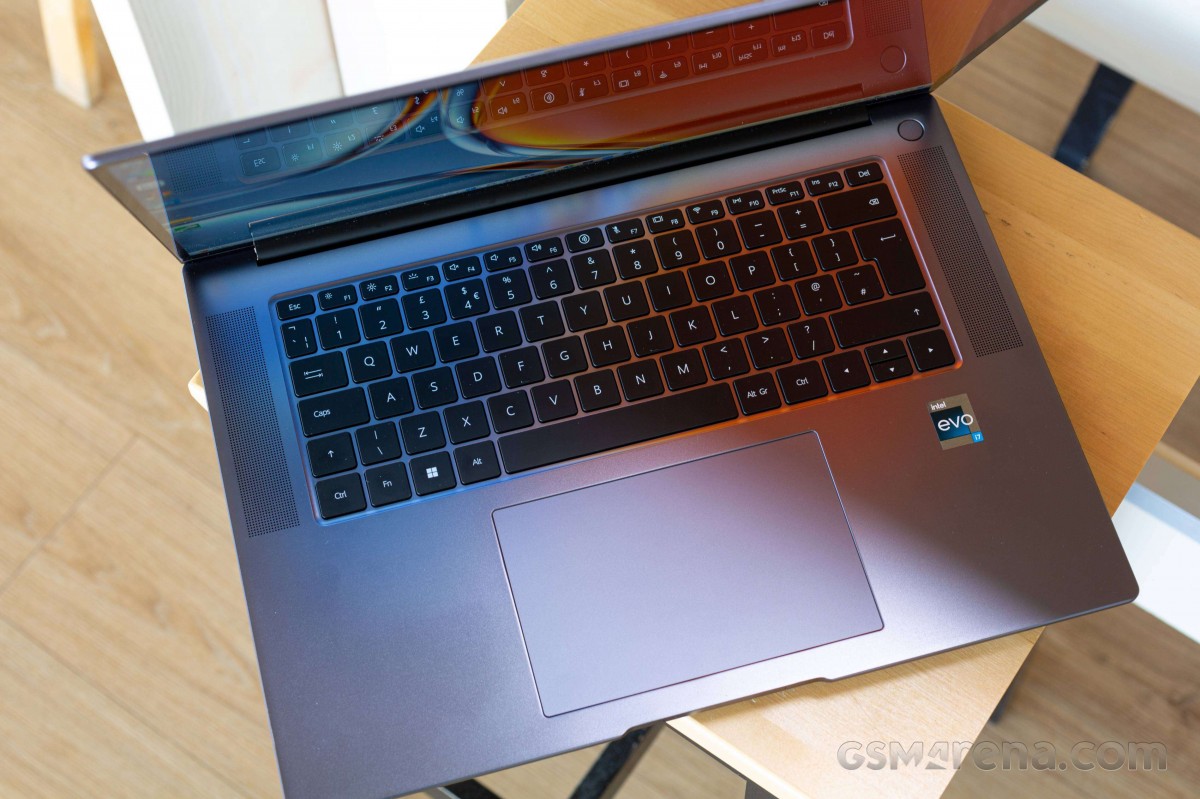 The palm rests on either side of the touchpad are large enough to accommodate your hands while typing. The touchpad itself has good palm rejection and we didn't have issues typing away on this device.
We have mixed feelings about the display. On one hand, it's very sharp thanks to its high resolution and resulting 189ppi density. Viewing angles are good in that the display doesn't lose its contrast when viewed at an angle. However, the glossy panel is extremely reflective. You can see just about everything around, reflected on the glass, and the effect is even more pronounced at an angle.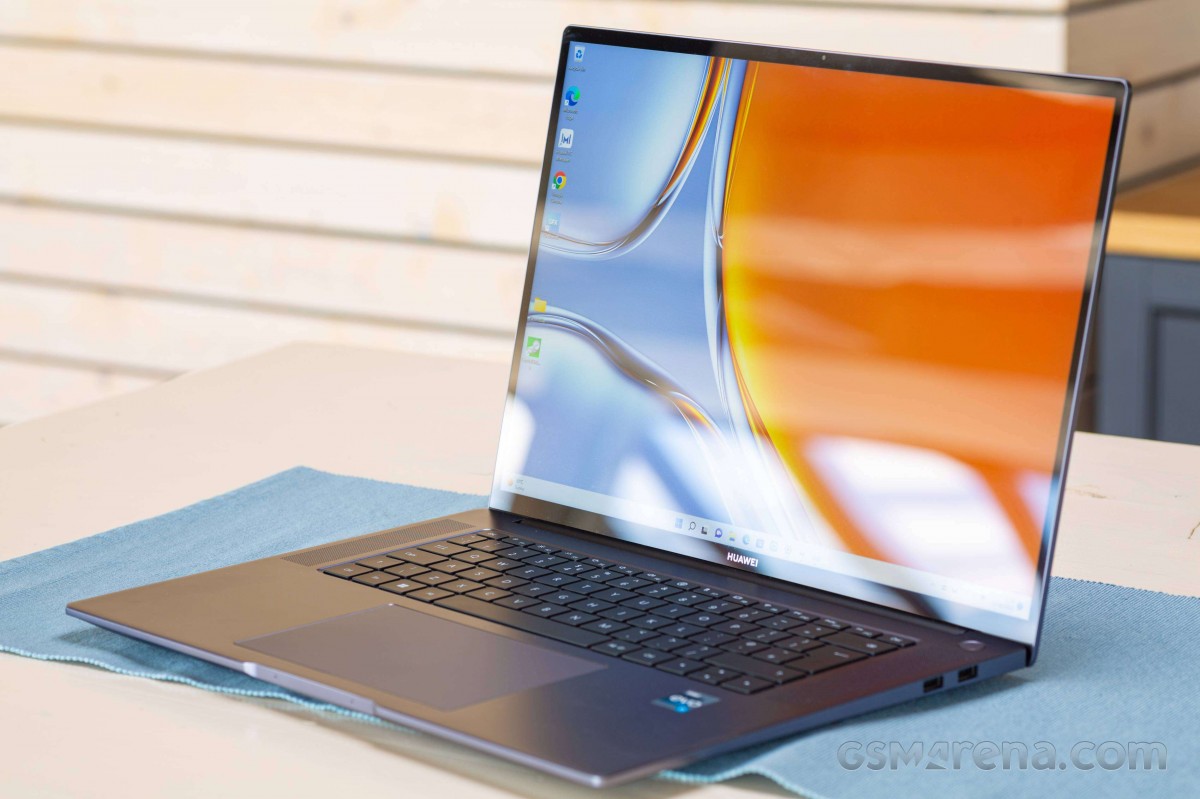 Couple that with the only average brightness of the display and you have a screen that's only good in dim environments.
Huawei advertises the panel as 300 nits. We measured 320 nits in the center of the display and around 280 nits at the corners. Not perfect uniformity, but it's not bad either. We would've loved a brighter panel this year, as 300 nits is becoming rather disappoint, especially at this price point.
Also, the display is only 60Hz, we would've loved to have seen a 90Hz panel as on some of Huawei's other laptops.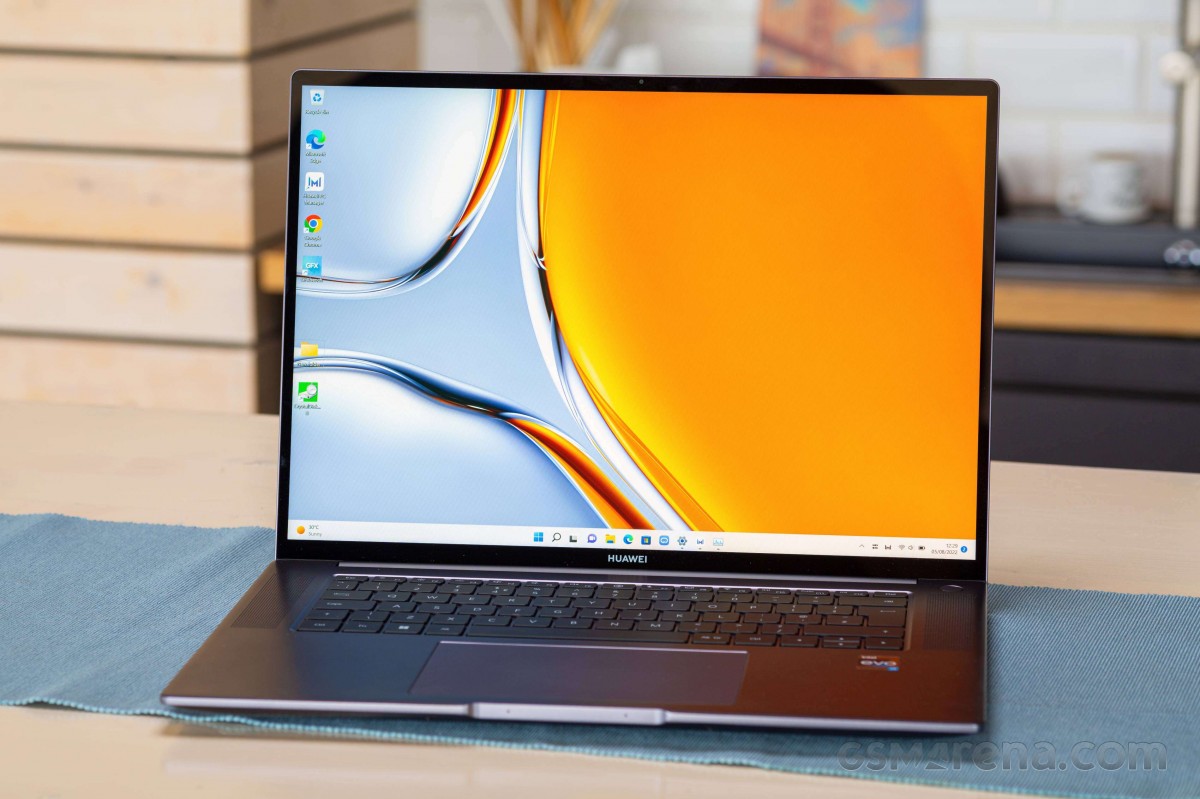 Despite the low brightness, the display is very contrasty and the colors are nicely deep and saturated. Huawei claims an average Delta E of under 1, but we measured it at 2.5, which isn't content creation-ready. The display on our unit had an obvious blue cast. You can calibrate the panel to 100% match sRGB.
The screen bezels are a bit wider than what you'd get on the 16-inch MacBook Pro, or the 16-inchers from Asus. But you wouldn't notice this unless you're comparing them directly. Huawei made the top-mounted camera better this year. It's 1080p and supports FollowCam, which keeps you in the center as you move around, as well as virtual background and even a feature that will try to make it appear as if you're looking at the camera when you're not (we were unable to make this work, though).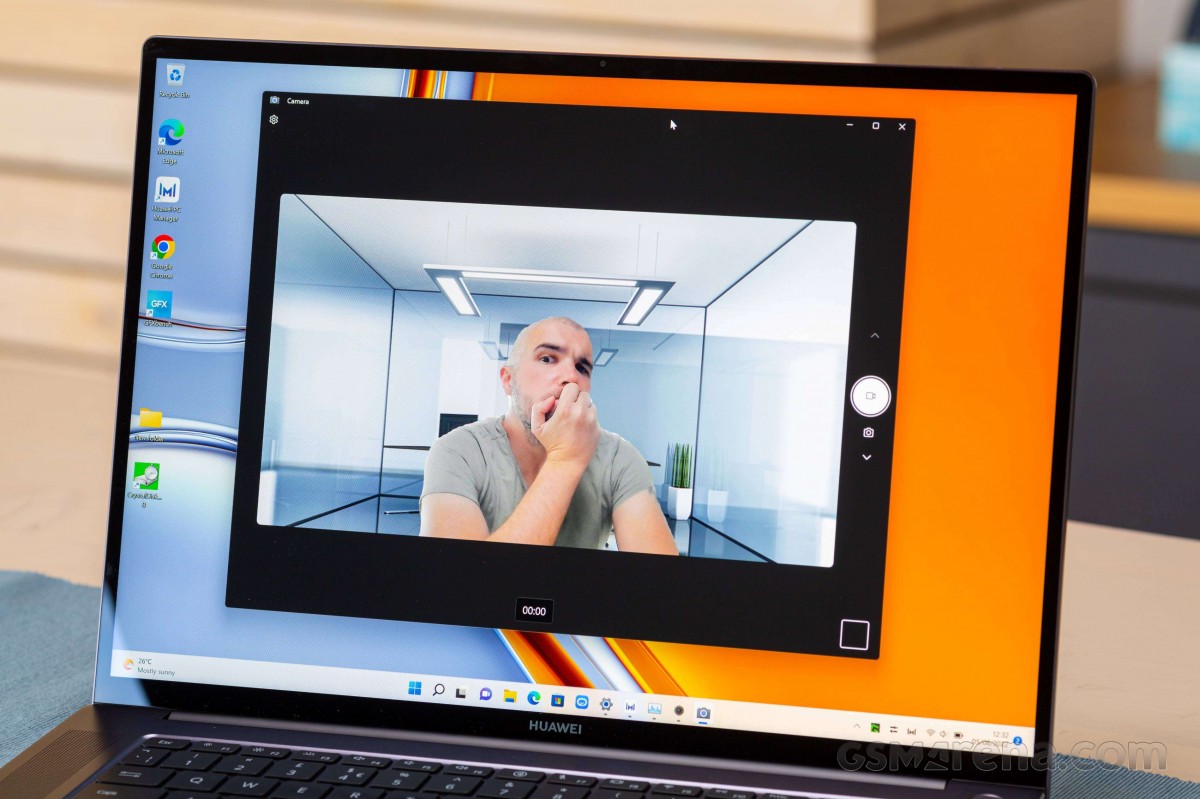 The camera isn't Windows Hello certified, but you get a fingerprint reader under the power button, which also supports caching, so it will turn on the computer and log you in with a single press.
The MateBook 16S does well when it comes to ports. On the left, there are four – a 3.5mm audio jack, a full-sized HDMI 2.0, and two USB-C ports (3.2 Gen 1) – both support charging and display output, but only one does 40Gbps Thunderbolt 4 (the bottom one with the lightning arrow). There are two USB-A ports (3.2 Gen 1) on the right side. The only thing missing is an SD card reader.
Opening up the Huawei MateBook 16S is an easy task – just unscrew five T5 Torx screws and you're in. However there's not much to do inside – there's no second SSD slot and the Intel AX211 Wi-Fi 6E wireless card is now soldered to the motherboard.
Performance and battery life
Huawei made a shift to Intel silicon with the MateBook 16S and you get a choice of 12th gen Intel Core i9-12900H, Intel Core i7-12700H, and Intel Core i5-12500H processors. They're all 45W, but as we already mentioned, the Core i5 has 4 performance cores and 8 efficiency ones, while the Core i7 and Core i9 have 6 performance cores.
We'd say that the i7-12700H is the best choice. It's noticeably faster than the i5, and yet practically identical to the i9 in this sort of laptop. The i9 offers around 300MHz higher clock speeds, which isn't something you'd notice on a machine that's not meant for gaming.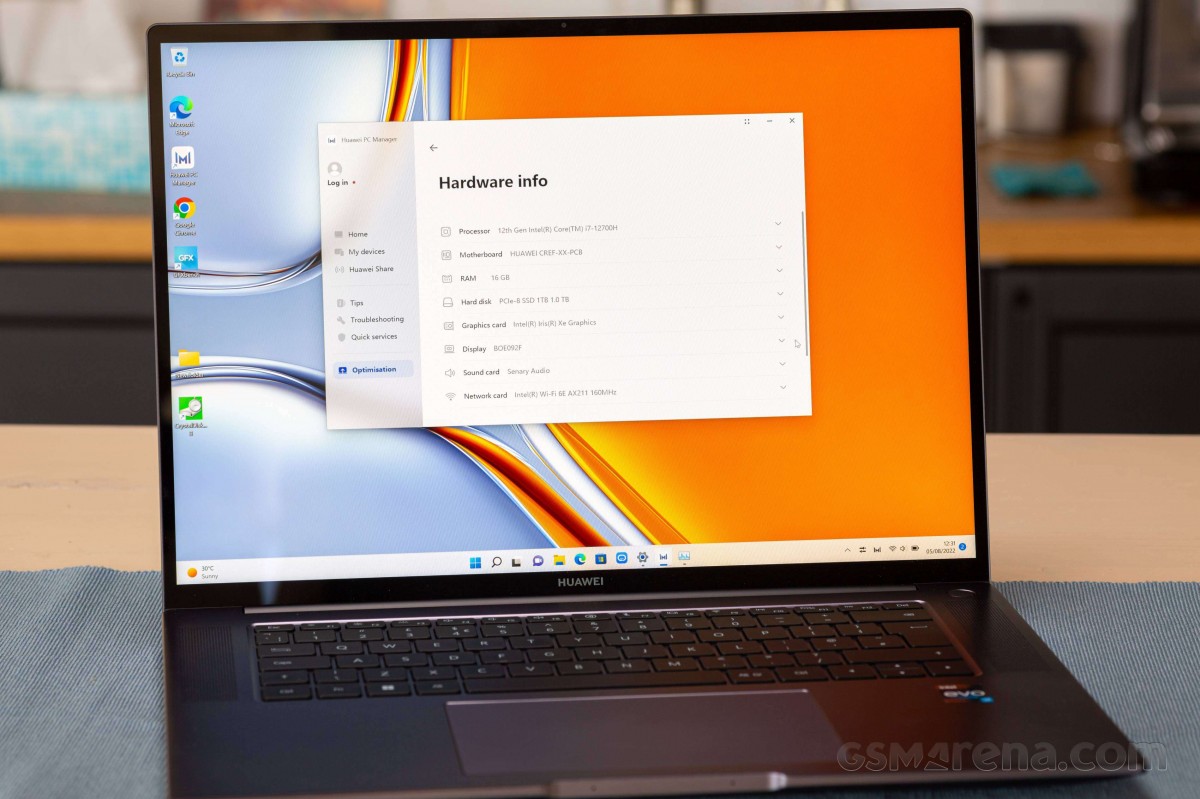 Continuing that thread, the MateBook 16S lacks a discrete GPU and relies on Intel's Iris Xe built-in graphics. It's perfectly fine for office work and entry-level to midrange games at lower settings at 1080p, but you won't be able to enjoy triple-A titles on the MateBook 16S.
The Core i7-12700H we have in our review unit did just fine for photo editing (after we did a screen calibration), and even a spot of 4K video editing after some proxies.
Moving to Intel's 12th gen processors would benefit performance in gaming and creator applications, as there Intel currently has a lead over AMD. But that's no good without a discrete GPU to pair with the capable processor. In this case, you're not really enjoying the performance benefits, while simultaneously getting a less-efficient chip than last year's, potentially hurting battery life.
The Matebook 16S has extended integration with other devices in the Huawei ecosystem – Huawei calls it Super Device. The laptop comes with Huawei PC Manager, which is one way to enjoy Huawei Share. The software pairs a Matepad tablet to use as a secondary screen – you can mirror the laptop, extend the display, or even transfer files through drag-n-drop gestures.
It works the other way as well – you can use the Huawei M Pencil on the Matepad and turn in into a graphics tablet or use it to operate any software, of course, with the apparent minuscule lag that comes due to the wireless connectivity.
Huawei Share works with eligible phones as well – owners can deal with their phones through the laptop – they can answer calls (particularly useful if you have some Freebuds prepared), share screens, or drag and drop pictures and other files. This all only officially supports devices officially on the HarmonyOS 2.0 and not necessarily all of them.
Let's look at performance. The 1TB SSD posted impressive numbers, but it's a PCIe 3.0 disk and the motherboard of the MateBook 16S likely supports PCIe 4.0 given the Intel 12th gen processor, so you could consider a PCIe 4.0 SSD for some extra performance.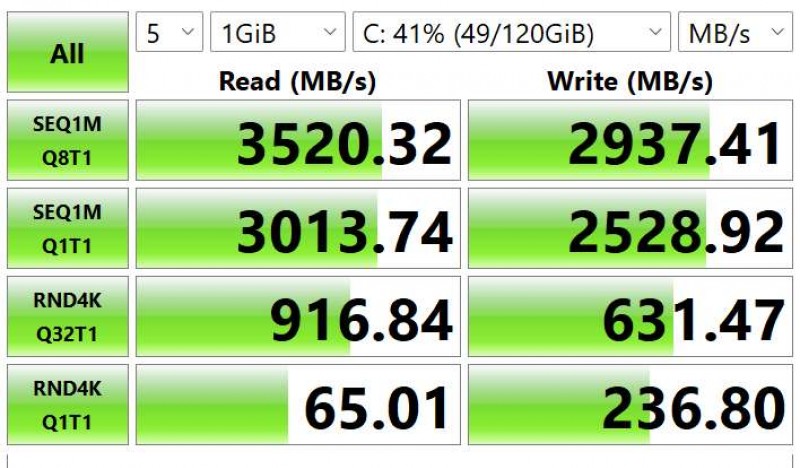 At this point, Intel's 12th gen processors have been tested all over the place by just about every reputable PC reviewer, so we won't do an overly deep dive. Suffice to say that the Core i7-12700H is one of the best performers on the market right now.
In Geekbench, the Core i7-12700H scored 20% better than the Ryzen 5800H in last year's MateBook 16 in single core, and 54% higher in multi-core. The latter would hugely benefit apps like Photoshop, Premiere, or DaVinci Resolve.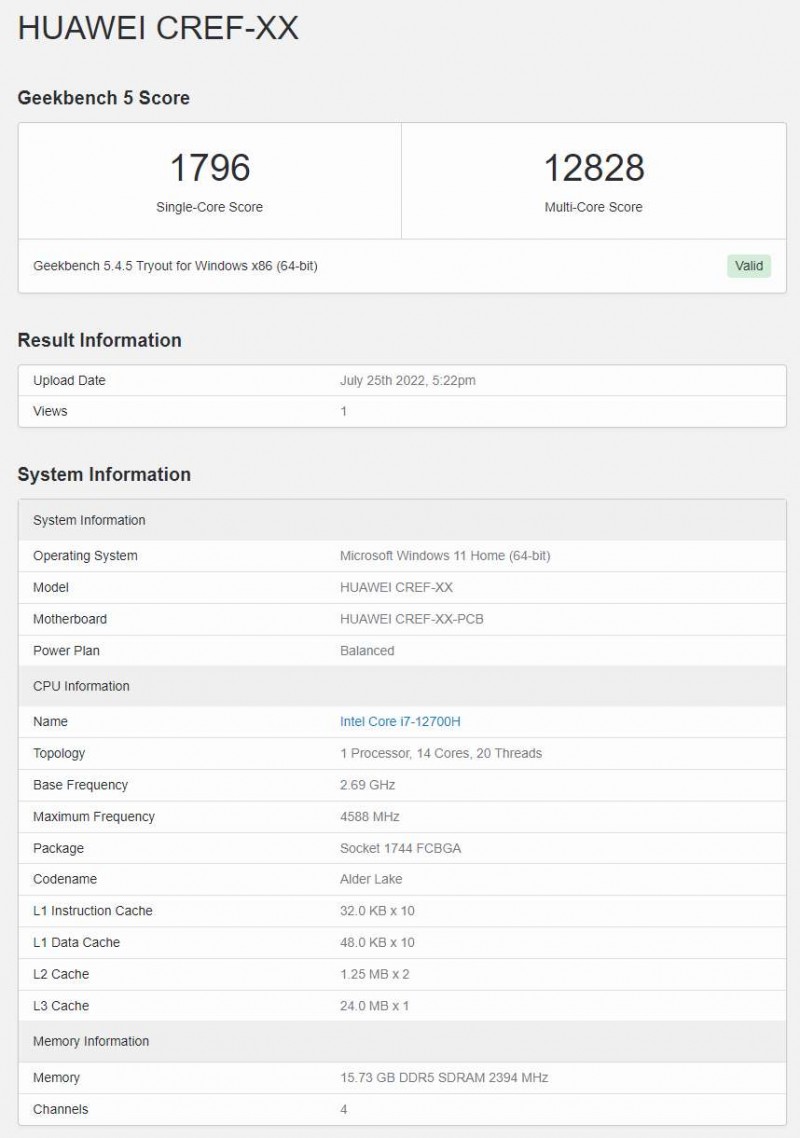 Cinebench R23 re-emphasizes just how fast Intel's latest processors are, nearing the top of the chart for single core and topping it in multi core. We tried running GFXBench, but the app kept crashing on every test we tried.
In terms of thermal management, we saw the same tuning from Huawei as on its other MateBook laptops, no matter the processor series used. Huawei likes a quiet and cool laptop, and it tuned the MateBook 16S to be one.
The processor is set to a base clock of 2.3GHz, but it normally maintains around 1.4GHz. When we ran a CPU burner test, the cores spiked up to 3.2GHz for a few seconds, and then gradually ramped down to around 1.3GHz. This means that the laptop will hardly ever perk up its dual fans and they're mostly inaudible. Even during our stress test in a room at around 24°C, the fans were very quiet.
As a result, the laptop didn't become uncomfortably warm either. Most people will appreciate the quiet and cool operation, but it means that the powerful Intel Core i7-12700H processor is seriously underused. It would make more sense to put a lower series chip if it would be tuned to run as cool and as quiet.
Intel's latest processors are still inferior to their AMD rivals in efficiency. The 10mm architecture is not as efficient as the 7nm of the Ryzen 5000 series was or the new 6nm Ryzen 7 is.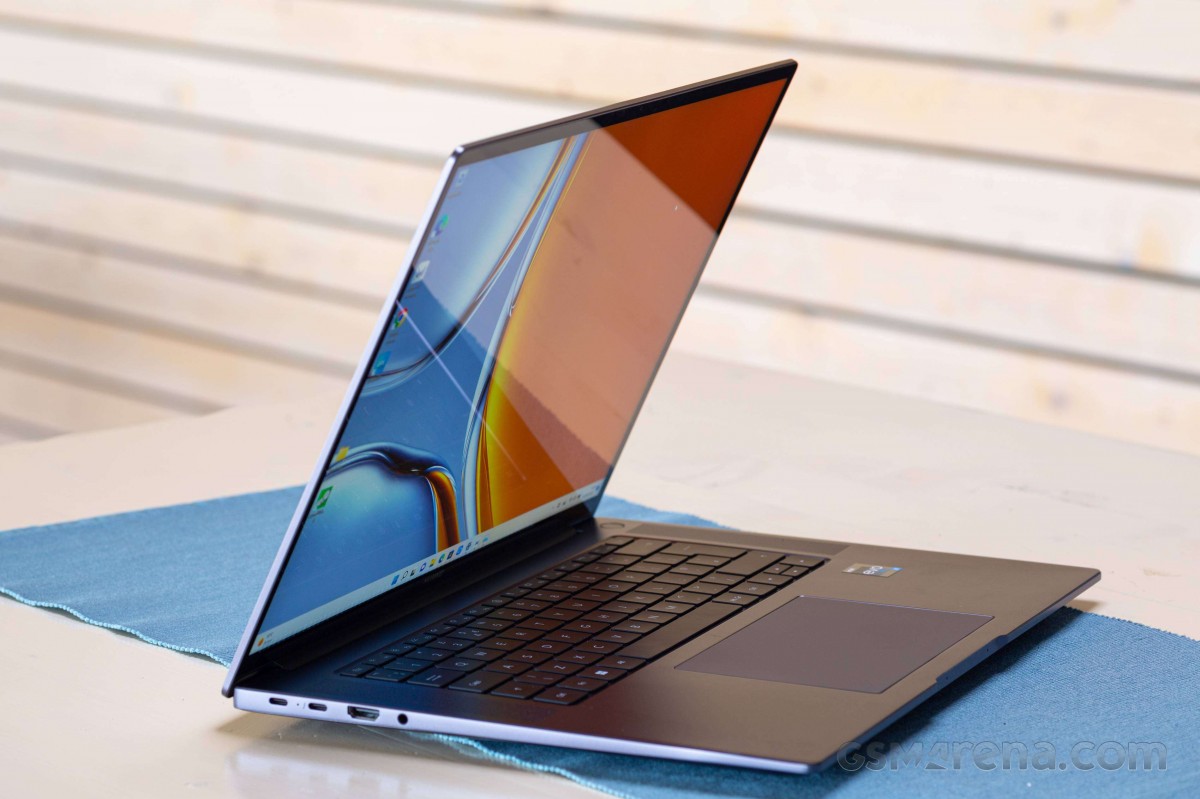 We did a battery test, which runs a YouTube video on loop at maximum brightness and volume until the laptop dies. It gives you an idea of the longest you can expect the laptop to run with everything maxed-out. It clocked a little over 6 hours, which isn't bad but doesn't match last year's model, which posted more than 7 hours.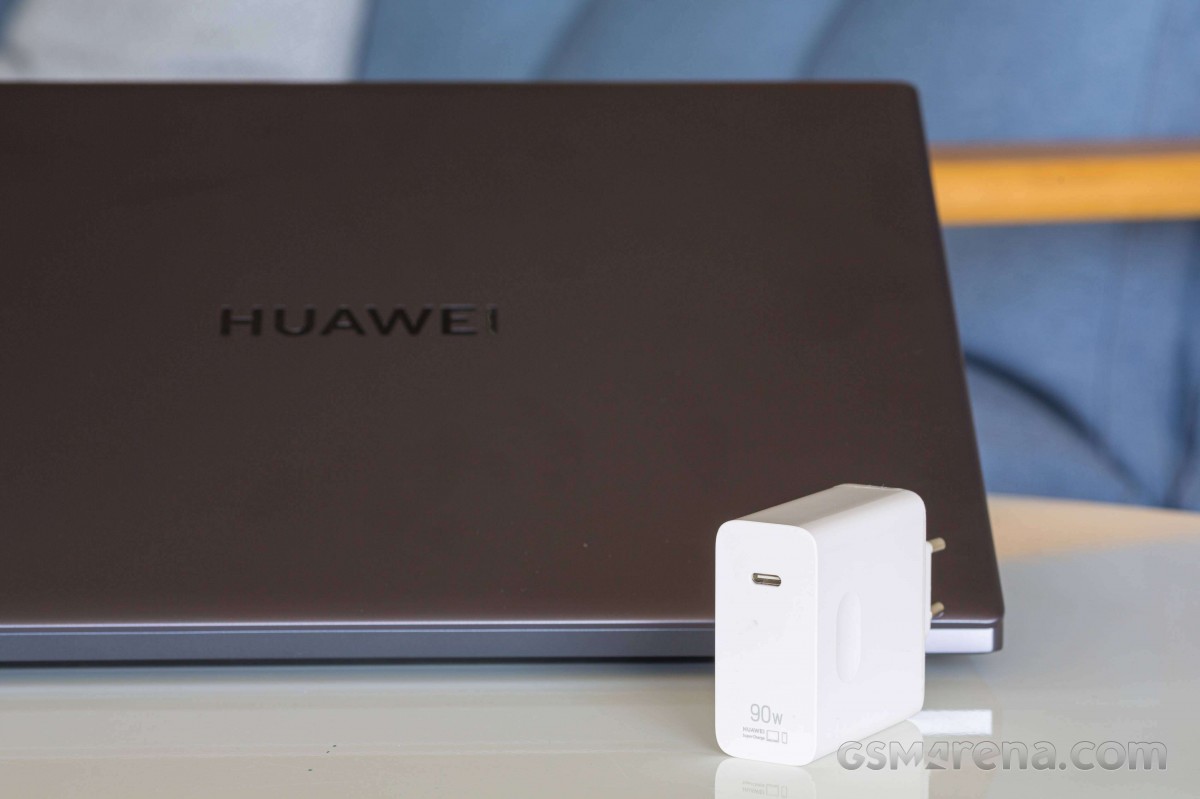 A 30-minute charge with the 90W brick returned 37% from 0%. A full charge took around an hour and a half.
Wrap-up
The Huawei MateBook 16S is a great laptop. It's built well with quality materials and is an excellent performer. Battery life is good, if not really impressive and the same can be said for the display.
The thing is, the MateBook 16S isn't substantially better than its predecessor, but it is a lot more expensive. The MateBook 16S is €1,700/£1,300 for the Core i7-12700H model, contrast that to the €900/£800 you'd pay for the MateBook 16 – these are all official Huawei prices. Last year's AMD Ryzen 7 processor is still great and it is easier on the battery than Intel's Alder Lake chips.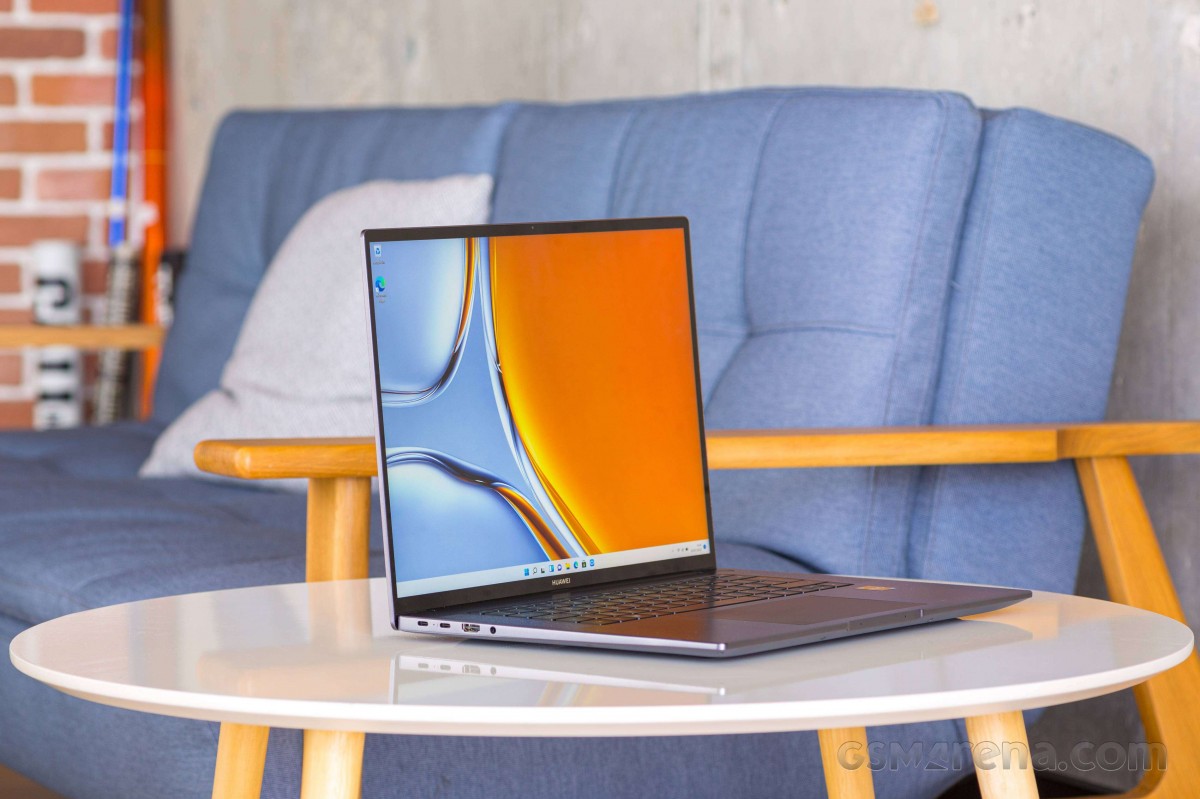 The issue is further complicated by Huawei's own MateBook D16, which is €1,300/£1,000 with the same i7-12700H processor and close-enough specs, including a 16-inch 1920x1200px IPS LCD – it's no 3:2 panel, but at 16:10, it's still taller than your typical 16:9.
Which means we can't really recommend the Huawei MateBook 16S at the moment at its current price. You could find a laptop with a brighter display and similar performance for less money and a lot better display and equal performance for a bit more money. We'd go with Huawei's MateBook 16 over the 16S as it's practically as good and much better priced.
Pros
Big, sharp display with good head-on viewing experience




3:2 aspect allows for better usability

Powerful Intel 12th gen processors

Excellent port selection – Thunderbolt 4 is nice

Keyboard and touchpad are both high-quality

Good, loud speakers
Cons
Expensive, especially compared to predecessor

Only 300 nits of brightness

Little practical effect of move to Intel Alder Lake

Very reflective display
Source link