Cars
Statiq launches StatiqConnect to reform EV charging experience – ET Auto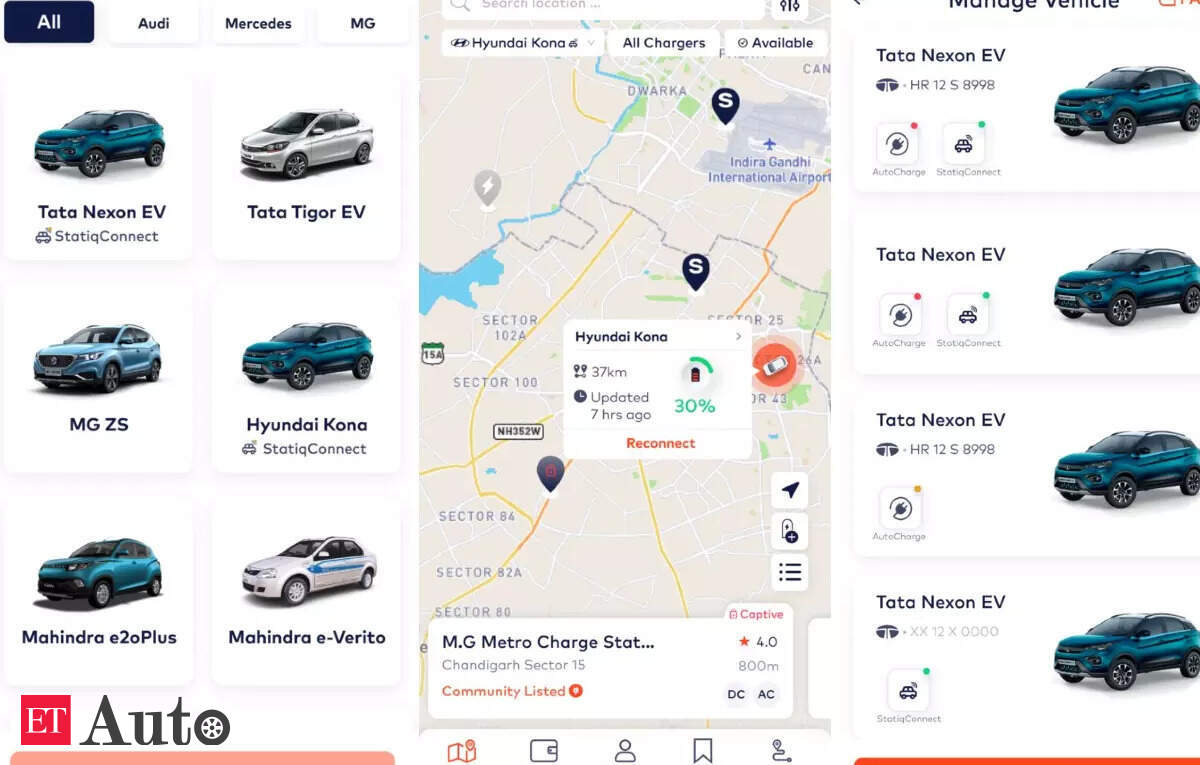 New Delhi: Statiq, an EV charging solution provider, has launched StatiqConnect to reform the EV charging experience.
StatiqConnect, said to be an industry-first, empowers users with real-time insights, streamlining the EV experience by eliminating the need for multiple OEM apps. This user-centric feature centralises critical information, including charging data and driving range, directly within the Statiq app, providing users with quick and convenient access to vital data, the company said.
Raghav Arora, co-founder and CTO of Statiq, said, " We understand the evolving needs of our users and have engineered a solution that simplifies the entire charging experience. StatiqConnect is more than telematics, it is not merely a data-driven solution but as the transformative intersection of connectivity and information. it's a revolutionary feature that consolidates all crucial information within the Statiq app."
"It's not just about tracking; it's about harnessing the power of real-time insights to drive innovation and efficiency in ways previously unimagined. In today's digital era, StatiqConnect isn't just a feature; it's a strategic imperative for us looking to pioneer the future of connected mobility. It goes beyond the ordinary; it's a holistic approach to enhance the efficiency and user-friendliness of EV management. It is a game changer and it will definitely change the way people charge their EVs," he added.
Founder and CEO of Statiq, Akshit Bansal, said,, "We've implemented a significant update to the Statiq mobile application. Now, an EV user has the capability to list a charger on the Statiq app, even if it is not connected to the Statiq backend. This enhancement allows other EV users to review the station and share their charging experience. In the near future, the Statiq app will serve as a comprehensive directory of all EV chargers in India."
"Users can contribute by listing chargers they come across, facilitating charger discovery, route planning, and informed decision-making for charging purposes. The first day of this feature launch saw an impressive 160 listings. Every successful listing rewards the user with ₹100 in Statiq credits. The overwhelming response on the first day shows the significance of this feature; people value accurate information to make informed choices before visiting a charging station. Statiq is proud to provide this functionality for our users," he added.
StatiqConnect comes equipped with features such as total km traveled, offering insights into overall mileage for improved journey tracking and maintenance planning. The Remaining Range feature provides real-time updates on the electric vehicle's remaining range, facilitating stress-free route planning. The Charging Indicator enables users to keep tabs on the vehicle's charging status, aiding in effective daily planning, and lastly the Current Location option supports real-time tracking, enhancing security and offering valuable insights into the vehicle's whereabouts.
To enable StatiqConnect on the Statiq EV Charging App, new users can download the app, log in using their mobile number and OTP, select their vehicle model, and click on "Connect Now". Existing users can navigate to the map screen, click on the displayed vehicle, and connect seamlessly using the pop-up feature.
With an impressive record of 7,000 deployed charging stations nationwide, Statiq continues to play a pivotal role in providing charging solutions for electric vehicles across tier 1, tier 2, and tier 3 cities. Committed to delivering top-notch quality and accessibility, Statiq remains steadfast in its pursuit of deploying 20,000 EV charging stations by 2025.
Source link