Cars
E-commercial vehicle maker Altigreen plans to raise Rs 1,000 crore next year – ET Auto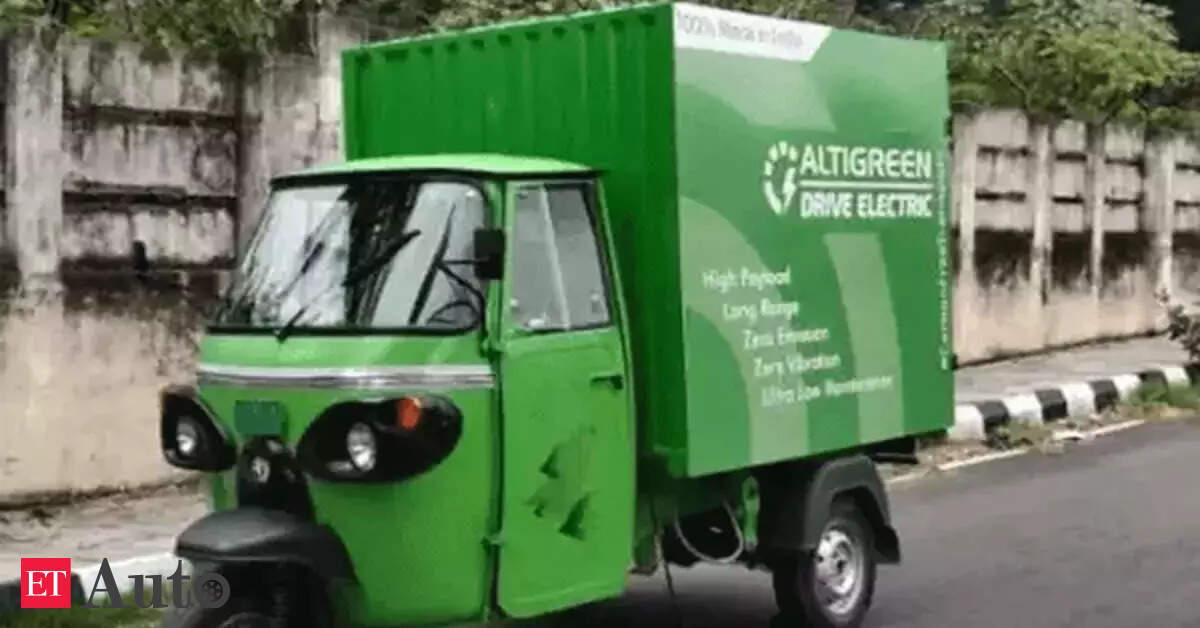 Electric commercial vehicle maker Altigreen is looking to raise Rs 800-1000 crore next year to fund its expansion plans in the local market.
Altigreen, which raised Rs 300 crore from Reliance Industries and four venture capital funds earlier in February this year, will utilize the resources to build scale, develop charging infrastructure, increase product portfolio and supply chain over the next couple of years.
Altigreen cofounder Amitabh Saran told ET the company has partially deployed the resources raised earlier this year to increase production capacity. A good part of the investment is also being used in R&D.
"We are starting deliveries of our products with fast-charging capabilities shortly (0-100% battery capacity in 15 mins). We now have a much larger factory operational, with installed capacity to manufacture 4500 units per month. We have quality supply chain partners in place", said Saran, adding the focus was now on expanding the distribution network to shore up volumes.
Altigreen has commenced sales in Delhi, Bengaluru and Hyderabad. The company has plans to set up 40 dealerships across the country in FY23. Bengaluru-based Altigreen has developed an electric 3-wheeler, using a locally made mobility platform. The nine-year-old company has 26 global patents spanning 60 countries.
Altigreen – which had posted revenue of Rs 1 crore in 2020-21 – is targeting revenues of Rs 200-250 crore in the ongoing financial year, Saran said. "Electric three-wheelers are getting strong tailwinds from the e-commerce sector, which require volumetric vehicles with moderate payloads. The operating costs are about a fraction of diesel or CNG driven ones, translating into substantial savings for operators."
Saran admitted electric three-wheelers do come at a premium of Rs 50,000-60,000 compared to diesel or CNG ones but are about Rs 1 lakh cheaper than four-wheeled small commercial vehicles. Running costs are significantly lower at Rs 0.90/km, compared to Rs 4 km for diesel/CNG three-wheelers and 8/km for diesel SCVs.
"The addressable market size is about 1.8 million (1.3 million 3W and 0.5 million 4W SCVs) for passenger as well as cargo operations. Even if we were to carve out use cases which require heavier payloads and exports, the market size is still about 1.2-1.3 million units per annum. India has not yet explored formats for three-wheelers fully. The potential is huge", said Saran.
The company aims to have 3-5 vehicles in its portfolio in the next 2-3 years. Saran said while the immediate priority is to exploit more use cases for electric three-wheelers, eventually the company plans to introduce electric four-wheelers too.
India is witnessing an increased focus on the electric commercial vehicles in the country's bid to clamp down on crude imports and vehicular pollution. Former Niti Aayog chief executive Amitabh Kant had told ET that in the next two years, all urban delivery vehicles must go completely green.
Given the rapid growth in ecommerce — accelerated now by the pandemic — as many as 8 million vehicles are expected to be on the road in the urban delivery segment alone by 2030.
In February, Reliance Industries and four venture capital funds invested Rs 300 crore Altigreen, to help lift the startup's R&D and manufacturing capabilities while boosting billionaire Mukesh Ambani's strategy of building new energy and mobility business.
RIL's Reliance New Energy Ltd (RNEL) subsidiary, Sixth Sense Ventures, Xponentia Capital, Accurant International of the US and Singapore's Momentum Venture Capital participated in the series A funding round for the EV startup. The investment came close on the heels of RIL unveiling its Rs 75,000-crore plan last year to build clean energy business.
RIL has made a string of new tech-focused acquisitions in the past few months. Among others, in December, it announced the acquisition of British firm Faradion Ltd for an enterprise value of 100 million pounds that will give it access to high sodium-ion battery technology, an alternative to lithium-ion battery. In September, JIO-BP, the joint venture between RIL and UK's energy giant BP, tied up with BluSmart, an all-electric ride-hailing platform, to set up a network of electric vehicle charging stations.
Read More: